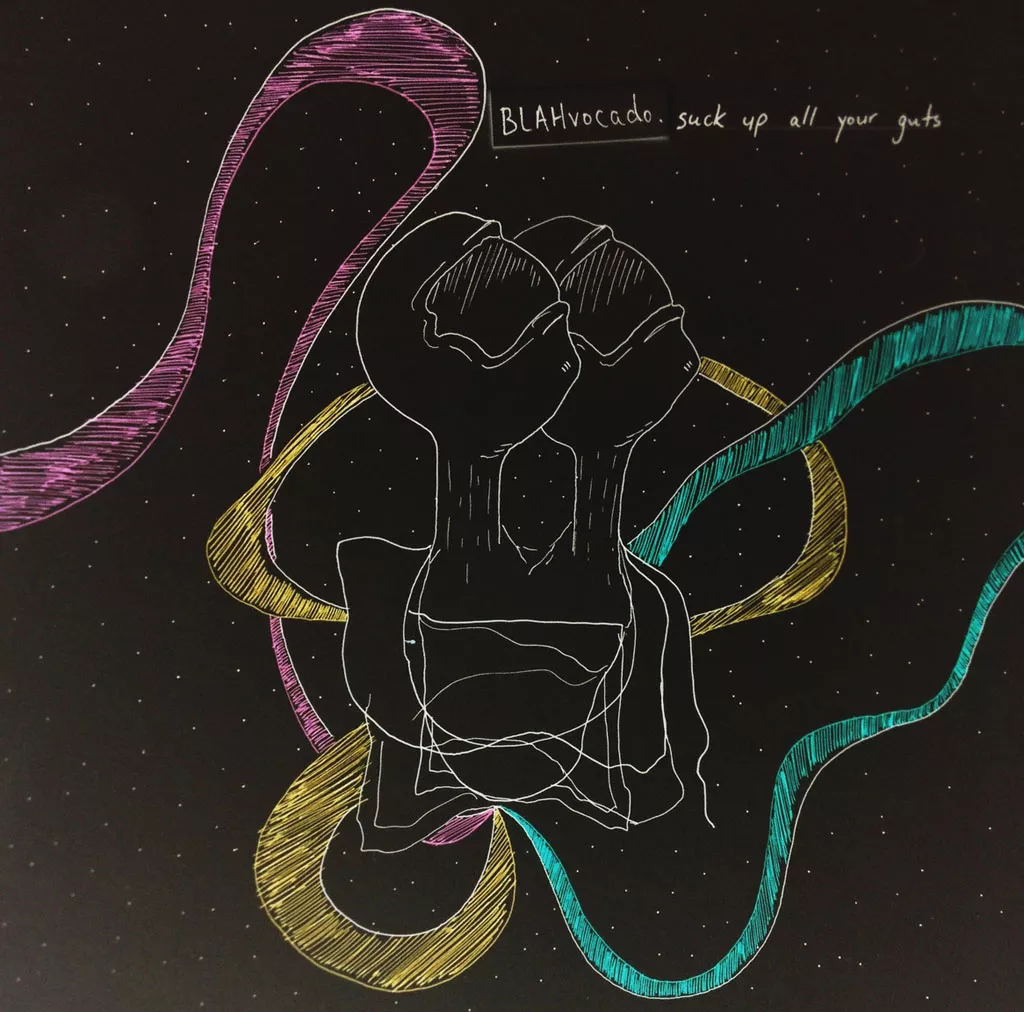 (Self-released, digital download)
We need to come up with a new pseudonym for songwriter and recent New Jersey transplant Matt Pignatore. For one thing, it's a shame for such cool music to be released under the unappetizing — and perhaps self-deprecating — moniker Blahvacado. For another, there's already a Vermont band called Bravacado, which could lead to confusion. We'll forgive Pignatore for not knowing that latter factoid, since he only landed in Burlington five months ago. And we'll give him a pass on his wonky studio name, too, since the music on his latest record, Suck Up All Your Guts, is just that good.
Pignatore is a mere 23 years old, but he's been writing songs since he was 15. The guess here is that he must have had some pretty indie-rock-savvy older siblings — or maybe a stray hip aunt or uncle. Because otherwise it's tough to explain how he's able to so masterfully synthesize classic indie-rock influences such as Built to Spill, early Modest Mouse and, most overtly, Pavement, who were all at their peak when he was, like, 7.
Most young songwriters — and plenty of older ones, too — parrot their formative influences to some degree. What's remarkable about Pignatore is that he wears inspiration on his sleeve but injects enough personality and artistic ingenuity into his music to make those sounds seem wholly new. That's quite a feat.
For example, the album's second cut, "Cool," harks to the 1999 BTS classic "Center of the Universe," from the equally classic album Keep It Like a Secret. Pignatore's song is mellower, with a slackerly vibe that nods at Pavement's Stephen Malkmus. But there's more than a little Doug Martsch in his nasally, high-toned delivery. The following title track feels like a B-side from Rogue Wave's 2003 debut Out of the Shadow.
This is not to say that Pignatore simply sounds like a bunch of other artists. While fairly obvious comparisons can be made, he steps out on his own artistic limb more often than not. Pignatore wrote every song and performed every instrument on the record. He also engineered and mixed it. As his quirky handle — not to mention album title — suggests, he's got a warped style to match his considerable musical ability. And he wields both forcefully. Point is: A larger master plan is at work here.
Pignatore writes with a wry sense of humor that adds a distinct charm to his music. "Ditchin You" is a sneering breakup song in which the title phrase refers both to leaving someone and burying your ex in a ditch. On "Moptop," he fights growing up by growing out his hair. On "Cool" he confesses admiration for — and perhaps mild jealousy of — a hero, while resigning himself to his own slacker tendencies. "What makes you so goddamn cool? / I could've been you," he sings. Then, "Maybe I'm getting used to / these worn-in, beat-up shoes."
Keep the old shoes, Matt. They seem to be working. But maybe rethink that name.
Suck Up All Your Guts by Blahvocado is available at blahvocado.bandcamp.com.