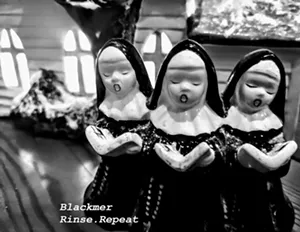 (Self-released, digital download)
Sam DuPont, a talented and respected Vermont musician, explores new musical ground on his recent release, Rinse.Repeat. DuPont makes it clear that the seven-song EP is not business as usual, musically speaking — which in this case means anything too similar to his popular work with brother Zack as the DuPont Brothers. Sam DuPont drives the point home by releasing the project under the moniker Blackmer, his middle name, to minimize such comparisons.
In an email, DuPont describes the purpose of his new recording: "wanting to have a project that reminded me why I love to write songs and share them with others." He says that his musings on the current social climate, including social media, compassion decay due to overstimulation, political division and racism, all bear "a longing in them to return to the emotional transparency of my childhood and teenage experience."
Local musical visionary Michael Chorney helps DuPont along in this quest. The composer and multi-instrumentalist has made a name for himself through numerous projects with Anaïs Mitchell and with his own combos, including viperHouse and Hollar General. Chorney's contributions here include arranging work and engineering the EP at his home studio in Lincoln.
The songs on Rinse.Repeat are, in DuPont's words, "emotionally honest and sometimes demanding folk music." He adds, accurately, that the album is "pretty and relaxing, there to make you think and drift."
To that end, DuPont and Chorney provide lots of understated musical action in the background. Session musicians include Rob Morse on bass; Dan Davine on drums, vibes and piano; Chorney on lap steel, percussion, prepared guitar and piano; and Chittenden County chanteuse Francesca Blanchard on backing vocals. Despite the abundance of talented musicians, the overall impression is that these seven songs are primarily orchestrated with DuPont's marvelous, reedy singing voice and his acoustic guitar in mind.
It takes a few listens to appreciate the rich sonic texture that colors the foundation of each line. Song names barely matter in this case. Titles such as "Flash Flood," "Paintball Gun" and "Thoughts and Prayers" serve mainly as chapter heads in a long, cohesive tone poem of images and feelings. The entire 25-minute recording is a more or less unified whole in the tradition of Van Morrison's Astral Weeks, where each track melds into the next — and where DuPont challenges the listener to determine what it all means.
Rinse.Repeat is not a quick study, but it's a worthwhile one. Sit down and switch it on when you have time to appreciate the entire thing.
Rinse.Repeat is available on Spotify.