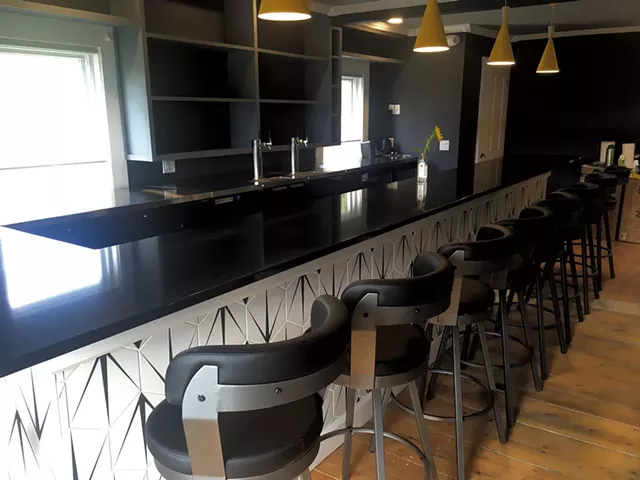 Courtesy Of Leanne Kinsey
Blackbird Bistro in Craftsbury
Leanne Kinsey, whose ancestors helped settle Craftsbury more than two centuries ago, is set to open a restaurant in that Orleans County town. Blackbird Bistro will occupy part of the Craftsbury Farmhouse at 1037 South Craftsbury Road, which is also the site of Whetstone Wellness. When it opens toward the end of October, it will be the only restaurant in Craftsbury.
A carpenter, Kinsey built her own commercial kitchen, bar and restaurant in a section of the 19th-century farmhouse. "I spent the last seven months renovating and rebuilding the entire place myself to save money," she said. "We're nearly ready to roll."
Kinsey is also a longtime bartender. She kicked off that career more than 20 years ago with a job at the Vermont Pub & Brewery in Burlington and now owns and operates a mobile bar service, Blackbird Bar Catering.
"I started off in the kitchen as a teenager," said Kinsey, who will turn 42 on October 6. "But my personality was always more front of the house."
Blackbird Bistro, like the affiliated beverage business, will emphasize its craft cocktail program. "People have gone pretty crazy over riffs on classics," Kinsey said.
The restaurant will offer "American comfort food with a modern twist," she noted. That means a variety of burgers, including vegetarian options; charcuterie and cheese plates; and "glamorous, over-the-top artisan grilled-cheese sandwiches." The bistro will source food locally, including from Pete's Greens, the organic produce farm half a mile away.
Kinsey lives with her family in Craftsbury in a house she built. She started Blackbird Bar Catering — named for the Beatles song "Blackbird" — in 2013 and was considering creating a second mobile bar when her business plan shifted.
"It occurred to me that it would all be so much easier to streamline with a bistro," Kinsey said. "And there was such a need in the area for a gathering place."
She expects to launch Blackbird Bistro with soft openings at the end of October. The restaurant will be open Wednesday through Sunday starting at 5 p.m.
Blackbird's business model has a community-support component: Through a membership arrangement, people can pay $125 (or more) in exchange for food and beverages in installments of $25 per month. "The first year is always difficult with a new small business," Kinsey said. "This is like a loan from your community, and you slowly return that loan to them through your services."