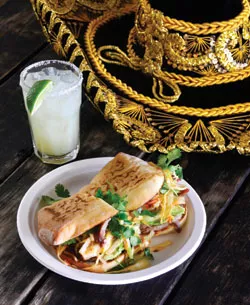 Where tacos are concerned, sometimes people simply can't wait. On Monday, November 19, gas lines were still being installed at Blackback Pub and Flyshop, but that wasn't going to stop Joey Nagy and co. from opening the Mad Taco in the space the next day.
Last spring, Nagy and business partner Scott Kerner stepped into Blackback for a pint — and hit on the idea of making it their third Mad Taco location. Blackback has previously served its customers Stebu Sushi and pizzas from La Strada Bakery, but with those off the menu, the time was right for a new food purveyor in the pub owned by lawyer and beer aficionado Rick Binet.
There was a stumbling block, says Nagy: "We just ran into the hood issues. It's what it always is: getting the hood, getting the permitting."
The Montpelier location of the Mad Taco runs without a ventilation hood, but within the next couple of weeks, the Blackback outlet will have a full kitchen, more like that of the flagship Mad Taco in Waitsfield.
Until then, the Mad Taco team is pulling out Crock-Pots and panini presses to satisfy customers who have waited all summer. "Buzz is huge, and we've waited too long," Nagy says. "We're sorry about the delay, and we're getting it open."
For the first week or two, customers will be able to choose from 10 or 15 menu items, including Mad Taco standards such as carnitas and chicken tacos, burritos and tortas. When the kitchen is completed, the staff will prepare closer to 20 items, including seafood from Wood Mountain Fish and slow-cooked local meats such as porchetta and ribs. Those are sure to make fine pairings with the six beers from Hill Farmstead Brewery currently on tap at Blackback's 25-seat bar, along with a selection of other local and international brews.
Mad Taco at the Blackback will serve from 3 to 9 p.m. daily until the kitchen is completed, and from 11 a.m. to 8 p.m. afterward. Between regular dinner hours and the bar's closing at 2 a.m., the kitchen will continue to send out street-food specialties, including pupusas, empanadas and tamales.
Is the Mad Taco chain complete at last, or would Nagy consider future expansion? He says he would — to Burlington or Winooski.