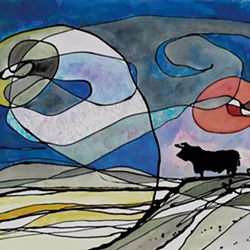 (Self-released, CD, digital download)
With Black Ox, Vermont has a new player in the small but surprisingly robust instrumental rock scene. In six tracks — a little less than half an hour of fluid jams — the trio's self-titled debut album issues a well-articulated opening statement.
The album creeps in with waves of feedback and delayed guitar notes on the sort-of-prelude song, "Material." It's a quick little dirge of creeping dread that almost hits a crescendo before billowing out like a puff of exhaled weed. It's pure stoner rock, which is a sure-fire way into this reviewer's heart, at least. (I fucking love feedback, you guys.) It also sets up the record's true opener, "Samson," an erudite and quasi-progressive tune that doubles as a musical mission statement.
Here the band delivers a slow explosion of noise, with guitarist Alex Cseh finding room to get weird and riffy around the driving force of drummer Cam Barrows. The song contains quick movements — a kind of crash course in prog rock. After a few minutes, bassist Matt St. Gelais starts bouncing around the groove as the band gets cagey. It's an early display of Black Ox's ability to shift gears not only quickly but in an interesting fashion — likely a product of the trio's formative years together in the local band Vitals.
The trick with instrumental rock is not to get bogged down and boring. Plenty of good bands have noodled and eggheaded their way into whole LPs of boring shit, despite good talent and intentions. By and large, Black Ox avoid this.
"Lift," for example, moves from jaunty indie-rock to Cseh and Gelais locking in riffs like a well-oiled machine to full-fledged fuzz reminiscent of early Queens of the Stone Age records.
On "Night Shapes," Black Ox nearly lose the thread. But at barely more than a minute and a half long, the track doesn't have time to turn you off. It's not a bad jam, just a bit meandering. But it prefaces the album's last two songs, which are much bolder by comparison.
The vision in "Unraveling Clouds" better showcases the band than do earlier tracks on the album. Barrows and Gelais are in a deep pocket here, playing a simultaneously laid-back but pulsing rhythm. Meanwhile, Cseh layers his guitars like finely woven fabric. After a gorgeous synth break, the band comes back in, driving and pummeling the groove with stop-start arrangements and handclaps.
The record ends with "Slipstream." At turns raucous and delicate, the song displays a stunning command of dynamics. It is also a showcase for Cseh to lay down some ferocious licks.
Black Ox are a good band with a unique sound — and, at least for now, are solely a studio project. Still, after a few listens to their debut, one suspects they have heavier punches to come.
Black Ox by Black Ox is available at blackox.bandcamp.com.