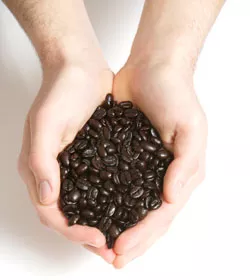 Long before he began kneading dough in Vermont, Bohemian Bakery's Robert Hunt was a professional coffee roaster in the San Francisco Bay area and oversaw quality control for an espresso company.
Even after he and his wife, Annie, bought the East Calais farmhouse that became Bohemian Bakery nine years ago, coffee has remained Hunt's obsession. Now he has reengaged with a roasting machine for Bohemian's own line, which he plans to sell to retailers.
"This is the last piece of the puzzle to round out my experience," says Hunt.
From casual research, Hunt determined that "people like a really dark roast." With that in mind, he began roasting four-pound batches on a Diedrich IR-3 roaster, eventually settling on his first blend, the dark-but-smooth Bohemian Coffee Roast #7, using beans from Colombia, El Salvador and Papua New Guinea. His debut retail outlet is Montpelier's Hunger Mountain Coop, where eight-ounce bags sell for $7.89. (People can also try #7 by the cup during Bohemian's Sunday Bakery events.)
Hunt says he isn't part of the so-called Third Wave of Coffee movement, which treats the beverage as an artisanal product akin to wine. "We're not snobs," he says. Rather, Hunt aims to please casual coffee drinkers, and even tastes his batches with cream because, he says, "that's how I like to drink it."
Next, Hunt will tackle an espresso blend, followed by a lighter roast and some batches using single-origin coffees. Each roast will be named with a number from 1 to 10, "from light to dark."
"We'll come into it gradually, because we don't need to jump in with both feet and make a huge profit," Hunt says. Plus, it takes meticulous attention to detail to preserve the flavors of the coffee and it is best done on a small scale. "There's really no other magic to it," he says.