James Buck
A beer flight, a Studio 54 cocktail and a house black bean burger with hot cheddar pork rinds at Black Flannel Brewing
In the time warp that is 2020, there's something reassuring about the signs of autumn. The leaves have done their thing and, as the weather cools, Vermonters are pulling their flannels out of storage. I realized I'd forgotten to wear mine as I parked my car in front of Black Flannel Brewing in Essex Junction last week, but that wardrobe choice might have been a little too on the nose, anyway.
The brewery, distillery and brewpub in the Essex Experience had its fair share of cozy fall vibes, from the name to the smell of woodsmoke that filled the air outside.
Black Flannel opened in early July, delayed only a couple of months by the COVID-19 pandemic. I'd been meaning to go sooner and eat in one of the two outdoor seating areas: the front patio, which features the full brewpub menu, and the biergarten, which offers snacks and small plates. But it rained every day I planned to make the drive. With winter looming, I finally bit the bullet on indoor dining and made a reservation for 5 p.m., hoping to beat the crowd.
My slight built-up anxiety around indoor dining didn't last long once my husband and I were seated. Black Flannel carefully follows the state's COVID-19 protocols: Everyone wore masks, the menus were single-use, the bathrooms were touchless, and the tables felt miles apart in the cavernous dining room. We even had our own bottle of hand sanitizer — part of a very 2020 centerpiece, next to a festive pumpkin.
I was immediately struck with indecision when I picked up the lengthy beer list. To my relief, the menu listed three flights ($9 each) curated by the highly educated staff, which boasts four of the state's 17 certified cicerones. Decisive drinkers can design their own flights, but I left it to the pros and ordered the Smorgasbord IV.
My flight featured four-ounce pours of Black Flannel's Chapin Apfelweizen, Determinism, German Chocolate Cake and Tropical Graffiti. I tend to prefer beverages with an acidic twinge. So the Apfelweizen, a graf brewed with cider from Chapin Orchard, and the Tropical Graffiti, a Berliner Weisse-like style known as a Catharina Sour, hit all of my sweet (or sour) spots.
The great thing about flights, though, is that the pours are small enough to encourage taking chances. I took them with Determinism, a Belgian golden ale brewed with spices, and German Chocolate Cake, a pastry stout featuring chocolate from Jericho's Snowflake Chocolates. Both were flavorful, seasonal brews that I'd happily drink again.
My husband, a hazy IPA guy, was drawn to the Journeyman IV flight composed of Disco Montage, a New England IPA; I Know Kung Fu, a double NEIPA; and the kölsch-style Dent Head. The last is a porter brewed with coffee from Uncommon Coffee, which recently opened just across the plaza from the brewery.
Our varied beverage choices were a great way to start our meal. The front side of the brewpub's menu features snacks, hot bites, cheese and housemade charcuterie. We settled on bourbon-caramel popcorn ($4), the Mexican-chorizo Scotch Egg ($9) and the Welsh rarebit ($8).
The popcorn was a leveled-up version of caramel corn: sticky, salty and sweet, with a real oomph to the flavor. I alternated handfuls with the golden ale I was drinking, and both were gone in a flash.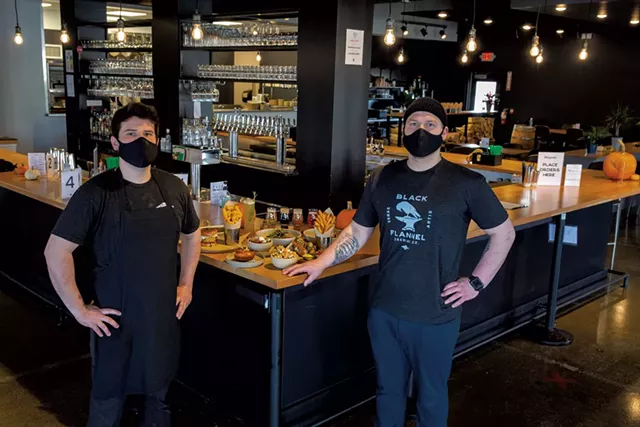 James Buck
Travis Williams (left) and Trenton Endres at Black Flannel Brewing
When I spoke with executive chef Trenton Endres and chef de cuisine Travis Williams the morning after our meal, I learned that Black Flannel's menu changes every two or three days. We caught the chorizo version of the Scotch egg, but the soft-boiled egg might instead be snuggled into bratwurst or bierwurst. Regardless, "It's always a Scotch egg," Endres said.
"The Scotch egg is a staple here," Williams added. "Nobody in the area is doing it, and we do it quite well."
I agree, and foresee return trips to Black Flannel to try all of the dish's permutations. Its crisp outside and gooey inside are a textural delight — perfect beer food.
Many breweries choose food for its utilitarian value: fried stuff that soaks up the booze and keeps you drinking. At Black Flannel, the brewery and the restaurant are more organically linked.
Not only are servers quick to offer pairings, but beer also shows up as an ingredient. Our Welsh rarebit featured rich beer cheese slathered on a slab of bread from Red Hen Baking. The house pretzel bites come with malted mustard, sweetened with dark malt extract that also shows up in the brewery's stouts.
Beer also appears in the form of a sour ale jam on charcuterie plates, as batter for delicata squash rings and even on chicken wings. The kitchen recently used Montezuma, an Aztec chocolate pastry stout, to make a mole sauce that coated the wings with spicy, chocolaty flavors.
"Our mindset on approaching beer with food is to kind of mirror what happened with wine and food in the early 2000s, when it was really having its big boom and everyone was working on those pairings," Endres said. "Everyone's still just trying to serve food with beer; our goal is to work with the beer."
The brewery offers classes to consumers, but its emphasis on education extends to its staff, too. Williams said Black Flannel owner Chris Kesler often walks around with a server's tray full of tasters, handing them out to get feedback, share tasting notes and make sure everyone on staff knows what they're putting out.
"We really play off of each other," Williams said.
"Every time we do a new menu item, we connect with the brewers and do a lineup with some of the beer to see what's working, what goes together, what overpowers, what cuts through," Endres added.
Seasonality plays a big role in those pairings. Black Flannel sources from local farms such as Pomykala and Half Pint, changing the menu with the harvest. That produce shines on the back portion of the menu, which has sections devoted to mains, salads and "embered veggies."
The focal point of the open kitchen, which anchors the back corner of the expansive dining room, is a wood-fired Argentine grill. Nearly all of the vegetables on the menu are grilled, toasted, smoked or embered there.
"It's a different technique of cooking and a different flavor," Williams said. "These aren't like the steamed vegetables you might get somewhere else, and I think people really appreciate it."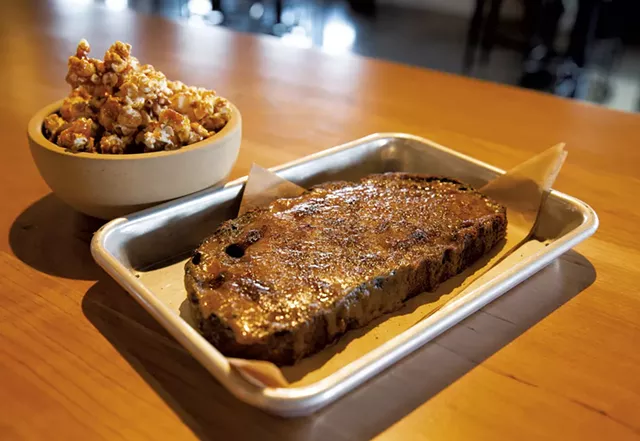 James Buck
Bourbon caramel popcorn (left) and Welsh rarebit
I certainly appreciated the grilled beets ($8). They were lightly charred, which brought out their earthy depth, and coated with chèvre, horseradish and a bright pop of pickled fennel.
"We're trying to push some boundaries," Endres said. "A lot of the community is really used to traditional pub food; we have wings and burgers on the menu, but those are the dishes we have so that we can play with other stuff."
"We want everyone to try as many beers as possible and let the flavors bounce," Williams said. "The snacks, the hot bites and the veggies give you a chance to try as many beers as you can without getting too full."
In hindsight, I see that kind of grazing would have been a smart approach to our meal. We'd ordered both the Black Flannel burger ($14) and the house black bean burger ($14) to give them a try, but we were dangerously close to overdoing it, and the burgers were serious.
My veggie burger — which I ordered with a side of red-hot pork rinds, just because I could — was a tower of smoked squash, pickled radicchio, cheddar, whipped-maple chèvre, and the most structurally sound housemade black bean burger I've ever encountered.
I ate slowly, hoping sips of my perfect-for-food 3 percent ABV House Beer ($4 for eight ounces, brewed with Vermont ingredients) would keep me going. I only managed half.
Lesson learned, I'm already planning my next trip to Black Flannel. With an ever-changing menu of seasonal, beer-inspired (and -infused) dishes, 16 beers on tap, beer cocktails, spirits from the on-site distillery and a knowledgeable staff that's eager to guide diners through it all, this is a perfect spot to get cozy.
Correction, October 28, 2020: An earlier version of this story misidentified the Snowflake Chocolates location which supplies the chocolate for the German Chocolate Cake stout. The chocolate comes from Snowflake Chocolate's Jericho location.