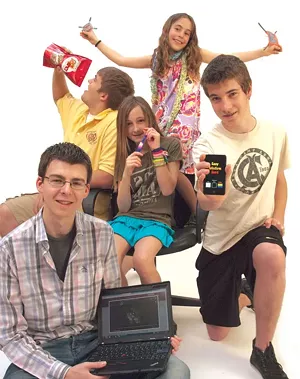 Matthew Thorsen
L to R: Greg Potter, Alec Distler, Alex Morris, Nora Jacobsen and Eli Hulse
The April issue of Kids VT — Seven Days' free, monthly parenting publication — has a money theme, as well. Here's an excerpt from the cover story.
Reading, writing, arithmetic … and money management? For the past few years, financial-literacy programs have been popping up all over to teach kids about saving, spending and investing wisely.
But some eager young entrepreneurs don't need professional help — they're figuring out money matters on their own.
We found several local "biz kids" — between 8 and 18 years old — who are turning their hobbies and skills into fledgling business ventures. We asked them about their moneymaking endeavors; to explain what they do and why, and what they've learned along the way. We distilled their answers into mini-profiles that reveal some of the practical lessons they've learned on the job. Their insights read like a Kids VT-style business primer.
Parental influence varies. Charles Hulse, whose son Eli creates and sells his own iPhone apps, admits that he's mostly sitting back and watching his son make his own way. "I don't really have a lot of business experience," he says. "I'm learning from him."
******
Name: Eli Hulse
Age: 14
Hometown: South Hero
School: Vermont Commons School
Business venture: Elis Studios — he creates iPhone apps.
Eli Hulse wasn't always a techie kid. His parents, who are both doctors, homeschooled him until eighth grade. They shielded him from media and technology; the family didn't get a television set until Eli was 10.
When he was 11, he started playing chess on his family's desktop PC and wondered how the computer came up with the moves it used against him. "I thought that was, like, really cool," he says. To satisfy his curiosity, Eli taught himself the Visual Basic language and wrote some primitive programs. He wanted his own computer, so that summer, he earned money to buy one by making bagels and selling them at the South Hero farmers market.
When Eli discovered the Apple App Store, he realized he could write programs for mobile devices and get people to buy those instead. He bought a book called Starting an iPhone Application Business for Dummies, and got his parents to help him register Elis Studios with the App Store for $99. He launched his first app, a drawing application called Color Splasher, in 2010. He's added four more since then.
Eli sells all of his apps for 99 cents each. He estimates he's made about $250 so far — enough to pay the yearly fee to keep his products in the App Store. In the short term, he explains, he just wants to cover his costs; he sees his apps as an investment in his future. "I really hope it will help me when I'm trying to go to college," he says.
His mom, Molly Rideout, speculates that being homeschooled gave Eli the flexibility to pursue his interests and brought him into contact with supportive adults who encouraged him. "He tends to get really intensely involved in certain things," she observes. "It's pretty impressive."
******
Eli's Insights:
Act the part. Eli's email signature identifies him as the CEO of Elis Studios.
Keep your personal and business finances separate. Eli notes that if you mix profits with allowance or birthday money, you'll never know how much you're making.
Not moving enough units? Try a loss leader. In February, Eli released a free version of his Color Splasher app to stimulate downloads. It's working — more than 400 people have downloaded it since the beginning of February. He says he hopes it'll draw attention to his other offerings: "They'll say, 'Oh, look, there's this other really cool app called iTap, and I could download that, too.'" Eli also makes money from advertising that's embedded in the free version.
Know your audience. Eli's apps appeal to people like him — teenagers searching for stuff to do. His output consists of a doodling app, three games and Safety Light, which turns the iPhone into a beacon that flashes white and red; it's designed to make bikers and skateboarders visible to cars in the dark. His next project? An app that can organize and save his friends' one-liners in a database. "I don't know if it'll work or not," he admits, "but that would be really fun."
******
Fellow biz kids in this article: Nora Bartlett, Greg Potter, Alec Distler, Alex Morris and Isabelle Mittelstadt. Find profiles of them, along with a list of family-focused financial-literacy resources, in the April issue of Kids VT. Click here to read the full article on kidsvt.com.