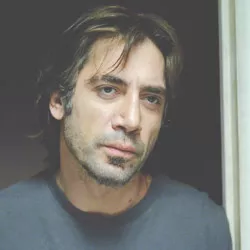 JAVIER BOREDOM Iñárritu squanders the talented actor ?in this turgid, meandering exercise in ?miserablism?.
The latest from Alejandro González Iñárritu is short on story and long on ... long. Working for the first time without screenwriter Guillermo Arriaga, the director of Amores Perros, 21 Grams and Babel succeeds not only in making a short story long but in making it muddled and borderline meaningless.
Iñárritu, of course, is known for the multicharacter, chronologically scrambled, interconnecting structure popularized by that trilogy. In making Biutiful, he's left all that behind and gone linear. Certainly, that's not the problem. In fact, it's a relief. And the problem is certainly not that the film focuses almost entirely on a single character portrayed by Javier Bardem. He's among a handful of actors who are watchable even when your time is being wasted.
The problem is the approach the filmmaker and cowriters Armando Bo and Nicolás Giacobone employed in crafting the picture's narrative. One gets the sense they came up with a random collection of depressing, unpleasant subjects, jammed them into a bummer blender and pressed the button labeled "script."
Even in the impoverished underbelly of modern-day Barcelona, what are the odds a devoted father of two by the name of Uxbal would find himself the target of this many slings and arrows?
His wife (Maricel Álvarez) has abandoned the family to spend more time as a drug-addled, alcoholic streetwalker. Also, she struggles with bipolar disorder. And beats her bed-wetting son.
His sleazebag brother (Eduard Fernández) is secretly sleeping with Uxbal's wife.
The police have just cracked down on the Senegalese street peddlers for whom Uxbal acts as black-market point man, even though he's paid the cops their regularly scheduled bribes.
This puts pressure on the pair of evil Chinese sweatshop owners who make the fake designer purses the Senegalese peddled, and for whom Uxbal acts as middleman. They don't make money, he doesn't make money.
His responsibilities include overseeing the squalid living conditions of the sweatshop's illegal immigrants. When he buys a roomful of cut-rate space heaters to keep them from freezing to death, the result is as ironic as it is tragic.
He sees dead people. I'm not kidding. While this thread is left undeveloped for some reason, Uxbal is cursed with the ability to communicate with the recently deceased.
Oh, did I mention he has two months to live? He's dying of prostate cancer and so, on top of everything else, must grapple with figuring out how to provide for his family after he's gone.
Outrageous fortune? More like outrageous screenwriting. For 148 minutes, we watch as Bardem's character hustles to tie up the loose ends of his life, looks back on his choices with Oscar-caliber regret and pees blood. Not terribly much happens, story-wise, so 148 minutes winds up feeling like an awfully long time to watch someone slouch through grimy streets and pee blood, even someone as colossally talented as Bardem.
Don't get me wrong. I've got nothing against films that wallow in the unsavory, that stack miseries in front of their characters as high as flapjacks at an IHOP. But I do appreciate the existence of a point to all the pain and suffering if I'm expected to pay to sit through it. Iñárritu offers little in the way of theme or thesis, with this single exception: No one who shells out for a ticket to Biutiful will doubt that money can buy unhappiness.