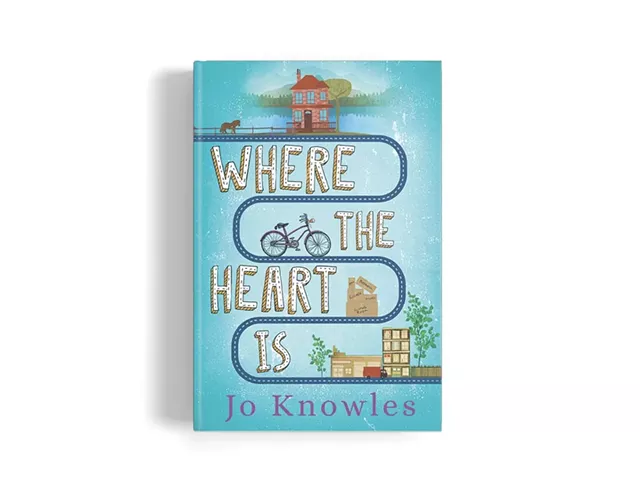 Jo Knowles credits reading Robert Cormier's young adult novel The Chocolate War as a teenager with inspiring her to become a children's novelist. Later, after they met at a writing conference, Cormier offered the budding novelist a burst of confidence when he read a draft of her first book. Now, when Knowles visits schools, she encourages kids to "dare to disturb the universe," a pivotal theme in Cormier's book.
The importance of friendship is central to Knowles' newest book, Where the Heart Is. Released in April, the middle-grade novel follows 13-year-old Rachel Gartner as she navigates the in-between space of the tween years, while her family deals with serious economic difficulties. Infused with the sensitivity and humor that readers of Knowles' earlier middle-grade and YA books — including See You at Harry's and Jumping Off Swings — have come to expect, Where the Heart Is explores the confusion that arises from a young girl's search for identity. Fittingly, Rachel's family lives on Bittersweet Farm — modeled on Knowles' childhood home in Meredith, N.H. — a name that reflects both the sweetness of childhood and the difficulties of change. Animal friends also figure prominently when Rachel takes a summer job caring for her neighbors' small menagerie.
Courtesy of the author
Jo Knowles
In 2005, Knowles received the PEN New England Susan P. Bloom Children's Book Discovery Award for her debut novel, Lessons From a Dead Girl. She currently teaches writing in the Mountainview Low-Residency Masters of Fine Arts program via Southern New Hampshire University. Knowles lives in Hartland with her husband, a college archivist at Dartmouth College; their son is a sophomore at American University in Washington, D.C.
Kids VT: Were animals as important to you as a child as they are to Rachel in this novel?
Jo Knowles: Much like Rachel, when I was 13, some neighbors moved in across the street and hired me to take care of all of their animals for the summer. It was a huge responsibility, but I also became very attached to them, especially the young steer I had to walk on a leash, just like Rachel does. Writing this book was like visiting old friends.
KVT: Without giving too much away, Where the Heart Is tells the story of a family experiencing economic hardships. Would you talk about how your personal experiences informed this novel?
JK: My family went through some serious financial challenges when I was in college, and we ended up having to move out of the home I grew up in. I wrote an essay for my college's literary magazine called "Living Room Music," about what that was like. In the essay, I describe coming home late one night and there was music coming from the living room. My parents were slow dancing in the dark. As I watched them, I realized that even though it seemed as if the walls were crumbling all around us, we would always be there to hold each other up. I wrote that essay 30 years ago, but the memory is still strong. Whenever my husband, son and I face challenges, I try to remember that love is the strongest, most important thing... It's a message I tried to convey in Where the Heart Is as well.
KVT: Beyond the "more traditional" middle school themes of friendship and growing up, Where the Heart Is addresses edgier topics, including gender fluidity. Why did you choose to include this topic in a book for middle schoolers?
JK: Middle school is the time so many kids start having feelings for others and about themselves. It seems natural to include themes of identity in a book for them. I don't see this as a difficult topic, but I think what happens is that a lot of adults find it hard to discuss this stuff, or feel unprepared to talk about it with kids. Instead of facing that, they tend to say it's the kids who aren't ready. In order to create an accepting society, we need to have all representations in books for kids. Not only so that all kids can see themselves there, but so that they can see diverse representations and, hopefully, become more accepting in the process. I really believe kids are ready — and in many cases desperately need — to have these conversations. Books are a great place to start.