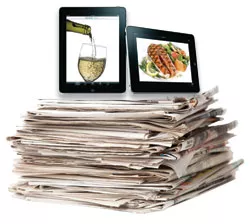 When you put more than 200 chefs, butchers, bartenders and food writers in the same room to discuss big issues, things can get kind of heated. Two weekends ago at the Chefs Collaborative National Summit in Boston, which focused on issues of sustainability, a couple of flare-ups resulted.
Chef Jasper White, famed for his seafood cookery, slammed the Monterey Bay Aquarium's guide to sustainable seafood, noting that fishermen can lose their jobs when their catches end up on its "avoid" list. In a panel on "defining farm-to-table," audience members jumped on the moderator, Bon Appétit editor-in-chief Barbara Fairchild (who is soon to leave the magazine), because her publication isn't political enough.
At the session on "the future of food media," the mood was more introspective than sassy. But, while it may not have had the most boisterous participants, this panel got to the heart of the crucial issue for anyone who writes professionally about food — and for their readers.
Like many journalists, food writers are losing their jobs as print publications trim their budgets. With so many people willing to share their opinions, recipes and reviews for free on the web, the prospects of achieving a livable wage in the field seem slim. And, some might ask, should they be? Does the world still need professional food writing?
At the Chefs Collaborative panel, Corie Brown, cofounder and manager of the online Zester Daily, said her business is exploring a new way of paying for online content. There, writers are compensated based on an algorithm that takes into account how many readers click on an article and how long they spend reading it. Will it work? Nobody seemed sure.
As the panelists talked about the need for a new payment model for journalists, somebody brought up the topic of the untimely end of Gourmet. Some saw it as a sign that the era of old-school food journalism was over. And that's when other people in the audience got a little riled up. The magazine didn't "fail," one woman said vehemently. It was given the ax by the big cheeses, and for the wrong reasons, she implied.
These days, whenever a print publication goes under, it brings up some big, existential questions. And with reason. Food reporting used to serve well-defined needs. Newspapers published recipes and tidbits geared toward homemakers, plus reviews of nearby restaurants. Serious food magazines helped aficionados delve more deeply into classic techniques and gustatory tourism.
Digital media shook everything up. Now that anybody can visit a site such as Yelp or Urbanspoon and comment on his or her dining experience, do restaurant critics still matter? When a quick Google search will turn up any recipe a home cook desires, is there a point in keeping newspaper food writers on staff?
Now, food writing is being churned out by engineers exploring culinary chemical reactions, dissatisfied office workers cooking their troubles away and fashionistas who treat ingredients like sculpture. Their musings are available on websites and blogs; on YouTube, along with cooking demos (see p. 42); and even in 140-character tweets.
Then there are the restaurant rating sites, which allow everybody to play Craig Claiborne for a day. Did you think the tuna was overcooked or the filet underseasoned? You can dish and hundreds, even millions, of people will eat it up.
But without the transparency of newspaper critics, who are bound by journalistic ethics to pay for their own meals and use their real names on stories, online commentators can be cruel under a veil of anonymity. They can also be "sock puppets," posting glowing reviews because they're on a restaurant's payroll.
Do amateur critics spell the end of traditional restaurant reviewing? Tony O'Rourke, a local food lover who regularly posts reviews on the 7 Nights site as well as on Chowhound, doesn't think so. He believes "the web complements traditional food journalism. The upside of the web is … the ease of obtaining specific details." When O'Rourke travels to new cities, for example, Chowhound has helped him to discover some "real gems" he wouldn't otherwise have visited.
What's the downside? In O'Rourke's opinion, it takes a while to determine if a particular poster has "both knowledge and ethics." "I have seen some posts that are clearly the work of a shill, as well as those that are more based on a vendetta than being informative," he explains.
To a restaurateur, the wide reach of the web can be a blessing or a curse. Sam Palmisano, chef-owner of Pulcinella's in South Burlington, has experienced both effects of online ratings firsthand. "Online media is a double-edged sword," he says. "The fact of the matter is, it's good because it gets you lots of exposure; it's good because people can do research about your restaurant and link to your website and look at the menu."
But, he says, having the power to rate a restaurant online may cause some customers to leave with a gripe rather than asking for a manager. "I believe it's my job to handle customer complaints before [patrons] walk out the door," he says.
When a customer assures her server everything is just dandy, then posts a scathing comment on a website, the opportunity to make amends is lost. "If you don't voice your opinion [while you're at a restaurant]," says Palmisano, "I don't feel you have a right to go online and brutalize it."
Of course, a restaurateur might make the same complaint about professional critics. But at least then, he or she knows whom to blame.
Between well-paid food writers and anonymous commenters, there's a vast and expanding field of people who air their opinions for low or no pay over the web. Barry Estabrook of Vergennes, who was a contributing editor at the now-defunct Gourmet, thinks there's room out there for both old and new approaches. Asked about the best food writing around, he points to the New York Times and the Washington Post, as well as to sites such as Grist, the Ethicurean and Civil Eats. But, he acknowledges, most websites, no matter how good the writing, pay peanuts.
Within 48 hours of the closing of Gourmet, Estabrook recalls, a handful of websites offered to syndicate his blog, Politics of the Plate. "All seven of them offered exactly the same pay rate, and you know what that was," he says. Nada.
Why post on the web if nobody wants to shell out for your labor? For one thing, it's fun to watch fellow netizens react to your ideas. "When you write a piece in a magazine, sometimes you feel like it's going out into the void," says Estabrook. Politics of the Plate, which is now published on the Atlantic's website as well as his own, often inspires impassioned reactions. "It's great to see [readers] discussing things … it's amazing how far and wide things can spread," he says.
Estabrook also likes having a blog because it's "sort of a home for the stuff I write," he says. He has a book coming out soon, and having a website helps with promotions. Explains Estabrook: "I want to let people know I'm still around."
I ask Estabrook whether he believes Gourmet's demise had anything to do with the encroachment of digital media. Not a bit, he says. "Our readership was at an all-time high," he asserts. "Newsstand sales were good."
What did the magazine in? "It was mismanagement," Estabrook says. "We lost our advertisers." Food & Wine, he points out, is still "full of ads."
Is there really room out there for all kinds of food media? No doubt about one thing: For food-loving readers who appreciate both the accountability of traditional media and the expansiveness of web-based writing, this is actually a golden age. If those readers can find it in their hearts to dig deep and pay for exceptional online content — and to keep supporting businesses that advertise in print media — maybe the industry can keep cooking.