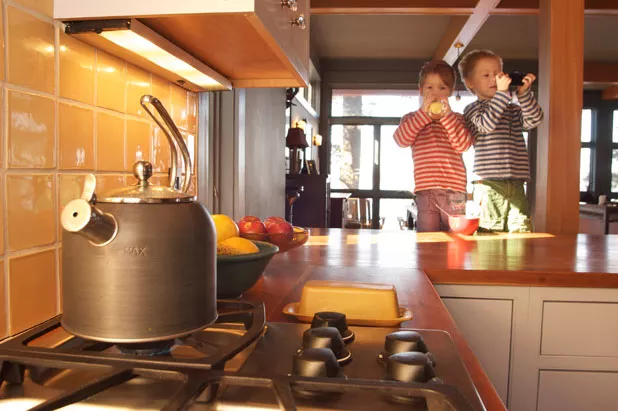 Leo and Oliver Rosenblum-Palmer
Some kitchens haven't been updated since 1977, while others are gussied up with fancy counters and shiny appliances that look as though they were meant for a restaurant. But, while marble and stainless steel may add resale value, they aren't what make a room one of a kind. A resident chef often does. Some cooks are so passionate that their kitchens become reflections of their particular styles.
For the Seven Days Real Estate Issue, we sought out some local kitchens that were designed to meet their owners' unique needs. One effortlessly combines elegance with livability, while the other two integrate indoor spaces with the outdoors.
Steven Palmer and Anna Rosenblum Palmer, Shelburne
Anna Rosenblum Palmer, Steven Palmer and their two young sons live on the windswept Lake Champlain shore in Shelburne. Their contemporary cedar-shingled home — with a breathtaking view of the waves — looks like something out of a magazine. In fact, it is: The house, designed by Essex Junction architect Michael Minadeo, was featured in the May/June 2008 issue of Design New England.
Although it boasts a five-burner gas stove, extra-wide range and fancy stainless-steel fridge, the Palmer kitchen isn't one of those austere rooms best suited for cocktail parties. After all, it was designed with family in mind.
Take, for instance, the cherrywood-topped counter that functions both as a work surface and a kitchen table. "Granite is practical and easy to clean," Rosenblum Palmer says. "But I didn't want a stone counter, because my family practically lives at this counter, and I wanted it to feel like home." Plus, she continues, "I like the surfaces I use all the time to take on what I call 'the patina of life.'"
That patina is certainly unavoidable when you let tots help with the cooking. Many mornings, Rosenblum Palmer explains, her 4-year-old whips up his own oatmeal with just a tiny bit of help. Both he and his 3-year-old brother "use words like savory and tangy" to describe foods, she says proudly.
Committed localvores, the Palmer parents split the work of turning the ingredients they get from farm shares into simple, delicious meals. "We've got [frozen] pigs and cows downstairs," she notes. "We do a lot of roasting."
That roasting, combined with plenty of baking, is the reason Rosenblum Palmer dreams of making one major change to the kitchen. "I wish I had a second oven," she says.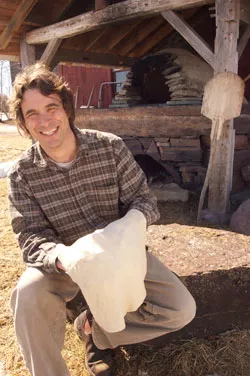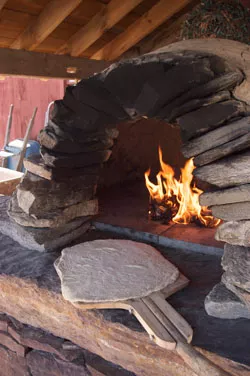 The MacKillops, Charlotte
Before wearing the cap and gown at Champlain Valley Union High School in Hinesburg, each senior must complete a "Graduation Challenge." It's only fitting that '05 grad Cayenne MacKillop found a way to involve cooking in her project. She's the daughter of two foodie entrepreneurs: Mark MacKillop, who owns Muddy Waters in Burlington, and Carrie MacKillop, who owns Charlotte's Old Brick Store.
Inspired by Vermont's artisan bakeries, Cayenne set up an apprenticeship of sorts with Carla and Chuck Conway of Shelburne's O Bread Bakery. In addition to creating loaves and cookies, Cayenne needed to "build a tangible product as part of my project," she explains. Her father suggested they work together to construct a wood-fired oven beside their Charlotte house.
The finished product is a domed clay oven made almost entirely of locally sourced materials. Mark notes that it resembles a smaller version of the ones used at American Flatbread. He also claims it's the only unusual thing about the cooking setup at the farmhouse. "We like to cook and stuff, but we're not really into gadgetry," he notes. Indoors, he continues, "We don't even have an island."
Now a University of Vermont student, Cayenne has her own apartment in Burlington, but a few times a year she heads home to help throw pizza parties. Because the oven requires so much fuel, she says, "It's only worth it when we're feeding a bunch of people. It's an activity."
When she owns her own place, Cayenne is certain she'll build a similar structure. "You can do it over the course of a summer and put in a few hours per week," she says. "It's a recreational activity and very affordable."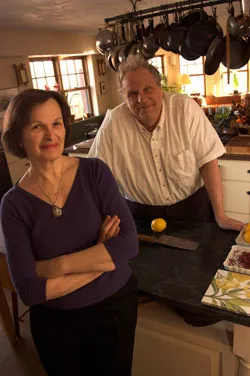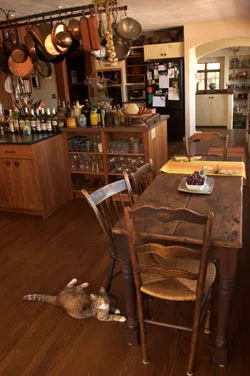 Bill and Kate Schubart, Hinesburg
When Bill and Kate Schubart entertain at their Hinesburg home, the meals they make are the stuff of legends. "We're occasionally asked to give parties for people like Dan Fogel and [famed cooking teacher and author] Madeleine Kamman," notes Kate.
Having two complete kitchens, plus a pair of outdoor fire pits, allows the couple to show off their disparate talents. The specialized "fire kitchen," as it's called, boasts a wood-fired cookstove, a salvaged stone sink and a rack from which raw, whole joints of meat sometimes dangle.
The main kitchen is more conventional, sporting a dishwasher and butter-colored cupboards, but has plenty of its own attractions. Along with a collection of vintage cookbooks and copper pots, the pair displays authentic vessels from around the world, including a "Mongolian fire pot we dragged back from China" and a Maasai "blood bowl" from Africa.
Whether they're cooking for eight or for 22, Bill and Kate tackle the task together. "We plan out the menu," says Bill. "Kate takes the fine things, the complex things. She'll do gnocchi, very sophisticated vegetables, fabulous desserts." Her sweet specialties include a steamed persimmon pudding and Bill's favorite, a combination of homemade vanilla ice cream, prunes and prune liqueur.
His role in the culinary collaboration? Making the meat, most of which is purchased locally or at the Jean-Talon market in Montréal. When he's cooking a large piece, Bill hangs it at room temperature for a day to let it dry and allow bacteria to tenderize it — a process that, he admits, horrifies his children. Then he rubs on a marinade and gathers his kindling.
That may sound like a lot of work, but for the Schubarts, it's totally worth it. Says Bill: "It's a real expression of love for family and friends to get together and have nice wine and cook."