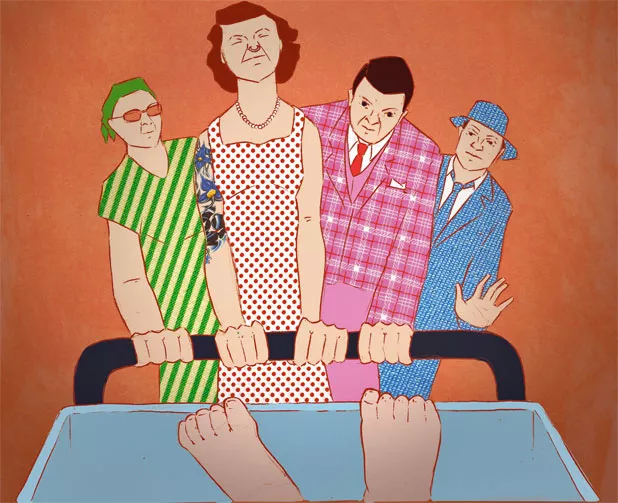 Washington County Family Court is an ugly place. Aesthetically, its institutional courtrooms have seen better days; in places, the trim around the doors is duct-taped to the wall. The emotional atmosphere isn't much better: This is an environment where nuclear families frequently come to explode, creating fallout that can be poisonous for years.
Divorces and child-custody fights are difficult enough when two parties are trying to resolve their differences. But in an age of alternative family building that can involve three, four or more parties — including nonadoptive stepparents, sperm and egg donors, gestational surrogates, and other quasi-parental figures — judges can find themselves trying to untangle Gordian knots.
Consider the case being heard on a Tuesday afternoon in mid-May as a woman, whom we'll call "Mary," enters Courtroom 2 for a status conference related to her long-running legal battle with her former civil-union partner, "Sarah," and their daughter's biological father, "Peter." (Because of the sensitivity of custody cases, we have chosen not to use their real names.)
Sarah, the child's biological mother, wears a polo shirt, shorts and sneakers. Mary sits down on her right, dressed professionally in a long-sleeved shirt and black slacks; on Sarah's left is Peter, who, like his attorney, wears a dark suit. Peter deposits a cardboard box on the table marked "Mary." It's full of files, hinting at the protracted nature of their legal wrangling.
The purpose of this conference is to decide whether a future hearing is warranted to address a contempt-of-court action. Eight years ago, before Sarah and Mary got divorced, Peter helped the two women conceive a daughter. In 2009, after their split, a judge divided custody almost equally between the two women and granted Peter visitation rights.
Now Peter is alleging that Mary has made it difficult for him to exercise those rights, and he further claims that she hasn't been responsive to his requests for information on the child's religious upbringing. Mary denies those charges and accuses Peter and Sarah of ganging up on her and committing "character assassination."
Mary, who is representing herself, sits on the edge of her seat throughout the proceeding while Tina Buehler, Peter's lawyer, dominates the discussion. Judge Thomas Zonay is upbeat but firm, reminding Buehler at one point, "This is only a status conference."
Through it all, Sarah remains mostly silent. More than once the judge asks for her opinion. After a particularly heated exchange, he turns to her and remarks, "We keep coming back to you in the middle."
Ultimately, Zonay decides another hearing is warranted. All three parties will have to return to this dismal place to sort out the mess.
Three-way child-custody fights aren't yet everyday occurrences in Vermont Family Court, but they do happen with increasing frequency. That's partly because more Vermonters, both gay and straight, are creating families from "assisted reproductive technology," or ART.
Unfortunately, the law hasn't kept up with the science. As any local family lawyer will point out, Vermont has no statutes or case law that specifically address sperm donation. Burlington attorney Deb Lashman, who specializes in family law, says she always emphasizes to her clients that, even when all parties sign a contract, there's no guarantee a court will enforce it.
"In Vermont, you're treading on untested ground," Lashman explains. "There is no case law and there are no statutes about this stuff."
In the case of Peter, Sarah and Mary, there was no contract, either. The parties failed to prepare for the possibility that their three-way relationship could disintegrate. They never put the nature of Peter's role in writing. Is he a sperm donor? A noncustodial parent? A daddy? At this point, who's to say? Virtually the only way to glean the three parties' initial intentions is to go back to the classified ads they placed in Seven Days nearly a decade ago — ads that eventually led to the child's birth.
In September 2002, Peter placed a personal ad that read: "Want to have a baby? GWM seeks lesbian/CU to have children with. Seeking non-custodial role. If your [sic] looking for a handsome, educated, stable, drug and alcohol free guy to share raising babies, I'm your guy. Let's talk!"
Fortuitously, two weeks later, Mary and Sarah, who were then in a civil union, placed their own ad in Seven Days. It read: "Lesbian CU wanting children. Need a man who wants a non-parental role. This is a non-sexual adventure that could have its rewards. Serious individuals only."
In hindsight, it probably wasn't an ideal way to find a biological parent for their child. Peter's ad was sandwiched between one placed by a "Newly married, fun-loving CU looking for cute BiF to share in the good times"; and another that read, "Sadistic bastard seeks naughty little girl that looks great in skirt for hours of muffled screams."
Still, Mary and Sarah's ad got 12 responses, from which they interviewed five candidates. Ultimately, they selected Peter, in part, Mary says, because he was in a stable relationship and had already fathered two children. (Peter declined a request to be interviewed for this story, referring all questions to his lawyer. Sarah did not respond to phone messages.)
Mary and Sarah had met in church in Amarillo, Texas, in 1996. Later, they moved to Vermont, where they were joined in a civil union in 2000, shortly after the law establishing such unions took effect. Both Sarah and Mary already had children from previous relationships. In fact, it was because Mary's son was the product of an anonymous sperm donation that she wanted a known donor this time.
"My son always felt that loss in his life, not knowing the man who conceived him," Mary explains. "We wanted somebody who would come to the birthday parties, the school concerts, come over for Christmas and Thanksgiving, and somebody for that child to call 'Daddy.' We wanted that man to know our child."
Though Mary isn't the girl's biological mother, she says she always assumed that having a baby in the context of a civil union — with her name on the child's birth certificate — was enough to ensure her status as a "parent" in the eyes of the law.
This so-called "marital presumption" is a well-established legal principle. But, given the absence of state statutes regarding sperm donation, Peter, Sarah and Mary's arrangement was a gamble, especially where a child's fate was concerned.
To wit: Tina Buehler, Peter's lawyer, has long contended that her client's constitutional rights as the girl's biological parent trump Mary's statutory right as a past party to a civil union. That Mary's name is on the girl's birth certificate "carries no weight," Buehler claims. As she derisively puts it, "If you want to put Santa Claus on there, why can't you?"
Neither Mary nor Sarah has ever denied that Peter was more than just a source of DNA. He attended the baby's delivery, was there for birthday parties and other events at the couple's home, and occasionally took the girl to his home overnight, along with Mary's son.
But Mary insists that she and Sarah were "very clear" with Peter that they were the girl's parents, that he was not a parent, and that they would never relinquish their rights and responsibilities to him. So why didn't the couple draw up a contract to that effect?
"To me, when a man gives his word, that's more sacred than any piece of paper," Mary explains. "I never imagined he'd seek custody. It just never crossed my mind."
In the summer of 2006, Mary and Sarah separated; a year later, Sarah filed for divorce. Before the papers were finalized, Peter filed a parentage action asking the court to recognize him as the girl's legal and biological father. His petition named Sarah, the biological mother, who didn't contest it. Mary, who was not named in the petition, says she learned of it only after a court clerk happened to mention it to her.
"It was all supposed to go under the radar," Mary says, "and all of a sudden I wouldn't be a parent anymore."
Parentage: nature or nurture?
Reproduction was once a simple binary matter: one mother, one father. But the lines have been blurred by ART, which can include sperm or egg donation, in vitro fertilization, and gestational surrogacy (when a woman carries and gives birth to a baby for another person or couple without necessarily contributing her own egg in the process).
It's now conceivable — pardon the pun — that a couple could contract with a separate sperm donor, egg donor and gestational surrogate to produce a baby, whom the couple would then adopt. In such a scenario, five people could claim to be "parents" and seek the attendant legal rights and responsibilities.
Sound farfetched? There are already known cases, in Vermont and elsewhere, of lesbian couples who have extracted an egg from one partner, which is then fertilized by a sperm donor and implanted in the other partner, who carries the baby to term. Arguably, all three parties can call themselves "biological" parents. Legal experts say Vermont law has done nothing to keep up with these rapidly changing realities.
How many families are created by ART in Vermont? Because the state has no reason to track most of those data, it's difficult to say. It is known that, between 2005 and 2011, 89 babies were born to same-sex couples in Vermont, presumably using ART. During that same six-year period, another 40 babies were born in Vermont to gestational surrogates, including 12 who were carried on behalf of same-sex couples, according to the Department of Health's Vermont vital-statistics system.
While those numbers still represent a tiny fraction of the 38,572 babies born in the Green Mountain State during that period, they don't include babies who were adopted by same-sex couples, or ones who were born to out-of-state same-sex couples who later moved to Vermont. Suffice it say, family-law experts suggest that such "unconventional" families have become, well, more conventional.
How does state law decide whom to recognize as parents? The answer is easy in the case of married and civil-union couples who are still together: In the eyes of the law, both partners are presumed to be the parents, regardless of who is genetically related to the child.
That's not the case when biological parents are unmarried. In Vermont, single mothers aren't required to identify the father on the birth certificate. Even when an unmarried bio dad is named on the birth certificate and the child bears his name, he must file a parentage action in court before he can assert the legal rights and responsibilities of fatherhood.
Vermont law does presume that the woman who gives birth to the child is the biological mother, even when her own egg was not involved. In gestational-surrogacy cases, the birth mom's name actually appears on the original birth certificate, and a petition to amend it is filed after the baby is born. In some other states, including Massachusetts, courts can adjudicate that the intended parents are the legal parents before the baby is born. This measure helps prevent some of the legal battles that occurred in the 1990s when birth surrogacy first became more common.
What happens when a same-sex union dissolves? The same thing that happens when a hetero couple splits up: The parties file for divorce, and a judge must approve a settlement that addresses any minor children, including custody, visitation rights, education, religious upbringing and so forth. When the couple can't reach an agreement, their case either goes to mediation or before a judge.
Custody matters can get dicier when same-sex partners separate and relocate to a state that doesn't recognize their original unions. That's what happened in Vermont's most infamous parental-rights fight: the Miller-Jenkins case.
In 2003, civil-union partners Janet Miller-Jenkins and Lisa Miller-Jenkins separated. Lisa moved to Virginia with the couple's daughter, Isabella, and then became a born-again Christian, renounced her lesbian lifestyle and filed for divorce. With the help of attorneys from the Liberty Counsel, an outgrowth of Jerry Falwell's Liberty University that provides free legal assistance in defense of "Christian religious liberty, the sanctity of human life, and the traditional family," Lisa Miller asked Virginia to recognize her as Isabella's sole parent.
In 2007, a Vermont judge dissolved the civil union, divided the couple's assets and ordered parent-child contact between Janet Jenkins (the nonbio mom) and her daughter. The following year, the Virginia Supreme Court agreed, ordering Miller to honor Vermont's visitation order. When Miller refused, a Vermont court granted Jenkins full custody.
Jenkins, who was represented by the Boston-based Gay & Lesbian Advocates & Defenders (GLAD) — the same organization that initially represented Mary — ultimately prevailed in court. To date, it's been a hollow victory. In January 2010, Miller was supposed to transfer custody of Isabella to Jenkins but never showed up. She reportedly fled the country with the girl and is believed to be living in Central America.
Kurt Hughes, a family lawyer with the Burlington firm of Murdoch Hughes & Twarog, explains that the primary reason Jenkins won her case before the Virginia Supreme Court is that a Vermont judge had already granted her parental-visitation rights. Under the Full Faith and Credit clause of the U.S. Constitution, Virginia had an obligation to recognize the Vermont judge's order. Had that visitation order not existed, Hughes says, Virginia probably would have viewed Jenkins as a legal nonentity.
Over his 20 years of practicing family law, Hughes says, he's noticed both adoptions and ART "trending" away from anonymous parentage, and he believes "the biggest driver is that people want a genetic connection to their child."
But once a couple involves a known donor in their lives, Hughes continues, whether seeking just his or her genetic material or something more, "that's when things become most dangerous.
"I always try to make people aware that this isn't just about them," Hughes says. "You are creating a child who won't always be an infant, who will have psychological needs as they grow up... And there's a deep-seated need for all of us to know where we come from."
Jules Fishelman has spent a lot of time pondering such questions. The 38-year-old Burlington resident is practically a poster child for the full spectrum of alternative parenting arrangements. He and his wife have a biological son together. He adopted his wife's biological daughter, who was conceived before their marriage as the product of an anonymous sperm donation. And before he and his wife met, Fishelman donated sperm to a lesbian couple in Winooski — Seven Days associate publisher and online editor Cathy Resmer and her partner, Ann-Elise Johnson. (Johnson has also served as a gestational surrogate for a third couple, but that's another story.)
Fishelman says he spent several months wrestling with the implications of becoming a biological parent to a child he wouldn't raise. What would be in the child's best interest? What if the child wanted a closer relationship than he was comfortable with, or none at all?
"Whatever my intent, I knew the child is going to have his or her own feelings," Fishelman says. "Was I willing to be flexible with what might be good for me ... and change my mind?"
Fishelman sought the advice of friends, family members, lawyers and other known donors — especially to research how things could go wrong. Some family members raised legal and financial concerns. Would the couple pursue him one day for child support? Would the child seek Fishelman's family's assets? Would he want a say in the child's upbringing?
Despite such concerns, Fishelman and the couple decided to proceed, and asked Burlington attorney Deb Lashman to draw up a contract. Because of the ambiguity around enforcement of such agreements, she also recommended that the nonbiological mom — Resmer — undertake a stepparent adoption once the child was born. That way, whenever the family travels outside Vermont, other states will recognize her as a legal "mother," regardless of biology.
In addition, Lashman advised her clients to be very clear about the boundaries of the donor's parental involvement.
"The more you put in the agreement that the donor is going to be part of that child's life, the more you open up the window for that person to assert legal rights and other kinds of custody and responsibilities," she explains. "It's easier to open that window than to try to close it later."
Indeed, Fishelman acknowledges that his feelings for his genetic offspring have evolved over time. In his role as more than a sperm donor but less than a father, he sees the two children at least twice a month. They and his own custodial kids play together regularly and think of one another as cousins, though Fishelman admits the two couples don't have a lot of "formal language" describing their relationship beyond "they're family."
Are three parents better than two?
What happens to ART-assisted parents who don't prepare for unexpected developments? After the dissolution of Mary and Sarah's civil union touched off a flurry of legal filings, the Mary-Sarah-Peter case eventually arrived at an uneasy truce. (Just how uneasy is indicated by the ongoing hearings three years later.) In 2009, a judge agreed that Mary was a mother to the child and divided custody between the two women. But Peter wasn't cut out of the girl's life.
His lawyer, Tina Buehler, believes the case "would have ended up in the U.S. Supreme Court. That's the route we were going." However, she says, her client chose to settle for the best interests of the child.
"From [Peter's] perspective, he secured what he was looking for initially in this case," Buehler adds, "which is recognition that he is the biological parent of this child and has an absolute, constitutional right to contact. And in some cases his contact trumps the other party's [Mary's] right to contact."
Karen Loewy, senior staff attorney with GLAD in Boston, sharply disagrees with Buehler's assessment.
"That is not what constitutional law says," she argues. "Biology does not make you a parent. Something more does."
In fact, Loewy sees the Mary-Sarah-Peter case as more than just a cautionary tale about couples who conceive a child through ART without legal representation.
"The thing I found really frustrating about this case and similar cases is, you have two clear, intended parents, and the one with the genetic connection to the child seeks to cut out the other parent," Loewy says. "To me, that's what this case was all about."
But fixing legal loopholes will prove difficult. None of the parties interviewed for this story was enthusiastic about the idea of the Vermont Legislature wading into such matters. Loewy says that, in her experience, "Legislatures and assisted-reproductive technologies are not good partners."
Hughes agrees. "Once the legislature gets a hold of something," he says, "you never know what the hell is going to happen."
In the absence of statutes or legal precedent, such custody fights in Vermont will continue to be decided case by case. For now, Mary says, she is just relieved that a family-court judge recognizes her as a legal mother. But she says establishing that relationship came at a high price to everyone, including her daughter.
For now, Mary's "victory" is strictly her own, as her case creates no new legal precedent. Which means that the next Vermont family that goes to court to determine who qualifies as "parents" — be they two, three or more of them — may have to fight the same legal battle. And as one local mediator put it, "A judge can't order people to get along or make good decisions."
Cathy Resmer contributed to this story.
CORRECTION: The October 9, 2002 issue of Seven Days actually contained TWO personals ads from different civil union couples who were seeking sperm donors; our story originally quoted the wrong one. It has been corrected. Seven Days regrets the error.