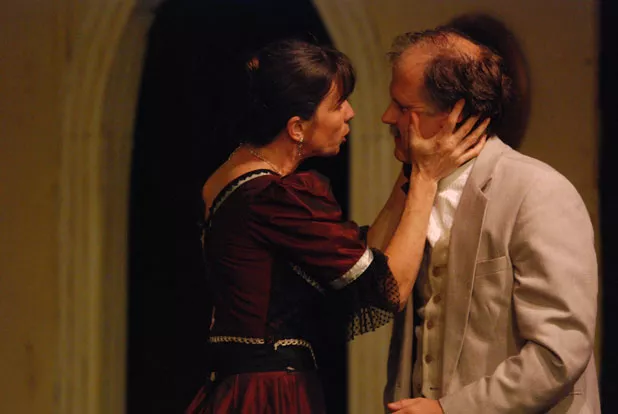 Susannah Blachly and Tom Blachly
Just before sunset on a recent Friday evening, a cow mooed outside the Unadilla Theatre barn in Marshfield. Then some sheep brayed, and a cloud of gnats appeared above a fence lined with white-petaled wildflowers. The creatures unconsciously lent ambience to the play being performed that night: a tragicomedy set in rural, late-19th-century Russia, Anton Chekhov's The Seagull.
One of three shows at Unadilla this summer, The Seagull was admirably staged by a crew of non-Equity actors. Intra-cast age imbalances made it difficult for some thespians to establish a convincing rapport, and the show's momentum dragged at turns. But, thanks largely to strong performances by experienced older folks, director Bill Blachly's production sent the audience chuckling into the night.
As per usual in most Chekhov plays and short stories, The Seagull is populated by a band of restless, middle-class idlers with an uncanny knack for articulating why they are unhappy. By contemporary standards, nothing especially dramatic happens over the course of four acts, and the only gunshot is fired offstage. Even the play's metaphorical namesake - a bird that is killed and later stuffed - is neither killed nor stuffed before our eyes.
It hardly matters. Chekhov famously leaves murder, fights and sex out of sight or in the past tense, forcing us to psychoanalyze characters through ironic, highly understated dialogue. (If that's hard to wrap your head around, picture "The Sopranos" minus the mob, or "Sex and the City" without the sex. And, for that matter, the city.) As one critic writes: "Chekhov endears himself by modestly bowing out, protesting that it's all in the words."
Chekhov's prose was on glorious display at Unadilla, particularly during an exchange between the fortysomething actress Arkadina and Dorn, a local doctor. Arkadina's 60-year-old brother Sorin has been nodding off, and she worries it's a sign of underlying malaise.
"I think he'd feel better if he went to a health spa," Arkadina tells the doctor.
"Think so? Let him go," Dorn replies. "Then again, let him stay here."
"Try and figure that out."
"There's nothing to figure out," he counters. "It's perfectly clear." By the end of the play, Sorin hasn't died, gotten sick or taken any drugs; by resisting our craving for drama, Chekhov forces us to consider the psychological implications of Sorin's "illness."
Of course, The Seagull wouldn't be a good play without some drama: Its plot revolves around four principal characters who can't help stepping on each other's toes. Arkadina, an insecure but pompous actress, has come from Moscow to visit her brother Sorin at his country estate. She is accompanied by Trigorin, a standoffish writer prone to pontificating about fishing. They are joined at Sorin's estate by Arkadina's suicidal son, Constantine, and his crush, Nina, the daughter of a local landowner.
The trouble begins when Trigorin develops a wandering eye for Nina, an aspiring young actress. That irks Constantine, a wannabe writer who resents Trigorin's fame and craves attention from Arkadina, his self-absorbed mom. The pressure builds. Arkadina, jealous of Nina and annoyed with her son, declares, "You've all ganged up today to torture me!"
Over the course of the play, Chekhov's principal leads are flanked by an ensemble of quirky, depressive relatives and servants. As the plot angles toward two obvious questions - Will Trigorin sleep with Nina? Will Constantine kill himself? - the characters ponder some universal questions related to aesthetics. Among them: Who decides what's avant-garde? What makes a good work of art? Is it possible to produce good art and be happy?
Unobtrusive set design and costuming helped establish a convincing 19th-century setting. Ellen Blachly's painted backdrop of a yellow manor house, for example, effectively evoked the Russian countryside, and with the exception of some curiously modern rubber boots, all of Debra Herbst's costumes seemed fitting enough for the period. While the parlor in Acts 3 and 4 could have been more dramatically lit, its see-though back door complemented an elusive rendezvous between Nina and Constantine.
Susannah Blachly and her real-life husband Tom turned in stellar performances as Arkadina and Trigorin. As self-important Arkadina, Susannah's overbearing stage presence and gaudy dresses were appropriately loud and domineering. Despite being too old for his role - Trigorin's under-40-ness makes Arkadina extra jealous of his affair with Nina - 51-year-old Tom played the fishing-obsessed author with a perfect mixture of patience and self-deprecating humor.
The Blachly's young foils, Hannah Brown and Orion Lay-Sleeper, handled tough roles with confidence and professionalism. As Nina, Brown modulated from super-naïve in Act 1 to ultra-jaded by play's end. Along the way, she delivered her most ironic lines with composure. ("It isn't easy to act in your play," she tells Constantine of his hopelessly allegorical stab at playwriting. "There are no living characters in it.") Brown's dramatic counterpart, University of Vermont sophomore Orion Lay-Sleeper, played the suicidal Constantine without sounding too melodramatic.
An entertaining crew of peripheral characters greatly enhanced the central drama. Perhaps the best performance of the evening came from Clarke Jordan in the role of Dr. Dorn. More than the other actors, Jordan almost always spoke to tasteful, wryly comic effect. David Klein as Sorin and Bob Belenky as the estate manager raised the tenor of the show with exaggerated arguments and goofy soliloquies. Director Blachly's grandson Adam played the servant Yakov with flair.
Some problems ensued on account of age differentials between cast members. For one, it was hard to imagine soon-to-be college-freshman Brown smooching Tom Blachly as the script suggests she should have - their real-life age difference would have made a kiss seem mildly creepy, rather than clandestine as Chekhov intended. It was equally difficult - and gross - to imagine 18-year-old Ella Belenky as gloomy Masha shacking up with David Kahn. (The retired schoolteacher played Medvedenko - a schoolteacher.)
Age issues were ignorable, but they underscored a more chronic problem: lack of momentum. Act 1 seemed to build to Act 2, but Act 3 ended on a strangely low-energy note, and the play fizzled after that. At the beginning of Act 4 - which takes place two years after the end of Act 3 in plot time - Brown and Lay-Sleeper were fighting to keep our attention.
To director Blachly's credit, it's hard to say how much the show's fitful pace had to do with his actors and how much with the script itself. Just as Chekhov liked to bend dramatic conventions by sketching undramatic characters and anti-climactic scenes, he also tinkered with play structure. By deliberately skipping two years' worth of important events between Acts 3 and 4 in The Seagull, Chekhov subverts our expectations of a standard climax and dénouement. "I wrote it forte and ended it pianissimo," he wrote a friend in 1895 just before the play's Moscow debut, "contrary to all the rules of dramatic art."
Indeed, by the time the last act opens, fates are largely sealed. Nina and Trigorin have already conceived and lost a child, and the famous writer has returned to Arkadina, his original lover. What's more, both Nina and Constantine are now successful - albeit tortured - artists. When a gunshot finally rings out backstage at the very end of the play, it feels like an afterthought; the remaining characters carry on their card game, and no one except Dorn goes outside to see what happened.
As if we couldn't see it coming, the doctor discovers that Constantine has just shot himself. The Seagull's ending may not be "dramatic" in a conventional sense, but it's so cruelly ironic as to be sort of funny - in other words, quintessentially Chekhovian.