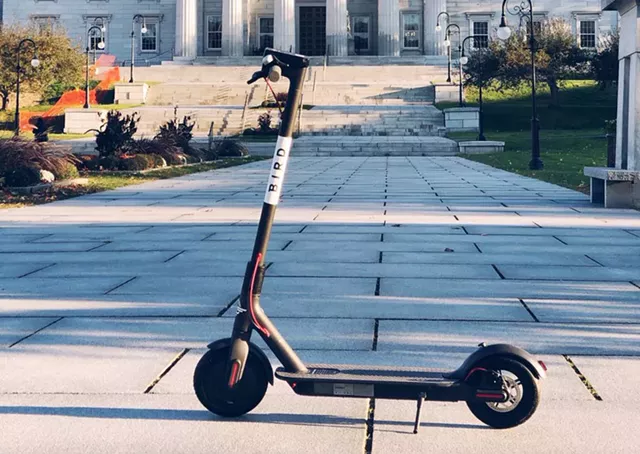 Courtesy Of Bird
A Bird scooter
A new, two-wheeled form of transportation has landed in Montpelier. One hundred electric Bird scooters have been available for rent on Capital City streets since last Thursday.
To catch one, users download an app, which has a map that tracks available scooters. Riders, who must be 18 or older, pay $1 to unlock the scooter and another 15 cents per minute. The rules of the road for cyclists apply: riding in the street and following traffic signals. The scooters have a maximum speed of 15 miles per hour.
Once finished, users can leave the scooter wherever they are, as long as it's in a safe place and out of the way. The company picks them up to be charged each night. By morning, the electric vehicles are back out on the street.
The flock is part of a 60-day trial, according to City Councilor Conor Casey, who first reached out to the company about coming to the capital city. It's Bird's first foray into Vermont.
"We really are committed to making sure there is a lot of public input going forward and making sure this is right for Montpelier," he said. "I do think this is a solution that could work for us."
Casey's used the scooters for a few commutes to his house a mile and a half from his downtown office and said he's gotten mostly positive feedback from others. The company reported about 750 rides as of Tuesday afternoon, according to Casey.
It's not all rosy. Many people ride the scooters on the sidewalk. Most don't wear helmets, which isn't required but is recommended, said Police Chief Tony Facos. People have complained that some riders appear to be younger than 18 and operating the two-wheelers unsafely, Facos said, though there have been no serious crashes. One scooter was vandalized, the chief said.
Carrie Stahler watches the scooters whiz by her Main Street office. She admitted "they look like fun" but worries that riders are reckless. The scooters are also hard to see at night, she said.
"The 'rules' seem to be up to individual interpretation," she said in an email.
City Manager Bill Fraser said all concerns will be taken into consideration and, ultimately, the company will have to decide, "Are we worth their while?"
They don't operate in the winter.
"It's a fun trial, and we'll see what happens," Fraser said.