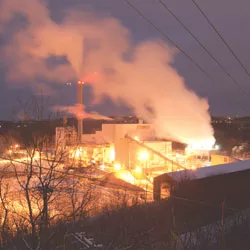 Matthew Thorsen
McNeil Generating Station
Is biomass the solution to Vermont's energy problems or the next big threat to our health and environment? Virtually every candidate in the recent governor's race — including Republican Brian Dubie — championed the idea of burning wood for heat and electricity as a clean and renewable alternative to fossil fuels. Plus, biomass can provide crucial base-load electric power — something neither intermittent wind nor solar power can do.
In November, the legislature-created Biomass Energy Development Working Group issued a draft report endorsing construction of one large-scale power plant and calling for state-level subsidies to encourage growth of Vermont's biomass industry.
But now that two wood-fired power plants have been proposed — in Fair Haven and Pownal — opponents are coming out of the woodwork, contending it's not that clean, and could threaten forests and human health. Leading the charge is Josh Schlossberg, a self-described "advocacy journalist" who writes a newsletter called "Biomass Busters." The East Montpelier resident works for the Biomass Accountability Project, a Massachusetts-based group that formed to oppose biomass power plants in the Bay State.
"It's sort of caveman technology," Schlossberg says of biomass electricity — a point he makes in an anti-biomass slideshow he's presenting in towns all over the state, including Pownal and Fair Haven. "It's cleaner than the dirtiest, but when you compare it to emissions from wind, solar and small hydro, it's not even in comparison."
Biomass plants work the same way as coal-fired ones do — only they burn plant material, such as wood or switchgrass, to make steam, which turns a turbine that generates electricity. Depending how it's combusted and what pollution controls a plant has, biomass can produce lower net carbon emissions than coal and is infinitely more renewable; timber is essentially a crop that can be planted over and over again.
To Beaver Wood Energy LLC, that looks like a good business model. The Medway, Mass.-based company, a group of energy executives from New England who are partnering with engineering giant Bechtel, is proposing to build both Vermont plants. It promises that each generating station will produce 29 megawatts of local power, create 50 full-time jobs, and stimulate Vermont's construction and forestry economies.
How's the company's track record? The Beaver Wood partners have been involved in multiple business ventures, including GenPower Services LLC and Alternative Energy Inc. They used to operate biomass plants in Maine, and racked up a string of air-quality violations and corresponding fines there — including one for $134,000. It's all documented on the website of a group opposed to the Pownal proposal.
Thomas Emero, a founding partner of Beaver Wood Energy, downplays the infractions. He says Maine state regulators kept track of every occasion when the plant exceeded pollution limits — even when they were minimal — but didn't come forth with the tab until the company was looking to sell.
"It's no different than a police officer watching you go by his speed point at 67 miles an hour. Is he going to pull you over? Probably not," Emero says. "But if there was a computer-generated record of that, and the state decides they're going to go back and issue fines for every single time you've ever exceeded 65 miles an hour, you're going to get a bill."
The biomass plants in Vermont would be state-of-the-art, says Emero, noting the trouble in Maine stemmed in part from burning construction debris laden with paint and other toxic chemicals. They'd be far cleaner than most combined heat-and-electric biomass systems, not to mention conventional wood stoves, because he installs "millions of dollars" worth of filters to cut emissions.
The Vermont generators would be slightly more efficient, too. Like coal- and gas-fired plants, most biomass plants manage to convert only 25 percent of the fuel into electricity; the rest is lost as waste heat. Combined heat and power plants, such as one at Middlebury College, are significantly more efficient. The Middlebury plant yields around 800 kilowatts of electricity and heats the entire campus, according to Chris Recchia, executive director of the Montpelier-based Biomass Energy Resource Center (BERC).
Efficiency at the Pownal and Fair Haven plants would be more than 30 percent, Emero says — because the waste heat would be put to use in accompanying wood-pellet manufacturing operations at both locations. There would still be enough heat left over to heat a town the size of Bennington, Recchia says, but neither plant is located close enough to a population center to make that happen.
It's a similar situation at Vermont's biggest biomass plant, the 50-megawatt McNeil Generating Station in Burlington's Intervale. The plant could heat most of downtown, Recchia says, but the infrastructure isn't there, as it is at Middlebury.
"There's a fundamental disconnect about where we choose to site these things and the size and scale of them relative to trying to make efficient use of the resource," says Recchia, who sits on the legislature's biomass committee.
"People don't seem to care whether you get only 25 percent of the energy value out of coal. They'll just mine more coal," he says. "But in terms of our resources, we care a lot about our forests."
Will biomass be good for Vermont's forests? That's one of the questions State Rep. Chris Bray (D-New Haven) is considering as cochair of the Biomass Energy Development Working Group. Three decades ago, Bray worked for a year as a logger. He says he hears the same question today that he did back then in the woods: Why doesn't Vermont use more of its wood for energy? So, in 2009, he sponsored a bill that convened a group to look into expanding markets for biomass.
"Although we talk about agriculture being an industry under stress, the figures are actually worse for forestry and our wood-products industry," Bray says. The group's goal is threefold: make Vermont more energy independent; ensure the survival of the forestry industry; and make sure wood used for biomass is harvested sustainably.
The November draft report recommended permitting one large-scale, wood-fired electrical generating facility in southern Vermont; supporting school conversions to biomass energy; and offering a menu of incentives, tax credits and low-interest loans to spur the biomass industry.
Critics have responded by saying Bray's group treats biomass expansion as a foregone conclusion. Ann Ingerson, a Vermont-based resource economist for the Wilderness Society, says expanding biomass — for heating or electricity — has the potential to wreak unintended "havoc" on Vermont's environment. Few loggers cut wood solely for biomass, she notes, instead doing what is called "integrated" harvesting: They cut the best trees for lumber; what's left becomes pulp, or chips and pellets for biomass.
Removing nutrient-rich treetops from the forest has the potential to compromise soil quality and accelerate erosion, Ingerson says. "I'm not opposed to biomass energy," she says. "But if we pass new policies with incentives and things happen really fast, we could find ourselves with unintended consequences."
Observers also question why the committee isn't probing the health and climate impacts of biomass and why there's no climate scientist, soil scientist or public health official on the panel.
Admitting his focus is "economic development," Bray says his committee has added health and climate effects to a list of issues that "ought to be looked at" going forward.
Meanwhile, Beaver Wood Energy hopes to get the green light from the Vermont Public Service Board by spring, to qualify for $100 million in federal subsidies that expire in 2012. But so far, lucrative subsidies for biomass power plants have failed to produce much new construction — at least in New England. Recchia says that BERC has tracked no fewer than 250 proposals for new biomass power plants over the last decade. Of those, only one has been built, a New Hampshire plant that was converted from coal to wood.
"When investors actually put pencil to paper, it all goes downhill," Recchia says. "It becomes less and less attractive to investors, less and less cost effective."
Time will tell whether Vermonters have the same reaction to biomass.