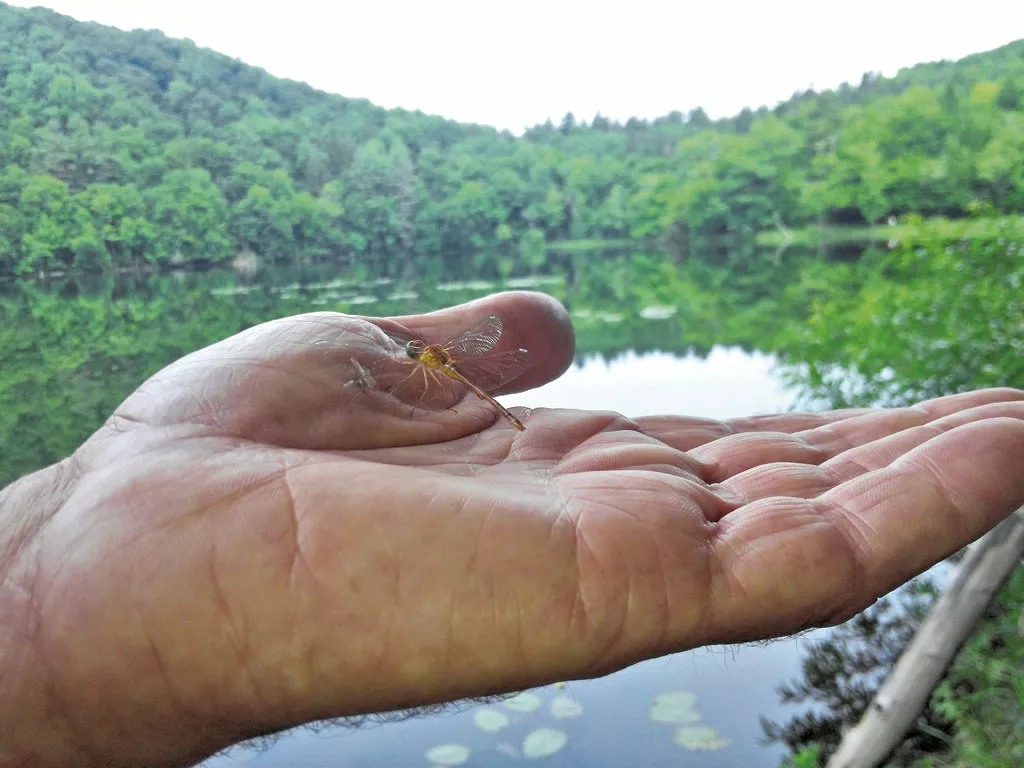 Ethan De Seife
Autumn meadowhawk dragonfly in a volunteer's hand
The Vermont Butterfly Survey, an ambitious cataloguing of every single such insect that flutters within the state's boundaries, was a huge project stretching from 2002 to 2007. Though naturalists at Norwich's Vermont Center for Ecostudies led the endeavor, the bulk of its lepidopteran research was accomplished by volunteer "citizen scientists": everyday people with an interest in their natural surroundings.
Of course, the 103 species of butterfly that the survey found represent just a sliver of Vermont's biota. Last Saturday, VCE cosponsored an event designed to take stock of every living thing that flies, hops, crawls or has taken root in the state's only national park. The so-called BioBlitz, a term coined by a U.S. National Park Service naturalist during the first such event in 1996, attracted botanists, entomologists, naturalists and about 50 citizen scientists.
Ethan De Seife
Moth species turned up during BioBlitz
VCE conservation biologist Kent McFarland, 47, was the event's lead organizer; he teamed up with Kyle Jones, an ecologist at Marsh-Billings-Rockefeller National Historical Park in Woodstock. The BioBlitz was an all-day affair, beginning at 7 a.m. with a discussion of the park's known avian residents and ending after 10 p.m., when the day's "mothing" had concluded.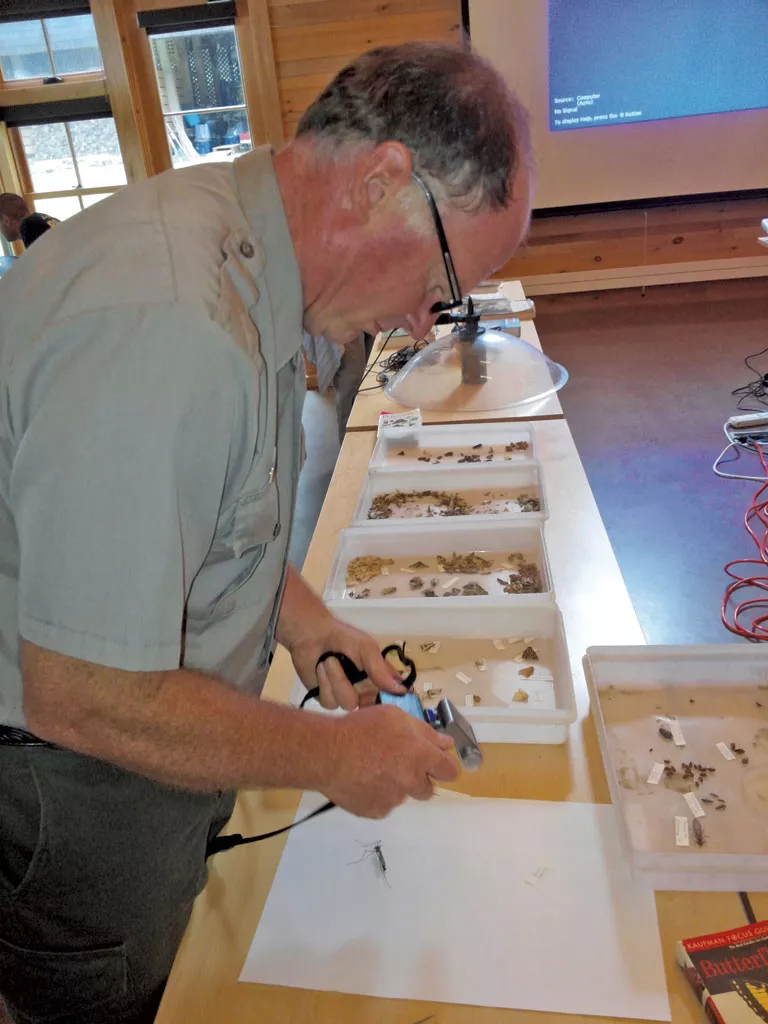 Ethan De Seife
Kyle Jones photographs and catalogs a moth specimen
The purpose of a BioBlitz is not necessarily to discover new species, though such an occurrence would be a welcome bonus. (And it has happened: past BioBlitzes have introduced to the world a few new bees, a springtail or two, several previously unknown plants and at least one new species of the tiny tardigrade, a "micro-animal" also known as the water bear.) In addition to creating as accurate a catalog as possible of an area's living inhabitants, the event's organizers aim to "make science real," as McFarland put it.
A morning "dragonfly walk" with Michael Blust, an expert on the insects (and their close relatives, the damselflies), accomplished this goal handily. Blust, a professor emeritus at Green Mountain College, used just-caught specimens and left-behind dragonfly nymph shells to educate a small group of volunteers about these insects. His many-pocketed vest was fairly bursting with collected specimens and analytical tools.
Proffering a twitching marsh bluet damselfly and a magnifying lens, Blust pointed out two clusters of parasitic mites that weren't making the insect's brief life any easier. Onlookers also learned about the complex mechanics of dragonfly intercourse, a process that involves genital appendages called claspers, brushy-tipped penises and bodily deformations that would make a sideshow contortionist envious.
Ethan De Seife
Widow skimmer dragonfly
This is science for everyone, and that's the point. "You don't have to be some kind of a geek with a lab jacket on, looking through microscopes," McFarland said. He described the BioBlitz as "part scientific venture, part education and part fun ... We want to show people how much biodiversity happens right in your backyard."
"Biodiversity" was the day's big buzzword, turning up in talks given by the scientists in attendance, as well as on the event's page on iNaturalist, the smartphone app that many participants had downloaded in advance of the BioBlitz. The free app makes it simple to record, photograph and attach GPS data pertaining to any living species the searcher may encounter. It's a boon to the citizen scientist, and its ease of use redounds to the BioBlitz itself.
A BioBlitz can be expensive to stage, said McFarland, especially when it enlists many scientists who require specialized equipment. But he pointed out that the event in Woodstock was "done on a bit of a shoestring," with the VCE and the park splitting the bill. Participants brought their own lunches and sunscreen and received no souvenir tote bags or water bottles.
As the day proceeded, the numbers on the constantly updated "species tally" climbed; by late afternoon, volunteers had made 255 observations of 133 species, including the belted kingfisher, the brown-belted bumblebee, the rattlesnake fern and Canadian wild ginger. The tally turned the blitz into a noncompetitive game — McFarland, who has now taken part in four BioBlitzes, referred to it multiple times as a "scavenger hunt."
Armed with the freshly downloaded iNaturalist app and assisted by VCE ecologist Sara Zahendra (cohost, with McFarland, of Vermont Public Radio's "Outdoor Radio"), I managed to make a single upload: a mushroom with a pinkish cap about four inches across. Less than three hours later, another volunteer logged on to suggest that it belonged to the Boletus genus.
Most volunteers used little besides their eyeballs, a notepad and an occasional field guide to identify species. Several were novices, ranging from elementary school kids to retirees. Many, though, arrived with extensive knowledge. One was Zac Cota of Starksboro, an avid birder and contributor to iNaturalist's database. Though he was happy to speak to a reporter, flitting butterflies and downy woodpeckers often cut him off mid-sentence.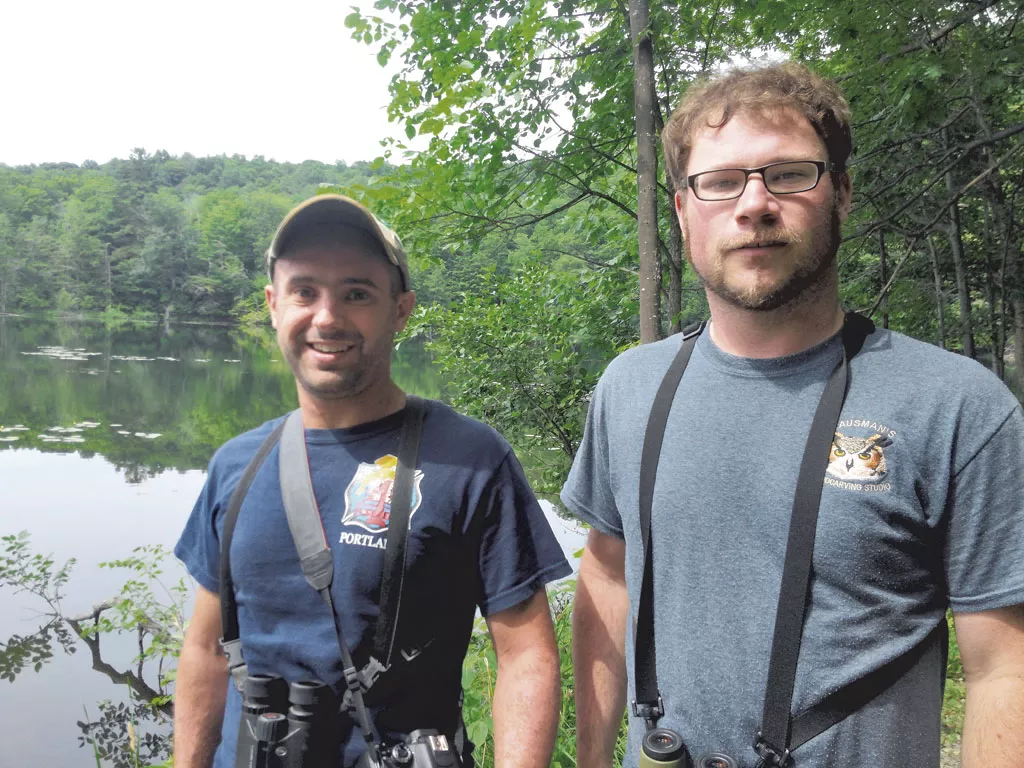 Ethan De Seife
BioBlitz volunteers Zac Cota (left) and Remy Lary
Cota and his friend Remy Lary were participating in their first BioBlitz. Genuinely passionate about the natural world, Cota was just as excited about the digital tools that now enhance its study. It used to be, he said, that "if you saw a bird, you'd have to call your friends [to confirm its identity]. But now, there are things like [the birding website] eBird.com, where you can go online and look at a live stream of bird reporting to see what's in your area."
The citizen scientists do the hunting and gathering, but the identification and classification fall to the scientists on hand. As volunteers fanned out across the park, a team of naturalists stayed behind at "base camp." Armed with microscopes and dissecting tools, they studied the findings that were not immediately identifiable.
McFarland mainly studies insects, and he joked that the botanists at a BioBlitz have it easy. "Most of the flora are readily identifiable!" he exclaimed with mock indignation. Nor do plants have to be chased across fields or through woods. Numerous volunteers wielded park-approved nets as they hunted wee winged beasties through the tall wildflowers.
The 555-acre Marsh-Billings-Rockefeller National Historical Park was selected as the site of the BioBlitz in part because it's known to be biologically rich, yet contains a "managed forest" that yields lumber and other products. (The park has received certification from the international Forest Stewardship Council for its work in sustainable forestry.) Speaking about a week before the event, McFarland said that, despite the park's significant human presence, he expected that the blitz would turn up "a ton of stuff"; he added that he would not be surprised by the discovery of new species.
McFarland described Jones, the park ecologist, as a die-hard naturalist, and Jones has the numbers to back up that claim. As of this writing, he was the No. 2 contributor to iNaturalist's Vermont Atlas of Life, having logged nearly 1,700 "research-grade observations" of plants, birds, insects and other organisms.
Speaking by phone before the BioBlitz, Jones, 54, was particularly keen on the opportunity to learn more about the park's many invertebrates. (Attendees learned about resident bugs, and how to trap them for study, from state entomologist Alan Graham.) Insects' food-chain interconnectedness is particularly pronounced. A spike in the population of one type may indicate a dip in the population of another — and, pending further research, could portend major ecological change. "By finding invertebrate species," Jones said, "it could give us some ideas about whether we need to do some more research in looking for rare species."
Ethan De Seife
Kent McFarland with Fuligo septica, dog vomit slime mold
Jones is not the only one to observe that the real value of a BioBlitz lies in the area of data collection. From the observations made during the event, scientists can study the waxing and waning of plant and animal populations; those data, in turn, can yield a greater understanding of the environmental conditions that affect their populations.
That ecological interconnectedness is at the heart of the BioBlitz, just as it was the driving force behind VCE's butterfly study. The introduction to its report calls the insects "silent messengers of environmental health."
"A lot of the work we do," McFarland said of the VCE, "we couldn't do without citizen science. We would be an army of biologists, and it would cost more than you could ever get for any grant or any fundraising ... It's impossible to do this without an army."
INFO
Vermont Center for Ecostudies, Norwich, 649-1431. vtecostudies.org
The original print version of this article was headlined "Wild Rumpus"