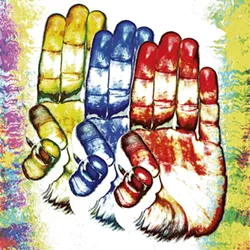 (Self-released, digital download)
Like a questionable bowl of jungle juice, Binger's 2014 album, Roots in the Rabbit Hole, had a lot of flavors. Elements of jam, psychedelic rock, hip-hop and funk all competed for attention. The album had its murky moments but showed promise.
Now the Burlington-based trio is back with a new album that delivers on that promise. Centered on what might best be described as "prog-hop," Skeptics distills Binger's diverse influences into a more cohesive sound, revealing a band more confident in its musical and lyrical choices.
"Strings" kicks things off with tight drumming, grooving bass lines and a catchy hip-hop chorus. It's a strong cut that establishes the vocal duo of Braden Winslow and Shakir Stephen. Winslow raps of self-doubt and second-guessing: "It's so vivid every time I make a mistake / How staying locked up in my head has got me raising the stakes / Until the thoughts of all this falling my resolve wanna break."
"Been Longing Too Long" is a quick interlude that introduces guest vocalist Stephanie Lynn Heaghney, songstress of the funk-soul outfit Smooth Antics. Her sensual vocals are a welcome addition throughout the album.
The hazy third track, "Resurrection in Sanskrit 1," feels half realized. But Binger bounce back with "If I Knew." It's a righteous little groove that touches on the current political climate: "And we can't blame the media / Our parents, the government or our faith in academia / 'Cause either way we flip it, the coin has to land on a side / And somehow, our similarities become the tools we use to divide."
The swirling eight-minute number "Look at the Lilacs" demonstrates Binger's ability to balance a multitude of sounds. Dalton Muzzy's controlled percussion lays the foundation. Lacking a chorus, the song vacillates between Stephen's measured rapping and Winslow's yearning verses. Lush harmonies and shimmering guitar licks anchor these vocal trade-offs.
The upbeat, jammy vibe of "King Vice" belies a dark message of addiction and hedonism. The monotonous, distorted effects of a vocoder are in full effect here, so, unfortunately, it's difficult to discern the lyrics.
"Abstraction" deals with the anxieties of family dysfunction, money problems and the loss of innocence. Beginning with a drawn-out, and ultimately unnecessary, instrumental section, the brooding track picks up the pace a minute and a half in. Here Binger pensively ask, "How do you wake up from being awake?"
In a nod to Binger's jam tendencies, the instrumental number "Resurrection in Sanskrit 2" closes the album with cheerful trumpet and noodling guitar.
Skeptics channels Binger's sometimes-scattered sonic choices into a pleasing mix of experimental prog-hop. The band still relies on synthesizers and improvisational grooves, but these tunes are far less spacey than earlier cuts. Wrestling with themes of identity, relationships, lost dreams and personal flaws, Skeptics also reveals Binger's lyrical maturity.
Skeptics by Binger is available at binger1.bandcamp.com.