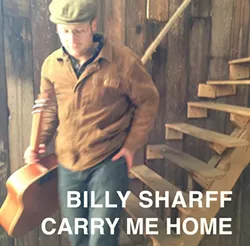 (Self-released, digital download)
Singer-songwriter Billy Sharff has a knack for balancing acts. As vocalist, fiddler and guitarist of the Upper Valley roots band Pariah Beat, he is comfortable playing a rollicking, boisterous interpretation of Americana. Yet he is also content to strip his music to the barest of bones, as he did on his 2014 debut solo album, This Side of Town.
In 2015, Sharff again dabbles in both group and solo pursuits. After being largely on hiatus for a few years, Pariah Beat embarked on a cross-country tour this past spring, hitting the Southeast before swinging out for Texas and California.
This month, Sharff drops a new solo album called Carry Me Home. Sparse and intimate as ever, it features only Sharff's battered voice and simple acoustic guitar. Elements of the American cultural and musical fabric — perhaps inspired by experiences on Pariah Beat's tour — find their way into Sharff's songs.
On Carry Me Home, Sharff still employs a plainspoken and unfussy vocal style. Some numbers, such as "Young and in the Way," are intensely throaty, while others hardly rise above a worn whisper. Barely singing on "Saint John for Me," Sharff uses a spoken-word tone to describe a walk through a former home. "Coming back into this house / feels like I've left something out / forgot myself inside a drawer / checking every shelf just to be sure," he says/sings.
In the lyrical tradition of country-folk troubadours, Carry Me Home is both observational and personal. Songs such as "Beauty Queen on Broad Street" draw touching, if slightly clichéd, character sketches of local townsfolk. "Take It" pays homage to the queen of rock and roll — Janis Joplin — with a cherishing touch that suggests that she is one of Sharff's personal idols.
Tunes such as "House of Rust" are searing and universal. "The sun up in the sky / one day it's not gonna shine / unlike this love of mine / so they say it can't be / now your body, I agree / so I say I can't live without you / this earth, my body, I give / so I don't believe when you die / your soul goes up in the sky / and lives forever like this love of mine," Sharff sings.
The hushed 11-track album plays like one of National Public Radio's Tiny Desk Concerts — and a quick one at that, clocking in at 27 minutes. Yet that's all the time Sharff needs. He conveys his sentiments simply and briefly, through yearning vocal changes or small tweaks of a guitar string. On his sophomore solo effort, Carry Me Home, Sharff uses both small-town vignettes and sweeping images to appeal to the individual and universal feelings we all experience.
Carry Me Home by Billy Sharff will be available on Tuesday, October 20, at billysharff.bandcamp.com.