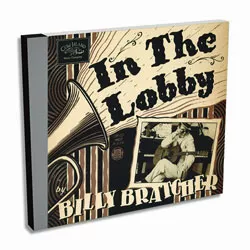 (Cow Island Records, CD, digital download)
Most local music fans likely know Billy Bratcher as the stand-up-bass player for rockabilly stalwarts the Starline Rhythm Boys. He's manned that post for more than a decade, holding down a slaphappy low end and penning cheeky tunes for the honky-tonk trio with his signature winking style. On his latest solo record, In the Lobby, Bratcher steps away from the whiskey-soaked ramblings of his main gig and delivers a treasure trove of classic tunes from the vaudeville and ragtime eras. As he explains in the album's liner notes, these songs served as his formative influences. He first heard many of them on crackling 78s by artists with colorful names such as Jelly Roll Morton, Wilton Crawley and Emmett Miller — and others whose contributions to early American popular music have been lost in time. (How many younger listeners even know what a 78 is?)
From its sepia-tone packaging to the syncopated swirl of antiquated sounds found within — including a Jew's harp — everything about In the Lobby evokes nostalgia. But this isn't a novelty record or a self-indulgent trip down memory lane. Bratcher recreates these 18 tunes with meticulous attention to detail matched by his obvious affinity for them.
Whether spitting ribald tales of infidelity ("She Ain't Rose" by Gary Vincent and Ken Gray) or cooing breezy, Hawaiian, guitar-laced ballads ("Diamonds Don't Mean a Thing" by Shadric Smith), Bratcher breathes vitality into the music; it's a credit to both his considerable abilities and the timelessness of his source material. The aforementioned Smith tune, for example, is relatively newer, but sounds as though it were written generations ago.
Much of the album's Victrola quality can be attributed to Bratcher, who sings with a naturally theatrical bent. But equally critical is the cadre of local backing musicians who populate Bratcher's would-be hotel lobby, from Anna Patton's jubilant clarinet work and producer Gus Zeising's playful sax to Kevin Maul's steel and dobro, and Robert Resnik on jug and the aforementioned Jew's harp. All combine to make In the Lobby a fascinating and thoroughly entertaining homage to a bygone era.
In the Lobby by Billy Bratcher is available at nimbitmusic.com/billybratcher.