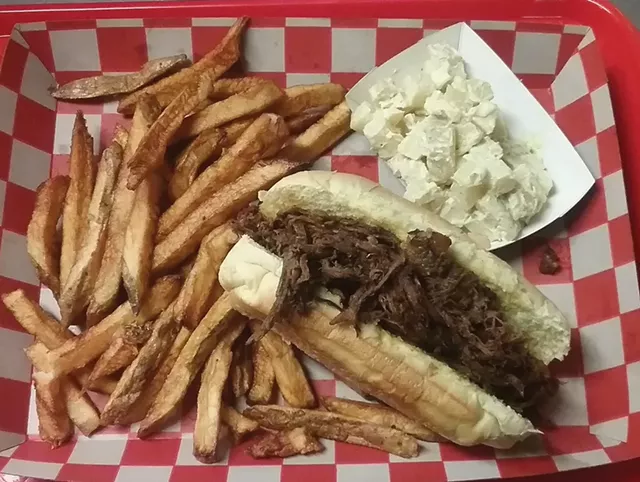 Courtesy of Billtown Barbecue
Brisket sandwich and sides at Billtown Barbecue
Billtown Barbecue is named for the central Vermont town, Williamstown, where it opened recently at 154 Depot Street. That's also the hometown of owner and executive chef Michael Flies.
Flies, who owns the restaurant with his wife, Donna, has taught culinary arts at Randolph Technical Career Center and is a former purchasing agent for the New England Culinary Institute. His father, Richard Flies, was an interim president of NECI.
Billtown, which specializes in meat that is smoked in-house, is the first restaurant Flies has owned. "We chose barbecue for a couple of reasons," he said. "One is that there's nothing else in the surrounding area like it. The other thing is, growing up on a farm [in Williamstown], we always smoked our meat. It's something that I've done my whole life and I enjoy doing."
A touch of farm life has made its way to the restaurant: Flies raises and processes the chicken on the menu himself.
Beef, pork or chicken, all the meat is dry-rubbed and smoked. Diners at Billtown can choose from seven sauces to spice up their meals. The house sauce is a "well-rounded" barbecue sauce with a tomato-maple base and no heat, Flies said; his spectrum of sauces maxes out at "extreme heat."
Side dishes are housemade and include potato salad, cole slaw, cornbread and smoked baked beans made with bacon. Diners can also get hamburgers, pizza and chili, with beer and wine to wash it all down.
Business has been "very good" since Billtown opened in late September, Flies said. The 'cue is on offer Wednesday through Saturday from 11 a.m. to 8 p.m., and Sunday from 11 a.m. to 4 p.m.