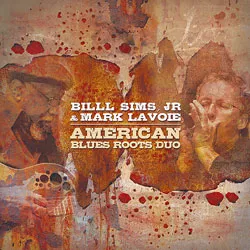 (Delta Groove Productions, CD)
Too many modern musicians are seemingly devoted to fighting even the merest suggestion of genre classification. So it's refreshing to come across an album that the most acoustically challenged record-store employee could properly file on the retail shelf. On their self-titled debut, longtime friends and collaborators Bill Sims Jr. and Mark LaVoie never stray far from time-tested Delta blues. But that suits them — and the record — just fine.
For 15 years, Sims and LaVoie have worked Vermont's festival and club circuit on acoustic guitar and vocals, and soulful harmonica, respectively. While the instrumentation is sparse, the music is anything but dull. Though the songs have a classic blues sound, the collection still feels fresh and original. There's a genuine joy in each of the 13 tracks that make it easy to picture the two musicians smiling as they belt and blow.
While much of the material hovers between slow and mid-tempo, "Gotta Go Down" — one of the album highlights — is a sped-up list of life lessons in which Sims doles out pleas for enlightenment about relationships, children, the homeless and the environment. "We gotta learn how to treat this planet, got to go down," he muses. "Ashes to ashes and dust to dust, the life we livin' might not be enough." The songwriting here is direct and powerful, with little need for extraneous verbiage or complicated metaphor.
Both musicians showcase their finely honed skills throughout. "Go Down Hannah" and the long-time Sims staple "Blues for Breakfast" highlight the singer's rich, plaintive vocals and carefully constructed riffs. "Telephone Blues" and "Meanest Old Woman" allow LaVoie to demonstrate his considerable chops on the harp. LaVoie takes on the vocal responsibilities for "Diggin' My Potatoes" and laces the track with some of the more fully realized harmonica runs on the album. No doubt many of these cuts could stretch pleasantly into longer, free-flowing jam sessions in live performance, but on the record they're neat and well organized.
Sims and LeVoie are individually talented musicians who together have crafted a genuine blues album that fans of the genre will love and any music fan should enjoy.
DAREK FANTON