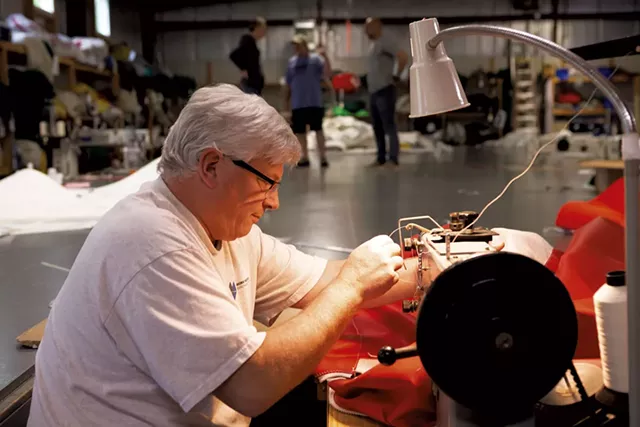 Luke Awtry
Bill Fastiggi
Name: Bill Fastiggi, 56
Town: Winooski
Job: Owner, Vermont Sailing Partners
Bill Fastiggi calls the weeks leading up to Memorial Day weekend his "Christmas season." That makes Memorial Day itself something like Christmas morning, at least for legions of eager sailors waiting to get out on Lake Champlain.
Fastiggi, 56, is the owner of Vermont Sailing Partners, a custom sailmaking company based in Winooski. To extend his holiday analogy, VSP's large warehouse — or "loft," in sailmaker lingo — would be like Santa's workshop. There Fastiggi and his small crew of expert sewers churn out sails of all shapes and sizes for clients all over the United States and Canada. White-haired and pleasant, Fastiggi might not make a bad Santa, though he's more accustomed to sloops than sleds.
Fastiggi grew up sailing on Malletts Bay in Colchester. He attended the U.S. Merchant Marine Academy in Kings Point, N.Y., where he sailed on the school's renowned racing team and won national championships his junior and senior years. Fastiggi likens USMMA's teams in sailing to Duke University's in basketball or the University of Notre Dame's in football — which is to say, elite.
In 1986, he started working with local sailmaker Rob McDowell, who operated a loft on Burlington's Pine Street affiliated with Rhode Island's Shore Sails franchise. Fastiggi eventually became a partner in the business; in 2003, the company moved to Winooski. Two years later, it was renamed Vermont Sailing Partners. Fastiggi, who took over sole ownership in 2009, says VSP is now the largest independent sailmaker in the country.
Fastiggi talked with Seven Days about the business of making sails.
SEVEN DAYS: How many sails per week can you build, on average?
BILL FASTIGGI: It depends on the size, of course. But we can usually do anywhere from two to eight or 10 sails per week. We do everything from scratch, start to finish. We also do design and cutting for other sailmakers. And sometimes cutting a sail can take all day, especially if it's a big sail with a lot of panels.
Last year, we built three sails for a 63-foot boat in Maine. Those were the biggest sails we've built. The biggest sail was a genoa, and that took over a week — just to build that one sail with three people working on it. That's over 100 hours of work, plus the cutting.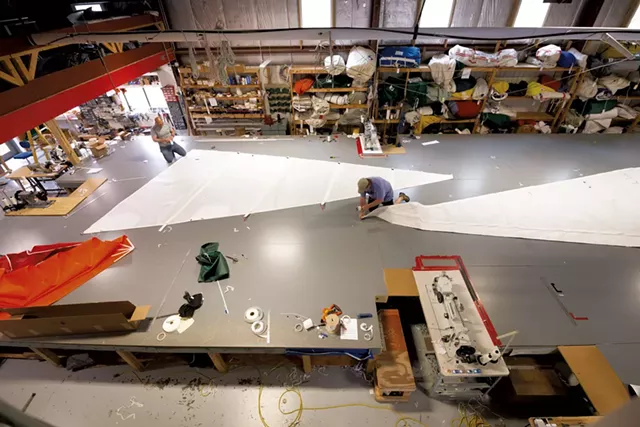 Luke Awtry
Workshop at Vermont Sailing Partners
SD: You use a computer program to design sails. How much of a difference does computerization make in sailmaking?
BF: A lot. We can look at a sail in all different types of ways — make it flatter, change the shape, all in 3D. Then we can export the design to our cutter and have all of the panels laid out on the fabric, which is something we used to have to do manually. That's not horribly difficult, but it's time consuming.
SD: You use an automated 2D plotter cutter to cut sail material. How does that work?
BF: We have a 38-foot table that we cut material on. It's like an air-hockey table, except that, instead of blowing air out, it sucks down, which holds the fabric to the table. Then there are two heads on the plotter cutter — for a pen and a blade — which will number and cut each panel of the sail. The key is to waste as little fabric as possible, because fabric is expensive. Some of the fabric we use is $60 to $70 per yard. So, if you can save a yard or two, that's a lot.
SD: Sailmaking is a very specialized profession. How hard is it to find employees?
BF: We very rarely find anyone who has sailmaking experience. So we look for either people who have sailing experience and know a lot about boats, so that they understand that part of it, or we look for people with sewing experience. We never find people who have both.
SD: How long does it take to learn to make sails?
BF: It really takes someone about a year to become productive, because there are so many elements to it. A bigger company might have one person sewing seams and one person just sewing patches. We need to have people who can do everything, but it takes time to master each task, the different sewing machines and skills and construction techniques.
SD: Do you have a certain type of sail for which you're best known?
BF: No, not really. We're a custom sail shop, and we'll do pretty much anything. There are a lot of lofts that specialize in one thing. But, overall, we try to provide really good service to the local sailing community. Once the sailing season starts, it's all about turnaround for repairs — if someone needs a halyard made up quickly, or someone destroys a sail. Like, if the Friendship down on the Burlington waterfront tears a sail, they'll call me up on my cellphone, and I'll come in at four or five in the morning and fix it so that they can go out the next morning.
And that kind of thing paid off for us in terms of how much our business has grown. Unfortunately, in the marine industry, a lot of people overpromise and underdeliver. And we really try not to do that.