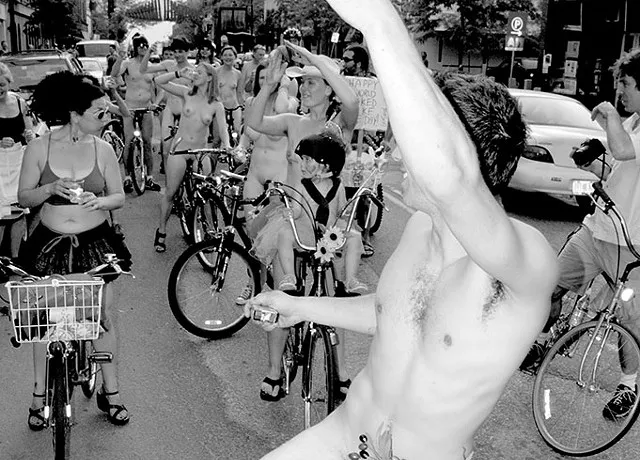 June 11 was World Naked Bike Ride Day, and a group of 20 or so brave bikers commemorated it by cycling nude through the streets of Burlington. They weren't alone — according to worldnakedbikeride.org, riders in more than 50 cities worldwide pedaled to protest reliance on fossil fuels, and to celebrate "the power and individuality of our bodies."
Burlington's contingent assembled between 6 and 7 p.m. in the parking lot of Greener Pastures and Junktiques on North Winooski Avenue. Husband-and-wife organizers Adrian and Lina Tans are residents of Cambridge, Massachusetts, who were in town visiting friends for the weekend. They promoted the protest by passing out fliers at local coffeehouses, and word traveled fast. Two first-year students from UVM who showed up said they'd seen an announcement on a nudist website. Another woman heard about it on WRUV.
While all of the cyclists supported the cause, most seemed to enjoy simply providing some spicy street theater. Michael Nedell, a longhaired slam poet, author and former presidential candidate, painted silver stars on his nipples and wrapped himself in red, white and blue cords of tinsel for the ride. He pedaled a rusty red Schwinn, modified for the occasion. He added a basket, to carry his clothes "just in case," and attached a hand-lettered cardboard sign that read "World Naked Bike Ride Day."
He also replaced the old seat with a newer leather model. "The spring was kind of coming through," he explained. "It wasn't very comfortable."
Just before departure, Adrian Tans prepped his posse on how not to get arrested. "No lewd acts," he advised, adding that they should avoid riding through city parks. Being naked in public isn't a problem, he explained — it's disrobing in public that can get you arrested. Ergo, the activists undressed en masse in the Junktiques garage.
The unclothed caravan — including a naked rollerblader — immediately attracted attention. Cheers erupted from people sitting on porches as the group rolled down North Winooski Avenue towards Pearl Street. Surprised motorists snapped photos with their cell phones as the riders turned right on Pearl, then zigzagged through downtown, cutting across crowded Church Street whenever possible.
They got a few catcalls — one pre-teen girl along South Winooski Avenue covered her eyes and cried, "You're sick!" — but overall the reception was positive, if puzzled. Few people seemed to get the anti-oil message. As the group passed the intersection of College and Church streets, an excited man in a giant, gas-guzzling Ford Expedition signaled his support by honking his horn repeatedly, prompting cheers from pedestrians and outdoor diners at Sweetwaters.
One confused woman shouted, "Why are you naked?"
"We're protesting oil dependency," a rider yelled as he passed. "And, it's a really hot day."