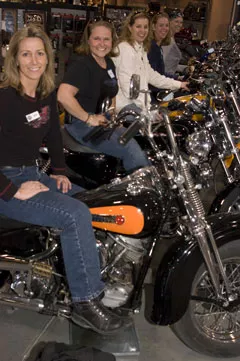 Matthew Thorsen
Left to Right: Debbie Pearson, Holly Rivers, Christine Knapp, Michelle Mitchell, Andrea White.
According to Elizabeth Gilbert's best-seller Eat, Pray, Love, the nice-girl way to get over a break-up in your mid-thirties involves dining in Italy, meditating in India and romancing in Indonesia. Whatever. The badass way to get over a break-up in your mid-thirties is to ride your 2001 BMW F650 GS Dakar motorcycle 10,700 miles to the Arctic Circle and back. Alone. Along the route your ex-boyfriend meticulously planned.
That's how it went for Debby Pearson of Essex Junction, anyway. In the spring of 2002, when she was living in Boulder, Colorado, her relationship with her "protector, GPS and pit crew" suddenly went kaput. Pearson and her boyfriend had been just days away from an adventure ride to Inuvik, Northern Territories.
"I was like, 'Aw, I'm really disappointed; I want to go on the trip; why can't I go?'" Pearson recalls. "So I went."
That attitude got Pearson into the far north and back — and, eventually, to a new life in Vermont. She and her husband, David (not the ex-boyfriend), bought Essex's Green Mountain Harley-Davidson dealership in January. Now she's organizing "Ladies' Nights" that attract as many as 70 road-enamored women to learn more about their machines, browse wares and trade tales.
Pearson's own story is a doozy. Now 41, she grew up on dirt bikes in Michigan, California and Colorado. Her first ride was on the gas tank of her father's dirt bike. "My dad was a really good rider; he'd go so fast and we'd just fly over the bumps," she says. "That was the allure of bikes for me — the excitement of flying and floating." After two years of begging, Pearson scored her own red Honda XR75 when she was 9. Instead of piling into the station wagon, she and her family would straddle their dirt bikes for weekend picnics. Other than a few bumps and bruises as a kid, Pearson says, she's had no accidents or injuries on two-wheelers.
In 2000, Pearson got a taste of international adventure riding, traveling through South America to Tierra del Fuego with three companions. Dirt bikes, she learned, can blow over in the winds of Patagonia. Dirt bikes can also burn holes in your saddlebags, scorching the one little dress you've brought for tango dancing in Argentina. Still, she liked the view from the road: "On a bike . . . you're a nice, self-contained unit," says Pearson. "You don't have to worry about bus schedules and planes, and you get to see behind the scenes."
But before taking off for the Arctic Circle, Pearson had never traveled long-distance alone — on any conveyance. Looking back on her achievement, she offers several disclaimers: She's not a mechanic, she's bad with directions, and if she'd known just how far it was to the edge of the polar ice cap, she probably wouldn't have gone. But worry didn't stop Pearson from hopping on the BMW she nicknamed "Liberty" and heading directly north from Boulder. The demands of the trip left her little time to feel sorry for herself, she says: "I had to pay attention and figure things out."
Rumbling through a string of national parks — Glacier, Banff, Waterton Lakes — Pearson took advantage of the nearly endless June sunlight to ride 15-hour days. She staved off fatigue by shifting positions and popping in a couple of wax earplugs to drown out the noise. She fought off the Yukon cold with thick layers that earned her the nickname "Michelin Mama."
As for loneliness, there wasn't much of it. When Pearson roared into a campsite, the managers typically looked behind her for the rest of the group. She eventually learned to tell them, and others who questioned her safety and sanity, "I don't see myself as riding alone — I see myself as riding with everybody here."
Occasionally Pearson met male motorcyclists whom she'd join for a few hundred miles or so. They usually made fools of themselves, falling over on their bikes or running out of gas. Manly, "amorous" northerners told her she was the woman of their dreams. Pearson would just sneak away — as best one can "sneak" on a motorcycle.
Then there were the encounters with bears — Pearson counted 17 black and two brown. "I think I became a bear magnet," she says. "But riding a motorcycle is just like going through a zoo with no bars — it's just animal watching."
Pearson made it back home in one piece — and the tale of her solo journey eventually earned her the courting attentions of David Pearson, who grew up in Ontario. The two were married a few years later; in 2006 they spent their honeymoon riding from Texas through Mexico, Guatemala and Belize.
Pearson likes to point out that her solo trip led to her falling in love with Canada and eventually with a Canadian. But she says the trek was more about empowerment than a future engagement. "I love to inspire women to take risks, to put some excitement into their lives. We're always the nurturers — it's important to make challenges in our lives," she says.
That philosophy is what inspired Pearson to plan the Ladies' Night at Green Mountain Harley-Davidson. "I'm really impressed with the enthusiasm," Pearson says of the burgeoning Vermont women's biking scene. She adds that she was blown away when 70 women signed up for Ladies' Night — and by how feminine Vermont riders are. "There are some stunningly beautiful women who ride here; other places, they feel like they have to wear leather and act macho."
Indeed, the only machismo evident in the 18,000-square-foot storefront on a sparkling spring evening is among the men dressed in tight Harley Ts and jeans, passing cucumber sandwiches and meatballs in little paper cups to the dozens of women who are listening to tech tips in the service area. More role reversal. "They're good balls," says one of the guys with a wink.
While Harley service team member Dana Scofield delivers a lecture on bearings and shocks, Pearson strolls among gleaming royal blue, caramel and candy-apple red machines, collecting tickets for the door prizes. Despite her past dalliances with dirt bikes and BMWs, Pearson is now a devout Harley lover, citing their comfort and close-knit community. In keeping with her assessment of Vermont riders, the giveaways are girly rather than burly: facial cleansers, gym memberships, Vermont Symphony Orchestra tickets.
Over a dinner of lasagna and salad, Joann Long-Ignaszewski of East Fairfield, who teaches the J&J Motorcycle Safety Course, tells a reporter Vermont has more women riders than ever, many of them empty nesters ready for some fun. The gas-mileage advantage of bikes over cars, she says, is spurring even more interest these days. Motorcycle racer Judy Mirro, who runs a women's riding school and worldwide motorcycle tours from Quechee, adds that she's had to schedule additional rookie-rider classes to keep up with interest.
Pearson quiets the chit-chat to share slides of her Arctic Circle trip. Tall, lean and blond, she's also funny, and the laughter nearly drowns out the rumble of Harleys from the early departures outside. Then there's a fashion show, a grand prize drawing for a leather Harley jacket, and a bit of what Pearson calls "retail therapy." She and David are offering a discount on everything in the store except bikes: skull medallions, saddlebags, air deflectors.
The retail therapy doesn't compare, though, to the wind therapy that Pearson says all women should try at least once. "You go out and ride your motorcycle into the beautiful mountains, and your troubles go away," she says. "For me, it's freedom and adventure."