Still from "Do Bicycles Dream of Electric Humans," 2015
The premise is simple but outlandish, the innuendo merciless: Bike Smut is probably the world's only traveling "bike porn" film festival, and it's coming — cough — to Burlington. On Thursday, August 25, ArtsRiot will host Bike Smut 9: Science Friction ... The Final Gear, a sextravaganza of short erotic films that celebrate sex and bikes in all their human, grimy glory.
Because the works included in this "film festival of radical pleasure" are screened only at special events for a live audience, it's not possible to offer much in the way of a preview. Bike Smut's website promises that this year's "adult pictures" include "interracial alien orgies, power-tool-wielding lesbians, Mexican post-porn saddle squirting, polybikesexual queer trans babes armed with dildo flamethrowers, hunting for a mate in a post-apocalyptic wasteland, and time-traveling sex missionaries." No big deal.
While an erotic film festival remains a curiosity in Vermont, envelope-pushing politics and celebrations of cycling are nothing new — putting Bike Smut's provocations oddly in tune with the local ethos. You could even think of the fest as a self-guided special addendum to the Henry Sheldon Museum's current "Pedaling Through History" exhibition of historical bicycles and bike culture ephemera in Middlebury.
The chief instigator of Bike Smut is Reverend Phil Sano. Born and bred in Oregon, he has strong ties to the city of Portland, where bike life borders on religion, and has dedicated the past 10 years of his life to distributing the films whose creation the festival solicits.
Over the decade, Sano has worked with a changing group of coconspirators. These include Poppy Cox, a Berlin-based performer and filmmaker who self-identifies as a "bike-sexual pornista." According to Bike Smut's website, the show has toured North America 19 times; during a 2011 European tour, it presented 63 shows in 21 countries.
This isn't the fest's first stop in the Green Mountain State. Bike Smut has played Vermont a handful of times, dating back to 2010, at such venues as the Main Street Museum in White River Junction (where it will return on Wednesday, August 31) and the now-defunct Firefly Gallery in Burlington. Last year, Bike Smut 8: Come Again was copresented by ArtsRiot and the Burlington-based Pride Center of Vermont.
"When I first met Phil and saw Bike Smut," ArtsRiot co-owner Felix Wai commented by phone, "I thought this was a perfect fit for ArtsRiot's mission ['Destroy apathy']." This will be Bike Smut's third visit to the South End venue.
"Pornography can be a really dark industry, and the conversation that Phil opens up is valuable," Wai continued. "He's sure to be inclusive of all bodies, all sexualities — and that doesn't happen as much as we think. We all say it, but not many people actually open up a forum for it. People are still pushed by the edginess of pornography, and my response is, sometimes you have to be a little loud. You have to be a little brazen."
This year's visit to the Queen City will be Bike Smut's last: The show is in its ninth and final run.
Within the past year, the nomadic Sano has put down roots in Las Vegas. His partner, Victoria Hartmann, is the director of Harry Mohney's Erotic Heritage Museum, appropriately located in Sin City. According to Sano, she has described the film festival as "a seamless blend of feminism, mobility, sexuality and care of the Earth."
In 2015, Willamette Week, a Portland-area altweekly, named Sano one of Portland's "bike heroes" — for his record of "constant provocation." In 2009, Sano estimated in the Portland Mercury that he had been arrested or cited by Portland police more than a dozen times. Some of those incidents appear to have involved cheeky offenses — such as his creation of a bicycle from a dented patrol-car door (police confiscated it). Others were more serious: In 2008, an interaction with police escalated to the point where Sano was severely Tasered.
Seven Days spoke with the reverend preceding his arrival in Burlington.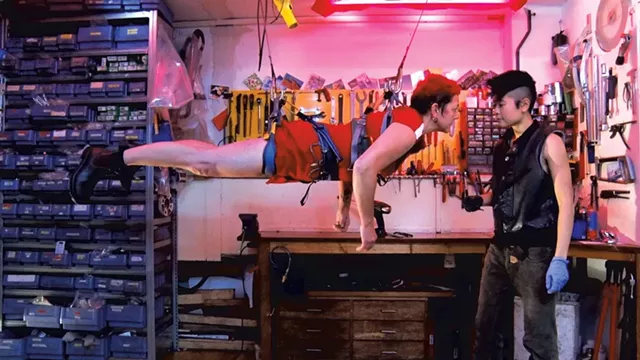 Still from "Lunch Break," 2015
SEVEN DAYS: Why bike porn?
PHIL SANO: I like to think of the origins of the festival in relation to the origins of mobility and sexuality. Even though we're not accustomed to combining the two, there's never been a time that they've been separate. We've benefited a lot from being able to do things like move faster, because that's what resulted in not being killed. When we were young primates, either you got dinner or you were dinner, based on how fast you could move. The longer you can live, the longer you can procreate, the more sex you have, the more appealing you are.
It's not like I want to live in a society that requires you to run fast to live, but, at this juncture in history, our technological abilities have superseded our natural abilities to have transportation be a meaningful part of our life. If you think of planes and how fast they can travel, there's a disconnect between yourself and the outside environment.
The way that we organize our cities is a terrible twisting of our social space. There's no greater example than cars. You're in an isolated box; it's climate controlled. Your chariot has all its comforts. It's basically your mobile home, and it's so isolating. People don't even think about cars because they're so dominant. That's how you know when something is worth engaging [with], when people can't even see its pervasiveness — that's hegemony.
SD: Where and when was the first Bike Smut show? How did it come about?
PS: It started in Portland in 2007. I was a filmmaker myself. I got so frustrated with the prescribed method for filmmakers, which is: Make a movie, submit to festivals, and, if you get lucky, someone contacts you, it plays, and maybe you get to make another movie. The deck is stacked against you. I didn't like dealing with the bureaucracy, and I didn't like the way filmmakers were treated. It's a huge cost to the artist, which doesn't make any sense. Everything about it seemed ass-backwards.
I had already done a film festival on bikes and violence. I was a bike punk in Portland, and it was a huge part of my identity. I wanted people to see this new, blossoming community whose birth I had witnessed.
Then I thought, What about bikes and sex? And people were like, "Hey, this is a good idea! Here's a way I could help; let me suggest this; can I be part of it?" It really took on a life of its own. I hadn't really even promoted it, but by the time we got around to the premiere, the line was around the block, and the next block and the next block. Half the people couldn't get into the show.
Since it was so popular, we got a few people, and we rode our bikes with the show to Seattle and Bellingham [Wash.] and to British Columbia. I thought, I guess we have to do a sequel. After a period of bike touring, it became obvious that we couldn't do it this way beyond Cascadia, so we bought a car. We did something like 20 tours over these years.
I was not planning on being an organizer. I don't have great logistical skills. But I kept on doing it because the demand for the art was high. And the art was amazing. Every single year I think to myself, That's it, I've seen it all. Every single year, I'm like, Holy shit, I never thought of that.
I've never seen such spectacular, inspired art, so I felt a duty that was unparalleled. The burden was exclusively on me in this situation, because it didn't seem like anyone else was going to be able to do it — like, how do you train someone to be a bicycle pornographer?
SD: Have your films always been erotic in nature?
PS: When I did art, if sex was involved, it wasn't because I thought, I'm going to be an erotic artist. Defining erotica in itself is an interesting process. We live with a patriarchy that says you don't get to just have art of this genre without paying some kind of price. What are you trying to say with this? You need to have all these answers ready if you're even going to approach a topic like [sex]. What about the children? I think children are the result of good porn, as much as anything else. You're welcome, kids.
SD: How many submissions do you typically get? Do you reject films?
PS: About a dozen a year. I've probably rejected four in the nine years that we've had the program. One of those was an hour of a guy riding cyclo-cross [a type of bike racing]. No story, just raw footage. Not even edited. In another film, a person rides around through the snow on a hand-crank tricycle for 10 minutes, and then, at the end, if you really pay attention, for the last 20 seconds you can see a small trickle of pee. Like, OK, that may be a little too avant-garde.
But almost every movie that's ever been submitted to us has been part of the program. We're very proud of that. If it's about mobility and sexuality, and part of sex-positive culture, then it's usually great. We want to let the artists decide what needs to be in the program. The majority of people who are inspired to make such a niche kind of art are already fans of Bike Smut.
If you see something not represented, then it's up to you to create it. All you have to do is live out your fucking fantasies. Literally. Is that such a terrible thing?
SD: What's the difference between Bike Smut porn and porn found on internet sites?
PS: It's art, and art usually has a little higher standards. It raises up the content to some degree.
There's some really cool stuff on those websites, too. It's just that it's in a sea of bullshit, and I don't want to wade through that. Which is why I ask people to make good shit, and that's almost exclusively what I get.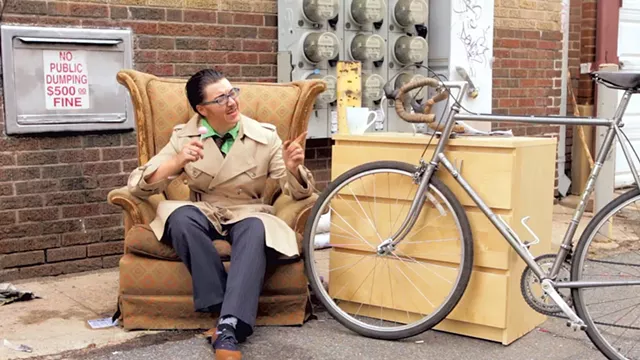 Still from "Do Bicycles Dream of Electric Humans"
SD: What do you consider "bullshit" porn?
PS: Right off the bat, there's a lot of the same stuff. If you're not talented with your search-engine skills, you're going to find a lot that's formulaic and interchangeable: 30 seconds of intro, maybe; a lot of focus on male pleasure. There's going to be a lot of fetishizing of the female's body parts; the male is probably going to be dehumanized, with his head removed from the shot altogether. There's less likely to be depictions of genuine pleasure.
The arguments of people who criticize porn are not without some validity. There's a lot of bullshit out there where it looks like it hurts the women in it. If this was the only porn you were watching, the only educator that you had, you're gonna think that's what sex is. That can be what sex is, but it's pretty narrow.
There's two other main things that bother me. First is the need for every single scene to be epic. I just want to have a good time. Does it have to be so life changing?
[Second], there's humor and humility [in sex], and those are things that aren't very accessible [in mainstream porn] because of the need to create ever more extreme things ... If that's the dominant image that we're presented, there's a concern that it will be the tool educating our future generations.
SD: Are you really a reverend?
PS: Yes, I'm an ordained minister in the Universal Life Church. I've done about 15 marriages now. The Church of Bicycle Jesus in Seattle is my main church.
SD: You have a history of run-ins with the law. Can you talk about that?
PS: In 2008, less than a week before Bike Smut 2: Bikexploitation, someone stole the mounting bracket of my bike light — who even does that? It was dusk, and I had a 10-minute ride. I thought, I'll be fine. As I'm riding along, this guy all in black calls out to me, "Hey, buddy, I want to talk to you for a minute." I look up for a second. I'm like, I don't know this guy. When people say, "Hey, buddy," that's not necessarily a good thing.
So I kept going. My hands weren't on my brakes, and I was fumbling with the zipper on my jacket. This guy in all black runs over and tackles me off the bike, breaks my glasses. I'm blind. He Tasers me. It hurt, but it didn't paralyze me. Then his partner ran over. They are yelling, "Get down!" and I'm yelling, "What the fuck?"
Then it came to me: They must be cops. So I get on my knees and I look up at them, and that's when they both hit me with the juice. Front and back, they both Tasered me while I was on the ground. Now I'm begging for them to stop. They were making jokes, laughing about how I wasn't so strong now. The pain rolls over you in waves, causing your muscles to contract violently. In between the waves, I wrapped my arms around the boots of the officer, who jumped back like he had just stepped in shit. That's when they stopped.
It is definitely the most painful thing that's ever happened to me in my life, and I've had some pretty amazing accidents. What hurts now is that I yielded to them. I yielded voluntarily, because I assumed that if I didn't fight them, they would keep me safe. I wasn't lit, so they decided to light me up.
So, in addition to preparing this second-ever festival, I was fighting legal battles [for resisting arrest, not having a bike light and assaulting an officer; the last charge was later dropped]. Comments on BikePortland.org said things like, "He was probably egging the cops on; we can't trust him, he's the type of person that would antagonize police." It really was one of those moments where, if you haven't ever been at the receiving end of that boot on your neck for being in the wrong place at the wrong time, then you can't appreciate the situation. And I've got all the privilege! And even I can be extracted in an instant.
A year or two earlier, I had been arrested during the World Naked Bike Ride. That's a bit more of a lighthearted story. A drunk driver hit me with her car. She could claim more damages from the dent in her car than I could by being hit by her. But I won the case eventually — they dropped all charges.
SD: Why is this the last festival?
Science Friction performance
PS: One of the things this festival has taught me is that you don't want the person in the front of the house to be the person who's in the back of the house. When it's all the same person, you're more likely to do a shit job at both things.
I've had to do it this way for the past two years. The seventh year was the Porny Express. I bike-toured solo with my projector, cables, screen, merch and tent from Minneapolis to Montréal to Mexico. I was doing crazy-long rides all alone. It was a wonderful challenge, but the schedule was so crazy, I couldn't have anyone else with me. I did another bike tour across Europe, and then tried doing a bus tour the following year — my knees were a bit shot.
What occurred to me is that I've tried all these different systems, but they don't actually change that much. It was always me. I've been the constant over the course of 10 years ... and I actually might be what's holding Bike Smut back. So the future of Bike Smut might be some sort of noncentralized distribution. It would be neat if local communities could step up to claim the methodology for themselves. I want to see proposals. I want to see people come at me with ideas.
If I'm the only person who's talking, that's not accomplishing anything. We don't need any more white cis-hetero male, college-educated, not-in-debt, stable-family-having voices.
Most of the past decade, I've just been perpetually touring. Bike Smut did around 80 shows a year. I couldn't afford to keep a home. The only way I could do this was to be essentially homeless. I've slowly bled off a small amount of inheritance by living a pretty frugal existence. I'm a bike punk; I can live very cheaply. But I don't think that's a long-term option for me.
Now I live in Las Vegas with my spouse, Victoria Hartmann. She hosted a screening [at Harry Mohney's Erotic Heritage Museum] two years ago. She was so inspired, she built a two-story sex bike as the centerpiece exhibit. It's a spectacular way to memorialize a decade of bikesexual decadence.
SD: What do you hope people take away from Bike Smut?
PS: What I think is really crucial is that we recognize that each of us has our own body and our own self. Such a huge part of our individuality is wrapped up in how we move and how we [have sex].
My theme for this year is "better problems." You can't live without having problems — what you can do is acknowledge that some problems are better than others. We should strive to have the best problems we can. People who are so horny at Bike Smut that they're unable to restrain themselves — that's a better problem. Not being able to engage the topic [of bikes and sexual expression] at all because of restrictive gatekeepers, that's not such a good problem.
One of the great things about [Bike Smut] is its approach to issues of taboo. There's hardly anything more important than being able to address issues around sexual taboos. If we can't talk about that, how are we going to talk about the things that are even more challenging?
SD: Last question: What kind of bike do you ride?
PS: I have two bikes. My primary form of transportation is a tall bike. It's a little silly, but the two main things with cycling are to see and be seen. If you're on a tall bike, you have the best view and no one claims they didn't see you.
I have a mountain bike, as well, because there's a whole lot of great mountain biking here.