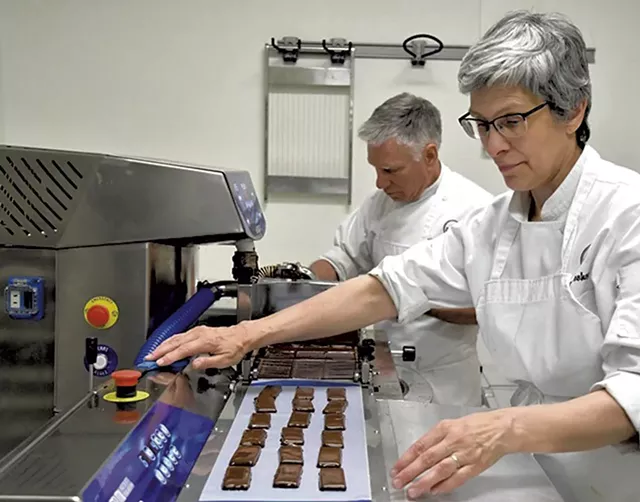 Lee Krohn
Kevin and Laura Toohey
Bijou Fine Chocolate closed abruptly last week after the confectionery business, which had production and retail space at 120 Graham Way in Shelburne, was cleared of its equipment and furnishings, according to chocolatier Kevin Toohey.
"We showed up Monday morning [October 2] to work and found the entire place had been completely emptied and gutted," said Toohey, who operated the business with his wife and two grown children. "There was nothing left but white walls and wood floors."
Toohey, who makes truffles and other confections, said Bijou was caught in a dispute between the business' landlord and its owner/investor. He estimates that $65,000 in equipment was removed from the premises, including an Italian-made machine that melts and tempers chocolate, which he valued at about $30,000.
"We were T-boned by a freight train, but the train didn't have anything to do with us," Toohey said. "We were caught in the middle. It was a horrific shock."
Toohey and his family opened Bijou, which specialized in truffles, at the Shelburne site in April 2014. The retail space was added in March 2015. Bijou had one of its busiest days ever on September 30, said Toohey. He added that "random customers" and customers who are "dear and sweet to us" have been calling to express support.
"The interesting piece for us is, we just had a tremendous outpouring from the community," Toohey said. "We had no idea of the breadth of our reach into the community. People were really, truly upset."
Steve Blood, managing member of Bijou Fine Chocolate LLC, said by email that he has been working with the business for about a year to get it on "sound financial footing." He added, "Unfortunately, we were unable to get there."
In combination with an "unresolved dispute with the landlord," Blood wrote, "we didn't have any options but to close the doors."

J. Graham Goldsmith, a Burlington-based architect and developer, is the owner of the property. He described Bijou Chocolate as a "subtenant" and said the business is a "great addition" to Vermont Artisan Village, the project he is developing in Shelburne that focuses on food and beverage companies. Goldsmith said he's offered to help the Tooheys "in any way we can" to remain a tenant.
"We're sick about it," Goldsmith said, referring to the removal of equipment from the premises and abrupt closure of the business. "We want them to stay."
Update, October 12: This story was updated after
Seven Days
talked with J. Graham Goldsmith, who could not be reached for comment by press time.