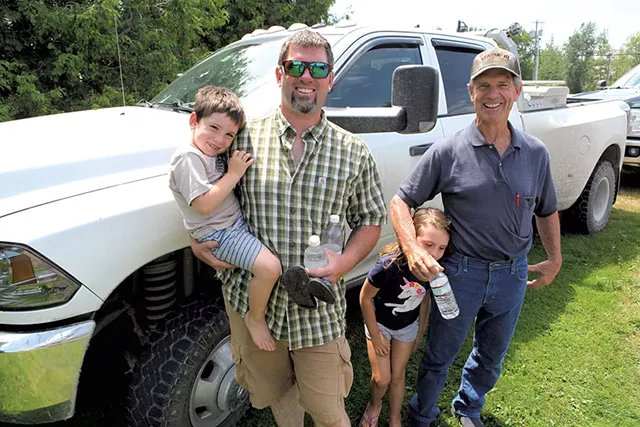 Kevin McCallum
Kurt Magnan, his two kids and his father, Jim Magnan, after the merger vote
Dairyman Rich Berard of Fairfield had just cast a vote that would decide his future on Monday afternoon when a fellow farmer approached him in a St. Albans parking lot.
"This is a half ton?" the man asked, slapping the side of Berard's heavy-duty Dodge pickup.
"Yup," Berard replied.
"Well, you're gonna have to get a three-quarter ton, because your milk check's gonna be so fucking big you won't be able to carry it," the man quipped.
The joke perfectly captured the tenuous balance of hope and skepticism among the struggling farmers who voted 99 to 9 that day to merge the St. Albans Cooperative Creamery, the oldest independent dairy cooperative in the state, with the nation's largest dairy co-op, Kansas-based Dairy Farmers of America.
Some farmers embrace the historic deal as the best way to improve their flagging fortunes by expanding the markets for their products.
"I think it's a good day," said Jim Magnan, whose family operates a 520-cow dairy in Fairfax. "Everybody has to move on. If you stop growing, guess what?"
But others say the overwhelming support for the merger, which takes effect Thursday, was less a measure of enthusiasm than an acknowledgment of the fact that co-op members had no other choice.
After several years of historically low milk prices; competition from a proliferation of plant-based, milk-like beverages; and acute labor shortages, the number of Vermont dairy farmers has plunged to a modern low of 725 — a 27 percent drop since 2011. The number of farms with more than 700 cows has nearly doubled over that same period, from 18 to 34, according to a report from the Vermont Agency of Agriculture, Food and Markets. The trend of larger farms absorbing smaller ones shows no signs of abating.
"This is certainly better than going bankrupt or some crazy thing where we lose everything," said Cedric White Jr., who milks about 120 cows in East Fairfield and would like his son, Cedric White III, to have the chance to do the same.
Wearing a Made in America 2019 T-shirt, White said that despite 30 years in the 307-member local co-op, he was "not actually that sentimental" about its history of independence. His future is on the line.
"The guys have done as good as they can, but, I mean, we haven't seen any returns for the last few years," White said. "It makes a lot of us nervous."
St. Albans started a marketing partnership with DFA in 2003, but as membership in the local co-op shrank, the two sides began to discuss combining forces.
The St. Albans co-op board voted unanimously in favor of merging last month, but the deal needed to be ratified by two thirds of its voting members — hence Monday's vote.
DFA has pledged to spend $30 million to upgrade the local co-op's St. Albans processing plant, pump another $5 million into its McDermott trucking service (which makes milk runs) and keep the local co-op store open. All three will become wholly owned subsidiaries of DFA.
But, as the dairyman's joke about milk checks suggests, few seem to think the merger will either increase farmers' income anytime soon or relieve the other consolidation pressures.
"We're all in the same boat, big or small. None of us are making any money," Berard said. "The bottom line is, there's going to be a lot less of us around in the next few years."
Berard, 62, figures he can hold out for two to four more years under DFA, whose help he nevertheless welcomes.
"DFA didn't have to do this. They could have bought us out of bankruptcy two, three years down the road," Berard said.
Farmers may not immediately enjoy higher prices for their milk, but the benefits should still be substantial, said Bill Rowell, co-owner of the 900-cow Green Mountain Dairy in Sheldon.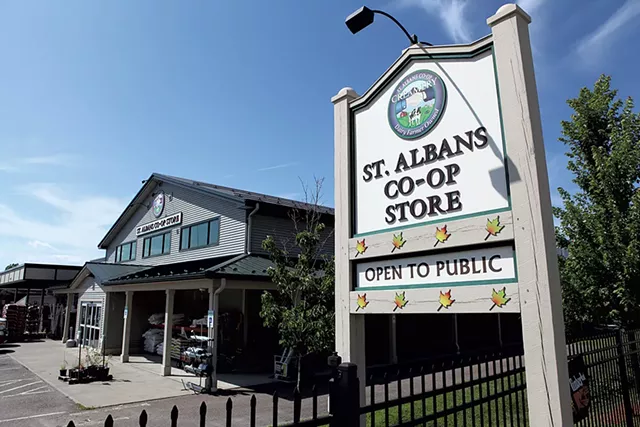 Kevin McCallum
St. Albans Co-op Store
Northeast dairies were forced to dump 170 million pounds of milk in 2017, in part because of capacity limitations in the system. Partnering with a large organization will help ensure those farmers get paid for that milk instead of getting nothing, he said.
One of the major challenges is that farmers produce milk seven days a week, but many of the producers of cheese, ice cream and other dairy products do not work similar schedules. When they're not accepting shipments of milk, the raw product has to go somewhere.
Currently, the regional St. Albans co-op is expected to store it — something the facility doesn't have the capacity to do, according to Rowell.
Processors "want long weekends, like everybody else," Rowell said. "The farmer works the seven-day week, has no place to go with his milk, and you dump the milk at the farmer's expense."
He said the merger is expected to ameliorate the overflow problem by expanding local storage and tapping into DFA's nationwide network of milk-processing plants.
Rowell didn't identify which customers are straining capacity at St. Albans, but Mike Howrigan, who milks 1,200 cows at four Franklin County farms, said one of the co-op's largest milk buyers is proving to be one of its most challenging.
"The first two weeks of July, Ben & Jerry's shuts down. Where does the product go?" Howrigan asked. "Can you imagine shutting down an ice cream plant in the heat of the summer? Every year."
Perishable milk can't be stored for those two weeks, and without the ability to ship it to other regions, the co-op misses out on the revenue, he said.
"Because of one customer, that costs the co-op a couple million dollars, probably, in sales," Howrigan said.
Dairy activist Michael Colby says there's a direct connection between the financial spiral facing St. Albans co-op farmers and its major corporate customers such as Ben & Jerry's. One of Vermont's most iconic brands, the company founded on socially conscious principles was purchased in 2001 by the British-Dutch conglomerate Unilever. The company pays the lowest possible milk prices, refuses to pay more for organic milk, and seeks to maximize profits at the expense of producers, workers and the environment, he said.
"It just goes to show who's making money in this milk scheme," Colby said. "It's not the farmers; it's the dairy corporations that are paying farmers less than the cost of production and then turning around and literally making a $1 billion-a-year fortune."
The state needs to help the industry reverse the trend toward larger and larger farms, on which cows are mostly confined to and fed in massive barns, and instead restore a sustainable, organic, grass-fed dairy model with the help of producers such as Ben & Jerry's embracing organic milk, according to Colby.
"We need to get off this treadmill. It's a no-win situation," he said.
Ben & Jerry's spokesperson Laura Peterson said the company does shut down its St. Albans and Waterbury production plants during the Fourth of July week for annual preventative maintenance, but it extended that period this year to make capital upgrades. It also shuts down for the last two weeks of the year, she said. The company informs St. Albans of these periods so the co-op can plan accordingly.
Regarding the merge, Peterson said the company is taking a "wait and see" approach. "Ben & Jerry's is keenly interested to understand how this development may impact our decisions around the sourcing of our most important ingredient, dairy," said Dave Rapaport, the company's global social mission officer. "We are focused on advancing our vision of a regenerative future for dairy farming, and we look forward to discussions with DFA about what new opportunities the merger may bring."
Peterson denied Colby's allegation that the company pays low milk prices. Since 2011, she said, it has paid $11 million in premiums to farms as part of its voluntary Caring Dairy program, which lays out a variety of best practices.
Back in the St. Albans parking lot, Ellenburg, N.Y., farmer Chris Sunderland stood by his Ford 350 Super Duty pickup truck with a wooden box and hay in the bed for transporting calves.
He called the merger an "unfortunate situation."
"At this point in time," Sunderland said with resignation, "it's what is the best we can do to save what we have."