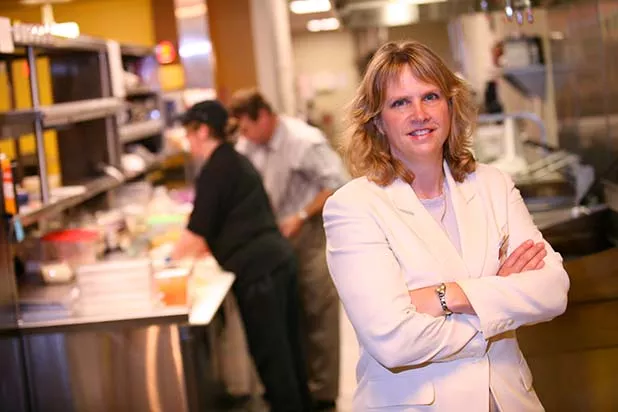 Panty raids . . . Pep rallies . . . Putting down the food in the college cafeteria.
The third of those campus customs may soon join the first two as relics of a less enlightened era. Most students today expect every meal served in their dining halls to be of at least "restaurant quality," says Richard Riani, Sodexo's district manager for Vermont and upstate New York. And the worldwide institutional food provider is striving to meet those expectations, offering tastier and more varied dishes at its 6000 locations around the United States. Those include three campuses in the Burlington area: Champlain College, St. Michael's College and the University of Vermont.
"We have students who have traveled all over the world," notes Monica Zimmer, a spokeswoman at Sodexo USA's corporate headquarters in Maryland. (The former Sodexho dropped its H a couple of years ago because it made the name difficult to pronounce in some of the 81 countries where the company operates.) "If we're going to serve a particular ethnic cuisine, we have to get it right," Zimmer goes on. "Culinary literacy has definitely been elevated in the past 10 years or so."
Of course, the local students who have protested Sodexo's campus presence over the years haven't just accused it of crimes against cuisine. In September 2004, Seven Days reported on a Champlain College junior named Tristan McNamara who spearheaded a campaign to kick Sodexo off campus, citing the company's ownership of for-profit prisons overseas. Though Sodexo Alliance, the Paris-based parent company, sold all its stock in the Corrections Corp of America in 2001, the charges about the company's involvement with overseas penitentiaries have resurfaced periodically.
Meanwhile, many student activists have shifted their focus to environmental issues, translating their planetary angst into down-home action. That attitude has put pressure on Sodexo to adopt greener practices and more localized menus - and in this respect, at least, it's stepped up to the plate. The multinational corporation, which reported $17.7 billion in total revenues last year, has responded to student demand with a host of initiatives that might surprise campus radicals who view Big Business as irredeemably rapacious.
Sodexo says it tries hard to source its servings from local purveyors. At St. Mike's, for example, about 30 percent of the food under the heat lamps in the Green Mountain Dining Room comes from Vermont producers or vendors, says Hank Strashnick, Sodexo's general manager for the Colchester college.
At the University of Vermont, where Sodexo prepares an average of 8000 meals a day during the academic year, plenty of Green Mountain fare is regularly available, says Paul Bahan, the company's on-campus marketing director. Vegetables from the Black River Produce network of 60-some Vermont growers show up at UVM's 15 campus dining facilities, along with artisan cheeses, Vermont Soy products, Champlain Orchards apples and cider, and Misty Knoll chickens.
Got Vermont milk? Yep - Sodexo poured the Cats 38,000 gallons' worth from Booth Brothers Dairy of Barre last year, Bahan reports.
To highlight its localvore commitment, UVM organizes a Farmfest in September where local growers socialize with students, "putting a face on the food" they eat, Bahan adds. The farmers also do a bit of educating while they're on campus. Last year, they turned students on to fennel in both its raw and cooked forms. "Some were familiar with its anise taste, but they didn't know what it looked like as a plant," Bahan recalls.
His company is getting more concerned about its fare's final destination, too. Last year, Sodexo started composting some of the food that goes to waste at St. Michael's. It's used in the flower beds and for dressing soil on campus, says Dave Cutler, director of the college's physical plant. That same year, UVM sent 208 tons of uneaten food to the Intervale; there it was composted and spread, in part, on the Arethusa Collective Farm, which in turn supplies Sodexo with mesclun and other greens. "We're closing the cycle," Bahan notes with pride.
Most of the locally produced food served at these Burlington-area colleges is organic - a "byproduct" of Sodexo's primary emphasis on local sourcing, district manager Riani points out. Organic food can be prohibitively expensive for a company grappling with the extra costs that many of its green initiatives entail. Depending on the season and the item, the price of organics is "sometimes very competitive," says Strashnick at St. Mike's. "Other times, it's beyond our budget."
Biodegradable take-away containers can make a mess of balance sheets as well. Strashnick notes that the climbing cost of corn has made it harder for St. Michael's to use green packaging made of corn starch.
In other areas, though, going green has proved cost-effective for Sodexo. Reps at St. Mike's anticipate spending $20,000 less a year to power the more energy-efficient equipment, such as a new tray-return conveyor belt, that the company is installing there.
Champlain College has taken that progression a step further - trays don't have to be returned at all. The Hill Section school nixed them last year as a result of what Riani says was a student-inspired innovation. UVM experimented with trayless service at its three resident dining halls for one week last winter. The attendant 42-percent reduction in food waste was enough to persuade the university and Sodexo to make the practice permanent and campus-wide, starting in September.
It's the end of a student tradition, perhaps - no more heaping that tray with extra slices of pizza and cartons of chocolate milk. Riani says the real savings of trayless service don't come from food, however. More important is the conservation of water that isn't needed to clean extra plates or hundreds of trays.
Sodexo is encouraging all 600 U.S. colleges where it operates to go trayless, corporate spokeswoman Zimmer says. The move isn't unique to Sodexo, however; large-scale food providers all over the country are promoting the same switch, UVM's Bahan acknowledges.
To some extent, Sodexo's increasingly green profile reflects an in-house consciousness. The company has its own vice president for social responsibility, notes Melissa Zelazny, Sodexo's general manager for UVM. But much of the impetus comes from students who are campaigning in growing numbers and with intensifying zeal on a range of environmental issues. Strashnick estimates that in the seven years he's been at St. Mike's, student awareness of food-related issues has "tripled."
Not everyone is satisfied with Sodexo's efforts to address the new campus zeitgeist. Kate Kanelstein is a former member of UVM's Student-Labor Action Project who graduated in June. She acknowledges Sodexo is engaging in more sustainable practices, such as purchasing local produce, but says, "they could probably be using a lot more. There's no reason for them to have low-quality produce from somewhere else when so much good stuff is available in Vermont."
Kanelstein also points to the irony inherent in Sodexo/UVM's "Sustainability Gallery," located in the tunnel under Main Street connecting the Davis Center with Redstone Campus. There, three big-screen TVs flash pictures and blurbs about the company's sustainability efforts - but, Kanelstein notes, "using all that energy doesn't seem like a very sustainable thing to be doing."
And Sodexo has drawn the ire of student protestors on yet another front. A group of UVMers forcefully challenged the university last year on the scale of the wages paid to campus workers, including many of the 250 Sodexo employees at the school. The "livable-wage" agitation didn't produce an outcome satisfactory to student organizers, so Zelazny expects the issue to flare up again this coming academic year.
"It's a complicated and complex topic," she says, adding that Sodexo pays its employees at UVM "competitive wages." Riani offers a more full-throated defense of Sodexo's pay policies for its 500 workers in Chittenden County, including those who serve food and clean up at the Shelburne Museum, Lane Press and Vermont Student Assistance Corp. He says the company's benefits package is "the most competitive" for food-service workers in the Burlington area. Riani adds that the hourly wage Sodexo pays its local employees is "well above" the state minimum, which is currently set at $7.68.
Currently, not one of Sodexo's workers in the Burlington area belongs to a union, says James Haslam of the Vermont Workers Center. And he believes that amounts to an unequal situation on a campus like UVM's, where many staffers are unionized. "They shouldn't be treated differently from UVM staff," Haslam says of the Sodexo workers. He points out that Sodexo workers haven't got paid for time off when UVM shuts down for a couple of extra days during inter-semester break. Nor are they eligible for the tuition remission benefits available to the children of UVM employees. Kanelstein echoes these concerns, noting that some Sodexo workers at the university have to work second jobs to get by.
In Haslam's view, the university should stop outsourcing its food service so it can treat cafeteria workers the same way it does other employees. He notes that UVM administrators talk a lot about social justice, "so now the university needs to walk the walk."
Meanwhile, some rank-and-file trade unionists have reacted with dismay and disdain to a secret deal that the Service Employees International and Unite Here recently cut with Sodexo and a couple of other major food-service companies. The arrangement was outed by The Wall Street Journal in May. It allows the companies to specify which of their locations and how many of their employees can be targeted for organizing drives.
Critics say the two unions sold out the cause of workers' rights. But the unions defend the deal on the grounds that it enables them to gain representation at job sites where they would otherwise have none.
Fewer than 10,000 of Sodexo's 120,000 U.S. employees currently belong to a union. Whether the recent deal will benefit any food workers at Burlington-area colleges has yet to be seen. For now, though, it appears that the primary beneficiaries of Sodexo's policy makeover have been hungry students.