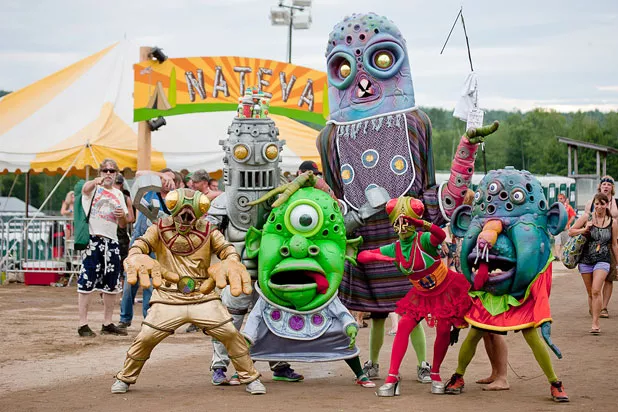 Ever since he started the Festival of Fools with Burlington City Arts six years ago, artistic director Woody Keppel has wanted to book Big Nazo, an internationally touring, larger-than-life "mutant puppet" tribe. "This is the year that we made it happen," Keppel says.
The Providence, R.I.-based troupe is made up of musicians, comedians and dancers who create and don enormous, alien-inspired wearable sculptures. They've performed around the world and constructed characters for countless stage performances, TV shows and festivals. In 2010, the troupe held daily parades at the Vancouver Winter Olympics.
In Big Nazo's own words: "Renegade circus family contortionists, a rowdy rodeo horse, a giant three-eyed robot percussionist, break-dancing police officers, mountain trolls, blob-like go-go dancers, a charismatic lab rat and his giant man-eating chia pet are just a few of the characters, environments and spectacles that create an irreverent musical commedia full of irresolvable conflict, ridiculous dancing and an epic battle with the forces of chaos."
Keppel, a vaudeville performer and actor, met Erminio Pinque, Big Nazo's founder and artistic director, about 20 years ago at one of the first International Busker festivals, in Halifax, N.S. "He's just a phenomenal artist," Keppel says.
With the help of Mayor Miro Weinberger, Big Nazo kicks off the "Spectacle of Fools" opening gala outside city hall at 5:30 p.m. on Friday, followed by a dance party, more performances and, at dusk, an outdoor screening of Buster Keaton's The Cameraman with a live, original score by local composer Randal Pierce.
The rest of the weekend is packed with outdoor acts. Want to watch a guy play classical music by bouncing balls on piano keys? Dan Menendez the Piano Juggler is your man. Looking for an athletic mix of acrobatics, dance and physical comedy? Don't miss the New York-based dance trio Galumpha. After hours, head to the Starlight Lounge, on the top block of Church Street, where Spielpalast Cabaret's Phinneus Sonin has curated a strictly local vaudeville show.
Other highlights include Saturday's St. Paul Street block party, with food and beer from American Flatbread and music by Vermont Joy Parade.
Street performers, Keppel says, are often perceived in America as "something for the kids." It's different in Europe, where vaudeville-style performances are taken a bit more seriously. When he was performing his long-running musical-comedy vaudeville show Waldo & Woodhead around the world, Keppel says, "We would perform at the Wintergarten, which was Berlin's famous variety house. We'd have a contract for three months; people would come dressed to the nines."
Burlingtonians might prefer more casual attire, but for the last five years they've embraced the Festival of Fools. "I've always thought Vermont audiences were some of the best," says Keppel.
Then again, it's not hard to be a good audience for great acts. "These are some of the best variety performers in the world," Keppel says. This weekend, he adds, Burlington will be "the epicenter of laughter."
Festival of Fools. Friday through Sunday, August 2 to 4, in downtown Burlington. Free. Info, burlingtoncityarts.org/festival_of_fools