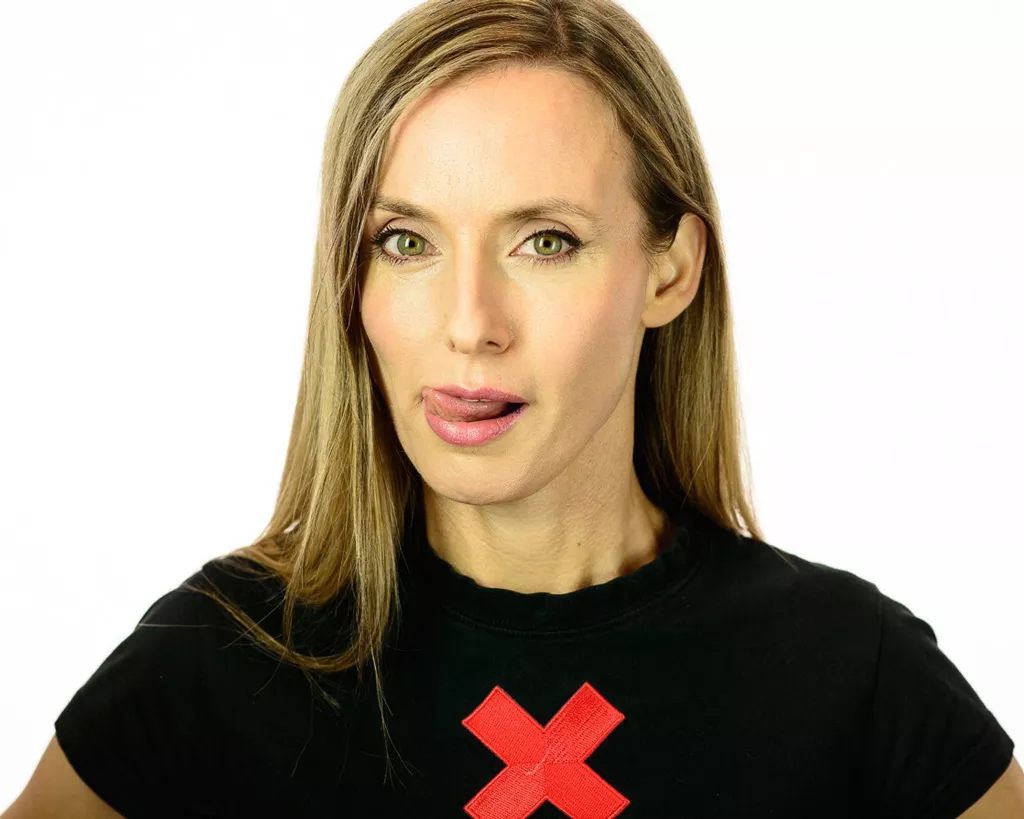 Courtesy of Robert P. Cohen
Natalie Jeremijenko
Natalie Jeremijenko is a conversationalist like few others. The New York University professor and eco-cultural disruptor has a mind so full of intertwined ideas that a discussion with her is like a particularly focused session of web surfing. Indeed, the internet serves as both an apt metaphor and the necessary backbone for much of her work.
Starting with one fascinating subject, Jeremijenko verbally hyperlinks to another subject, and another, and another. Her notions are so richly interconnected and original that one comes away feeling not overwhelmed but exhilarated, even inspired.
She'll bring that head full of ideas — about art, ecology, food systems, fish that send text messages and robotic dogs, among other things — to Burlington City Hall Auditorium on Thursday, October 8, for the inaugural event in a new monthly lecture series. That series, called "Big Maker," is organized by Burlington's Generator lab and makerspace.
Cosponsored by several major players in the local innovation industry — Burlington City Arts, Burlington Telecom, New Moran Inc., Champlain College, Hotel Vermont and the City of Burlington — Big Maker aims to bring world-class thinkers to town to inspire, interact with and learn from like-minded Vermonters.
Unquestionably, Jeremijenko (the Js are pronounced like Ys) thinks big, which makes her an apt choice. Though officially a professor of art, the Australia-born Jeremijenko has made a career of challenging and even discarding disciplinary boundaries. She has organized rock festivals, designed gorgeous "toilets" for birds, programmed a fleet of robotic toy dogs to sniff out toxins, and laid out carbon-sequestering curbside green spaces for polluted cities.
Two threads connect nearly all of Jeremijenko's ideas: smart design and the concept of agency. Whether the project is a lightweight rooftop enviro-emergency pod or an array of fish-triggered buoys that blink in different colors to indicate local water quality, Jeremijenko and her collaborators design it with an eye toward sustainability, cleverness, beauty and interactivity.
One project, TREExOFFICE, sets up a semi-permanent, high-tech renewable-energy coworking space that is built from and "owned by" a tree in a public green space. The project's goals include blurring the lines between indoors and outdoors, and boosting the health not just of the workers and the tree but of any associated birds, insects or fungi.
A complex notion to which Jeremijenko returns often is one she terms "the crisis of agency." It comes up in her popular 2009 TED talk, "The Art of the Eco-Mindshift," and in her Skype conversation with Seven Days. Jeremijenko believes strongly that the discussions about important global issues such as climate change have been framed improperly. It's not that we don't care about declining polar bear populations, she says, but that there's little we can do about it. Further, she believes, the current crop of "didactic" politicians and activists is ill equipped to enact the necessary globe-altering changes.
In her work on issues of public and environmental health, Jeremijenko calls for a radical reframing of the discussion. "Ideas of health are so dominated by medical, pharmaceutical, individualized, atomized concepts," she says. Jeremijenko believes we need a "participatory politics" that "reframes health issues as environmental issues and environmental issues as health issues ... Our agency is limited. By reframing [the environmental crisis] as a health issue, we can act on our local environments."
Lately, Jeremijenko has been devoting a lot of brainpower to food systems, a topic likely to hit home with Vermonters. Her mission: to engage not just politicians and activists but everyone in devising strategies to ensure food sustainability that go beyond what she sees as the current half-measures.
From Jeremijenko's perspective, food systems are enmeshed in what she calls "the big ideas of the 21st century: distributed local power production; redesigning food systems so that they reduce food miles, reduce petrochemical fertilizers and reduce pesticides; and all the other good things that the food movement is doing. We have to design food and food systems that actually increase biodiversity, build soil, improve water quality, improve air quality," she goes on. "The design bar has just been set so low: Let's just eat local. That's necessary, but radically insufficient."
Lars Hasselblad Torres, Generator's executive director, is delighted to have secured Jeremijenko for the first installment of the Big Maker series. "She sets the right tone," he says. "She covers several disciplines ... [and] she's got this whole new interest in food systems, and that's very ripe in Burlington and Vermont generally." Further, Hasselblad Torres adds, Jeremijenko was keen to learn about how to get involved in local projects that intersect with her interests.
The Generator honcho intends to put his guest to work. Big Maker speakers will typically visit Burlington for two days, during which they will be expected to do more than speak, schmooze and skedaddle. The public lecture is the marquee event, but guests will also meet with small groups of makers and students, the better to offer hands-on advice and strategies for smart disruption. Hasselblad Torres says the series aims to expose Burlington to world-changing ideas that are "just beyond the curve," and to demonstrate to top-flight thinkers that Burlington is "a great place to create."
One local professor who'll be sure to bring his students to Jeremijenko's events is Adrian Ivakhiv, who holds the unusual title of professor of environmental thought and culture at the University of Vermont. His work, which addresses the intersection of ecology, art and culture, overlaps significantly with Jeremijenko's, and he'll bring the students from his "Environmental Literature, Arts and Media" class to the events around her visit.
Ivakhiv distills Jeremijenko's message, with which he wholeheartedly agrees, like this: "The only way you can [cultivate agency] is by giving people the sense that it can be enjoyable to be creative around environmental issues."
That serious-yet-playful message comes through just as clearly in Jeremijenko's spirited conversation as in her varied body of work. As she tells Seven Days, the maker movement plays a key role in modern activism because it, too, is all about changing our relationship with our local environment. Put another way: It ain't just 3D printers anymore, folks. The argument implicit in Jeremijenko's upcoming talk is that those who can design, build and think creatively are the ones most likely to change the world for the better.