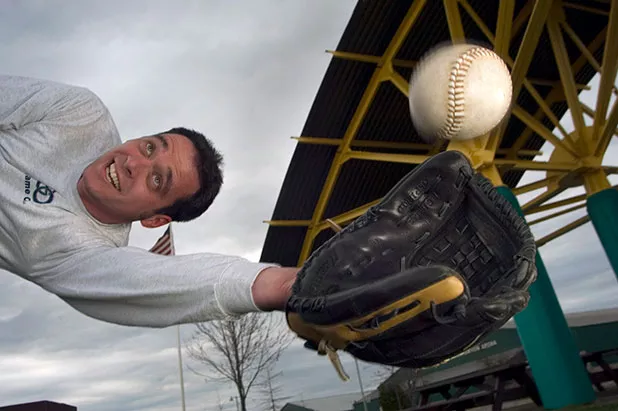 Matthew Thorsen
Louis Hodgetts
A few years ago, Sports Illustrated selected South Burlington as Vermont's number one "Sportstown," partly because of the 210-acre Dorset Park quilted with baseball and soccer fields and other spaces open to recreational pursuits. When the kids are away, though, those spaces tend to stand empty. On a recent weekday morning, the only action on the Dorset fields consists of little parties of moving seagulls.
But if one exercise entrepreneur has his way, this park — and several others in Chittenden County — may soon see footballs and field-hockey balls tumbling through the grass, not to mention croquet mallets striking and lacrosse sticks shooting overhead. Long trampled by kids' shoes, these green spaces may see more grown-up sizes.
With a new company called Game On, Louis Hodgetts aims to provide more sports leagues and programs for adults. The goal? To streamline logistics and fees, capitalize on the social nature of team sports, and make the Burlington area even more fun and active.
"I'm expanding the opportunities to get out and play," says Hodgetts, a 28-year-old who lives in Huntington. "The point is to promote existing team sport programs and develop new programs where they don't currently exist or are insufficient."
Growing up in Burlington, Hodgetts played hockey at Leddy Park Arena and baseball at South (Calahan) Park until he was hit by a car at age 11. "Being in traction for a month kind of puts a damper on athletic abilities," he says wryly.
Eventually, Hodgetts reconnected with team sports at Burlington High School, where he played baseball and helped coach hockey. As a student at the University of Vermont and after graduation, he continued to work with local hockey teams and at Burlington Parks & Recreation. Hodgetts also began playing in local softball and floor-hockey leagues, finding himself drawn not only to the workouts but to the companionship.
"In general, there's not a lot of social interaction outside of family and work for a lot of people, except for a team environment," says Hodgetts. "Individual sports just don't have the same connections."
But, as his field of sports-minded friends grew, his opportunities to get on the field were shrinking. "I was frustrated finding leagues," says Hodgetts, who discovered that many such groups were filled with the same people who'd been playing for the past 20 years. And sometimes, he says, a lack of committed managers led to confusion about playing times and places. So he began to shape a long-held dream into a reality.
"My goal for the last 10 to 15 years was to someday own my own sports complex, with an ice rink and indoor playing field and all that," says Hodgetts. "Then I realized that that was going to cost $100 million, which I don't have, so I needed to do something I could actually afford to do along the same lines."
Last year Hodgetts formalized his concept for a league-organizational business into Game On LLC, and he kicked things off this winter with a pickup dodgeball program at Burlington's Miller Center. Now his company is about to launch formally with pickup flag football at Calahan Park, croquet at Oakledge and field hockey at a location yet to be determined.
"I was looking at summer-type sports that people would be interested in playing," says Hodgetts. "Softball is pretty much covered by a bunch of different groups, and soccer is pretty well developed, too. There really wasn't a program around for field hockey; same for flag football." Croquet, he adds, was a "completely random" addition to meet the needs of a "lower-key market" — something "not as athletically challenging." Eventually, ultimate Frisbee, kickball, fencing, golf, volleyball and more may join the offerings.
After spreading the word on Front Porch Forum and Craigslist, Hodgetts says the response has been encouraging. Plus, plenty of dodgeball players are ready to get outside. Andrew Murphy is a 27-year-old investment adviser from Essex Junction who's been playing in Burlington-area leagues for 10 years. He says Game On is a game changer because it offers a way to include players previously shut out of sports for lack of the right contacts. "I'm kind of a sports junkie — I play a little bit of everything," says Murphy. "But if you want to play basketball, you need to know people in the basketball community. Year after year, it's the same people."
Game On will bring a mix of different skill levels to intramural activities, says Essex Junction's Bob Fulton, who plays flag football, among other activities. "You run into a lot of leagues that are either unorganized or the skill level is just too high for your average person to play in," says Fulton, 28.
Enthusiasm for Game On's goals may be high, but that doesn't mean it's a viable business. With the considerable fees charged by towns to use their spaces, and revenues as low as $5 per person for two hours of game time, how does Hodgetts plan to make it work? Luckily, he has a full-time day job as a civil engineer, so the focus, he says, can be more on fun than money. Hodgetts says his biggest hurdle so far has been pinning down the parks. "The youth market in this area is so strong that it basically monopolizes all the field space," he notes.
It's not just the youth market dominating recreational areas, says Gary Rogers of Burlington Parks & Rec. He points out that, because there are already established adult leagues for such sports as soccer and basketball, a newcomer will have a hard time securing space. "But we had great success with [Game On's] dodgeball this winter," says Rogers. "We're enthusiastic about new and different sports like dodgeball or croquet, which don't take much field space."
Hodgetts says he hopes to work with private land owners, too, to open up playing opportunities. When using public spaces, he aims to use his engineering background to make recommendations for improvements and to ensure the fields are well maintained and usable throughout the year. And that sounds like a winning plan.