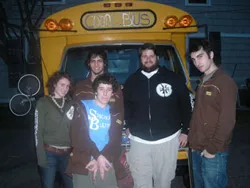 On July 12, 2007, Ridin' High skate shop owner John Van Hazinga was in a near-fatal skateboarding accident on Route 108, mere days after he was featured in a Seven Days article about skateboarding written by Ken Picard (Ken writes an update this week in "Local Matters"). The high-speed mountain road crash left "Big John" in a coma, clinging to his life while his friends and family gathered and watched helplessly.
It's an unfortunate reality that it sometimes takes a tragedy to bring us closer together, and Van Hazinga's case is no exception. Perhaps a sign of the times, his family started a blog to update concerned individuals about the fallen rider's progress and provide an outlet to express the maelstrom of emotion the experience elicited.
Written over a span of nearly three months, the blog chronicles Van Hazinga's progress from coma to awakening, to his first steps, to rehab, and, ultimately, his release from the hospital.
Van Hazinga's recovery is nothing short of miraculous. The stories of those closest to him are often heartbreaking, often hysterically funny and always moving — sometimes in a single post.
What follows are excerpts from Big John's blog:
My dad saw Dr. Link this morning and the doc said John was "steady as she goes" and "he is behaving." "If so," my dad says, "it is the first time in a decade."
Posted by: Rebecca, July 22, 2007
John is the MODEL of extreme sport safety (if there is such a thing!). When I moved to Burlington I was, shall we say, less mature than I am now and HIS helmet wearing inspired me to start wearing my helmet biking around Burlington. I thought I was too cool to wear a helmet. But since I looked up to him so much, I started wearing one after HE made it "cool." I can't even imagine the number of kids he has inspired to use safety equipment.
Posted by: Corey, July 25, 2007
John looks and acts mellow, except for his decision to yank out his trache tube! I'd been asking when they would remove it, as he obviously didn't need it any more. But Dr. Knackle said "since it's there, we'll put him through his paces today and see how he does, then we can take it out in a day or two." Shortly after that, while the PT therapist was talking with me, John reached up and before she could stop him, pulled it halfway out. After much flurrying around, Dr. Knackle returned and removed it the rest of the way! Well, they were warned!
Posted by: Biggs Mama, August 22, 2007
Outwardly, John is making tremendous progress doing a morning and afternoon lap around the nursing station/elevator rectangle, over 400 feet each jaunt. The first was in a high rolling walker with arm support, the second in a more or less conventional one. He tended to pigeon-toe, leaving the PTs to help him with that today along with balance and right side mobility and strength. John gloats with the attention and praise from the rehab staff.
Posted by: Rebecca, August 29, 2007
I have such love, respect, and gratitude for all of John's friends. Thank you all! I have watched my brother take risks his whole life but have never seen him fight a greater challenge.
Posted by: Rachel, August 30, 2007
Thank you for your prayers, and the shop has been doing well. Will Deming, Kaitlyn, Meredith, Rachel and Julian and all the others . . . Thank you. And to all who contributed to the benefit and the fund . . . thank you.
Posted by: Big John, September 2, 2007
The ladies' man is back. I've been waiting! I kept telling you in the very beginning that you needed some ladies and you'd perk right up. Hahahaha. Good to see you're back and in full effect, John.
Posted by: Carmen, September 16, 2007
I've had the uncanny opportunity to watch my son grow from newborn to teenager a second time, but at super speed.
It is fascinating to watch this process and yet heart-wrenching at the same time. I trust and envision him fully back to himself, with feelings somewhat reminiscent of watching him learn to ride his two-wheeler at four years old. So hard to stand on the sidelines and see him crash time and time again until finally, shakily, but with a huge grin he pedaled down the street. "Yeehaw, John! (He learned in Texas) Watch out for cars!" There are just as many dangers facing him as he shakily progresses this time.
Posted by: Biggs Mama, September 17, 2007
What an incredible feeling for Van and me to walk with arms linked through Big John's as we blew through the double doors of Fanny Allen Rehab into the fresh air, fulfilling the vision held for 79 days, finally realized on 9/28/07.
It's very difficult to express the depth of gratitude Big John's family feels for all of you who generously gave your love, support, experience and healing energy to Big John's recovery. Thank you, thank you, thank you.
Yesterday we drove the 108 from Smuggs to Stowe. Today we continue the reconnections. You've known me to be verbose in my writings, but today I'm just overwhelmed to be here with my son.
Posted by: Biggs Mama, September 29, 2007
This Wednesday, October 17, Big John celebrates his recovery — and his 30th birthday — in grand style as the Higher Ground Showcase Lounge plays host to "Rise Up: A Benefit for Big John." The party features the smooth reggae turntablism of Lion's Pride Sound and a special all-star combo of local blues axe-man Seth Yacovone with eclectic rockers Turkey Bouillon Mafia playing nothing but The Grateful Dead, all night long.
Happy birthday, Big John!