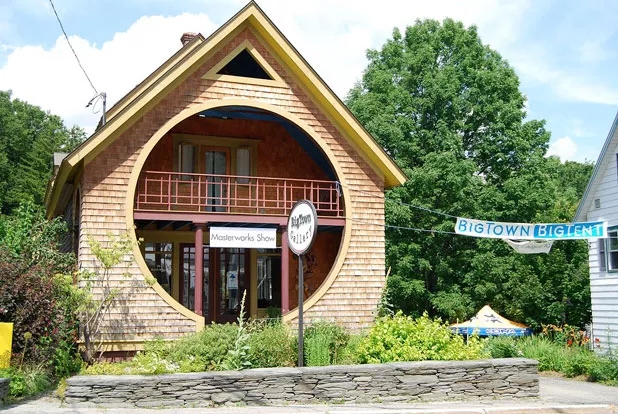 In 2009, Anni Mackay told Seven Days that BigTown Gallery was "about the celebration of the arts." True to her word, Mackay has not only exhibited dozens of visual artists at her Rochester venue, but also hosted both reading and backyard concert series in the summer, often featuring artists of national renown. At summer's end in 2011, Mackay had occasion to do rescue work, as well, when Tropical Storm Irene devastated her tiny central Vermont town (the gallery was spared from flooding; some of its neighbors were not so lucky).
Mackay's devotion to the arts — and bringing them to a rural outpost — has been tested, and strengthened. To take it to a new level, she's about to launch a nonprofit called BigTown Projects. "It's actually been in the works for a couple of years," she says. "I'm kind of a deep researcher, and I like to really think about the possibilities before I get down to it." That rumination led Mackay to the realization that she could get support for some of the things she's already been doing, and collaborate with other arts groups and educational institutions.
"It's been a process of really understanding the role of arts in a place like this," she says. "My understanding about how to make them sustainable had to be broadened."
With the possibility of applying for grants and working with other nonprofits, Mackay envisions "connecting the dots between urban and rural settings," including continuing to present world-class artists, writers and musicians, creating relationships with organizations such as the Vermont Arts Council and schools such as Middlebury College, on the other side of the mountain.
In addition, a new outdoor oven provides the opportunity for more culinary-centered events. "I started to understand in the past couple of years," says Mackay, "that when we have a food component, it slows things down; people really enjoy it and want to hang out." Facilitating "fabulous conversations" between artists and audiences in an intimate setting seems to be Mackay's mission. And, of course, cultivating a community of art lovers who will also pay for it.
Mackay says BigTown Projects will really kick into gear in 2014, but she's starting to fundraise already — anchored by a gift from a family foundation she chooses not to name just yet. First comes an invitation-only dinner to "celebrate this new chapter" with supporters and friends at the gallery this weekend.
BigTown Projects: For more information, contact Anni Mackay at BigTown Gallery in Rochester, 767-9670. bigtowngallery.com