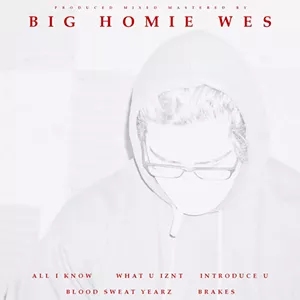 Big Homie Wes, Contraband
(Self-released, digital download)
Big Homie Wes is a rapper, producer and radio personality from Lamoille County's emerging hip-hop scene. He's blessed with a calm, cool baritone and a real gift for making minimalist beats sound huge and lush. In the past few years, Wes has emerged as a sort of one-man cultural hub, a constant collaborator who uses his platform to spotlight the artists around him.
A big part of that platform is his weekly radio show, "Straight Outta Johnson," on 90.7 WJSC-FM. He's proven to be a natural host and regularly features interviews with local emcees who are often on the FM airwaves for the very first time. Indeed, he is so busy and generous, it's almost possible to lose sight of the fact that he's one of the best new rap artists in Vermont.
Wes' latest recording, Contraband, is a potent reminder. At five songs, it's a lean statement, focused on classic rap themes: the women, the lifestyle and, of course, good old-fashioned drug dealing. Duffel bags of illicit goods are the unifying thread here. While his raps are completely earnest, his sense of humor is gloriously deadpan. "I get these bitches," he boasts, "and I treat 'em like women."
Wes is a mess of contradictions, as any artist must be. His songs are deeply personal, yet he's distant and evasive. He raps about being an emotionless, calculated hustler, but it's plain he's deeply troubled by the demands of his lifestyle — and the consequences. He's too smart for his own good but adept at playing dumb.
Late last year, Wes dropped The Big Homie EP, a three-song set that cemented his sound after years of studio experimentation. Contraband is a continuation of that impeccable aesthetic, showcasing confident, comfortable performances and polished songs. There's also a proper posse cut in the mix: "Blood Sweat Yearz" features two of his fellow STILTZgang members, DZY and the Big Scrilla, going off over a smooth, urgent beat.
Yet it's a tribute to the Big Homie's songwriting skills that such a strong track doesn't steal the show. In fact, it's pretty hard to suss out the best single here, because Contraband is an absolutely seamless ride. Considering how short it is, it's also an impressively wide-ranging production, from glacially chill soundscapes to warm, smooth West Coast funk.
Inevitably, though, a short EP feels like a prelude to something bigger. Wes has been breaking off small, carefully cultivated slices, but you have to wonder what he would do with a bigger canvas. After decades of drug raps, making a project about moving weight that's actually interesting is a genuine accomplishment.
So, for now, Contraband is simply the best introduction to the world of Wes, smooth criminal and backwoods entrepreneur. Like all great rap, this is cinematic, vivid storytelling with nothing but words and beats.
Wes performs Saturday, April 13, at Martell's at the Red Fox in Jeffersonville. Contraband is available at bighomiewes.bandcamp.com.