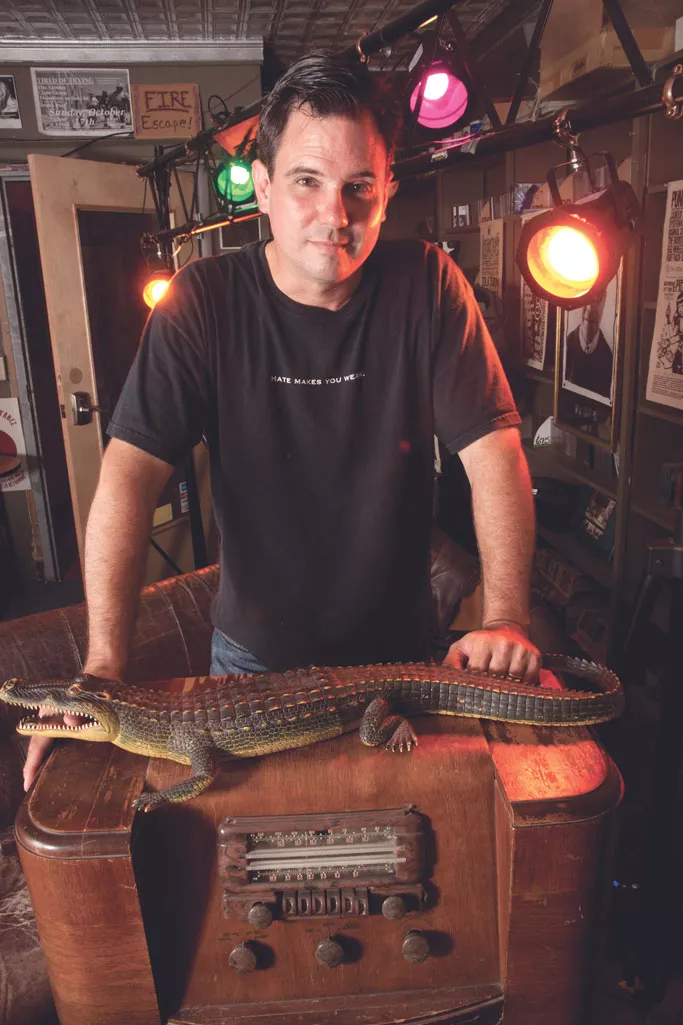 FILE: Matthew Thorsen
Jim Lockridge
In 2013, Burlington City Arts paid 174 artists more than a quarter million dollars for their creative efforts. That money, which came from a combination of public tax revenues and private philanthropy, covered such expenses as art sales, teachers' salaries, payments to performers and stipends for exhibiting artists. Those artists who've benefitted from this and other BCA largesse over the years are likely to say good things about the city's premier arts organization. Those who've felt left out, perhaps not so much.
Among the latter is James Lockridge, executive director of the Burlington nonprofit Big Heavy World, which provides technical and other support to local musicians. Last October, Lockridge circulated an online petition criticizing BCA's governance and allocation of its resources. His statement read in part: "A spirit of inclusion and collaboration has been missing from the city's arts mission, and the activities of the city arts office haven't addressed the needs of all artists, or all areas of the city."
Lockridge called on the Burlington City Council and Mayor Miro Weinberger to create a "Burlington arts commission" to oversee BCA and make its operations more fair, transparent and inclusive.
"There is no public process for me, or anyone else, to step up and play a role in how decisions are made within our city arts office about how money is spent, and how arts planning and policies are developed," Lockridge says in an interview.
BCA, a unique hybrid that's both a city department and a nonprofit arts foundation, gets about 40 percent of its $1.25 million annual income from taxpayer support. The rest comes from matching private and corporate donations, grants, membership fees and the like.
Over the years, BCA has occasionally been criticized for its perceived bias in supporting the visual arts at the expense of the performing arts. Though BCA puts on such annual events as the Burlington Discover Jazz Festival, the Festival of Fools and concerts in City Hall Park, many of its resources and educational programs are indeed devoted to the visual arts.
One person's grumbling about BCA is nothing new. But Lockridge's petition garnered 348 signatures in the four days before he closed it. Did he tap into a simmering undercurrent of resentment toward BCA? Or was the petition a display of sour grapes on the part of the BHW founder, who has previously locked horns with BCA's longtime executive director, Doreen Kraft?
The answers to such questions depend on whom you ask. Privately, Lockridge's critics — and even many of his supporters — say he can be obsessive about this issue, as evidenced by his personal blog, bigheavy world.com/asspheasant, which chronicles every detail of his arts-advocacy crusade.
Still, "I don't believe it's just Jim," suggests Mark Waskow, president of the South End Arts and Business Association and a noted art collector. "There's definitely a mixed perception in the community in regards to BCA, but I don't think that's a surprise. Any time you have a large organization, you're going to have people taking shots at you."
Waskow, who emphasizes that he's speaking on his own behalf and not that of SEABA, says, "When Jim first came out with this missive, I thought it was great, and I was ready to jump on board."
Upon further consideration, however, Waskow says he withdrew his support for the creation of another city commission, whose members would likely be political appointees. Waskow explains that he's not convinced such a commission would serve Burlington's arts community any better than BCA's current oversight by an 18-member board of directors appointed by the mayor.
"I still think this discussion is worth having," Waskow adds. "It's something that hasn't taken place before that I'm aware of."
Ben Bergstein is founder and artistic director of North End Studios, a nonprofit dance and performance space in the Old North End. He toured internationally as a choreographer and was an artist-in-residence with the State of Vermont for 20 years. Bergstein says that BCA has always felt more like "a competitor rather than a collaborator."
He supports the idea of creating a city arts commission, suggesting that BCA should be more supportive of local producers in theater, dance and music.
"We here personally don't have any axes to grind with BCA," Bergstein adds. "We know Doreen. She's our friend, and we talk all the time. We've also made it very clear to her that we haven't felt that [all artists play on] a level playing field."
Not everyone agrees with the claim that BCA gives the performing arts short shift. Bryan Parmelee is a Burlington musician with the band Pours, which he describes as "spacy indie rock." He says he first got involved with BCA when he did a record-release show at the BCA Center on Church Street in 2011, an event he calls "wildly successful." Since then, he says, many other musicians, both local and touring acts, have held shows there. (According to BCA's own records, at least 40 music events have been held in the center in the past year alone.)
"I was definitely confused by those criticisms leveled against BCA," Parmelee says, describing them as "demonstrably false." He adds that BCA has been "nothing but supportive" to him and fellow musician friends.
Some people who signed Lockridge's petition may not have understood its intent. Melinda Moulton, cofounder and CEO of Main Street Landing, says she initially interpreted signing the petition as just another way to show her support for public arts funding and participation in Burlington. But after reading some of the signatories' comments, including ones that seemed to her excessively vitriolic, Moulton withdrew her support.
"Without Doreen Kraft, I can't imagine where our arts would be in Burlington," Moulton says. "She has worked her entire professional career to support the arts and make art accessible to people of all ages, and I totally love and admire her for that."
Moulton, who is also a financial underwriter of Big Heavy World, agreed last fall to mediate a two-hour meeting of Lockridge and Kraft to try to iron out their differences. Though the meeting ended amicably, no one buried the hatchet.
Each party came away from that talk with a different interpretation of its outcome. Lockridge claims that Kraft agreed to add seats to the BCA board, to announce its meetings publicly (a policy it has since adopted), and to allow for a public comment period at those meetings. He adds that when he attended the BCA board's next meeting, none of Kraft's "promises" appeared to have been kept.
"I didn't show up as a smart-ass know-it-all with all the answers," Lockridge says. "I was just like, 'You've got issues. Here are your allies in the arts community, and we want to work with you to fix them.'"
Kraft remembers agreeing only to maintain an open dialogue with Lockridge; she says she didn't promise to give him, or anyone else, a seat on the board or to make other procedural changes. She also says she's not interested in rehashing her frictions with Lockridge.
Asked if there is a way for the public to weigh in on BCA operations, Kraft says she and her staff solicit feedback from the public all the time.
"We feel that there are so many doors, and so many opportunities to hear and participate in all the things we do at BCA, that it's hard to understand what people don't understand," she says.
Kraft points to BCA's current "listening tour," one of several assessments her office has done over the years of the needs and resources of various arts organizations in Burlington. The current tour has already involved interviews with at least 20 organizations. That effort, Kraft adds, is in addition to the planBTV-South End community outreach currently under way.
"I think it's important that we continue to listen to all of those voices," Kraft says. "We realize there's a growing, changing, dynamic community out there that isn't the same as it was 10 or 20 years ago. So there are new needs and new opportunities for networking, and we want to be a part of that dynamic."
Kraft notes that BCA's leadership does plan to alter its public-participation process. Board vacancies will soon be posted on the city's and BCA's websites, and the board will implement an "open application process" similar to those of other city boards and commissions. Kraft says she hopes to attract a greater diversity of applicants to the board, and will make their interviews open to the public. (The mayor will continue to make the final appointments, based on the board's recommendations.)
Kraft expects these changes to be reviewed by the city attorney and implemented within the next month or two.
As for Lockridge's proposal to create a city arts commission, it appears to be a nonstarter. Kraft says she considers such a commission unnecessary. City Councilor Kurt Wright, who chairs the council's parks, arts and culture committee, says he doubts the council or the mayor would support such a proposal.
Several local artists and reps from arts organizations declined to comment for this story, citing their reluctance to inflame the controversy or alienate either side. As one local artist put it, "Burlington is just too small to get into a pissing match over the arts."