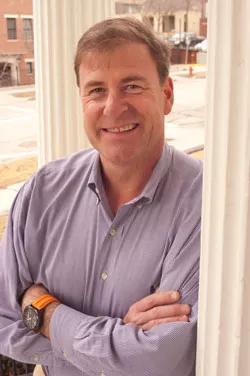 In 2004, Yves Bradley of Burlington knew virtually nothing about commercial real estate. That didn't stop him from approaching Ernie Pomerleau, of Pomerleau Real Estate, to ask for a job. Today, Bradley heads the company's commercial brokerage division. Despite the worst recession in 80 years, Pomerleau says that 2011 was the company's best year ever for commercial brokerage.
"That speaks volumes about Yves," says Pomerleau. "It wouldn't shock me if he were the No. 1 commercial broker in the state."
Indeed. Heard about all the new tenants moving into the 167,000-square-foot Innovation Center of Vermont, a space formerly occupied by General Dynamics? Those were Bradley's deals. So was the sale of the 77,000-square-foot Roman Catholic Diocese of Vermont building on North Avenue to Burlington College. The new Panera Bread on Church Street, the relocated Bluebird Tavern on St. Paul Street, and El Cortijo Taqueria y Cantina in the old Sadie Katz Deli? All Bradley's doing.
He's not just about for-profit businesses, either. When Planned Parenthood, Spectrum Youth & Family Services, HOPE Works (formerly the Women's Rape Crisis Center), and the Stern Center for Language and Learning needed more space, they all turned to Bradley.
If any local businessman could put the lie to the expression "Nice guys finish last," it's him. Among Chittenden County nonprofits, Bradley has earned a reputation as the go-to guy for getting things done — often reaping little or no financial gain or public recognition for his trouble.
"Yves, in a lot of ways, is a visionary," says Cathleen Wilson, executive director of HOPE Works. "He's been an amazing ambassador for our organization. He's so articulate when he talks about sexual violence and men's role in ending it."
In 2006, Wilson says, Bradley was instrumental in finding her organization its new headquarters — no small task for Vermont's largest rape crisis center, with a laundry list of prerequisites. WRCC needed a location on a bus line, near downtown, with ample office and meeting space but also with a warm, homey feel. And the organization had just $100,000 to get it done.
"Yves said, 'OK, let's do it,'" Wilson recalls. Bradley delivered. A year later, WRCC moved into a newly renovated, 3200-square-foot Victorian at 336 North Avenue, which it purchased at $40,000 below market value, with a zero-interest loan for two years.
Little surprise that WRCC offered Bradley a spot on its board, making him the organization's first-ever male trustee. (Today, it has several.)
Indeed, the HOPE Works board is just one of many boards and commissions on which Bradley serves. Others include the Burlington Planning Commission, the Lake Champlain Regional Chamber of Commerce, the South End Arts and Business Association, the Chittenden Commercial Real Estate Association, and the Community Sailing Center.
For Bradley, such positions aren't absentee résumé fillers. When the Community Sailing Center flooded in May 2011, he had replacement office space lined up within 24 hours.
"He doesn't even own a boat!" notes Pomerleau with a laugh. "He has the biggest heart I've ever seen. And his clients love him because they trust him and they know he produces."
"It's crazy, but I can't say no," Bradley says of his obsessive volunteerism. "I like doing things that make a place better."
Ironically, generosity wasn't Mark Redmond's first impression of Bradley when Redmond moved to Burlington in 2003. As the incoming director of Spectrum Youth & Family Services, Redmond remembers asking the outgoing director to name the organization's sharpest critic.
His answer: Bradley, who at the time ran the Body Shop on the Marketplace with his wife, Judy. Evidently, many Church Street businesspeople had had run-ins with teens whom they assumed to be Spectrum clients.
Citing the old Godfather adage, "Keep your friends close but your enemies closer," Redmond says he wrote Bradley a long letter inviting him to a meeting to air their differences. According to Redmond, Bradley was pleasantly surprised to hear from him and arranged a lunch meeting at Leunig's that included several downtown police officers. (For years, Bradley also served on the Burlington Police Commission.)
"So I listened to what he had to say, and he listened to what I had to say, and over time it really worked out," Redmond recalls. The following Christmas season, Bradley erected a "giving tree" in his shop window where patrons could donate gifts for Spectrum's clients.
Today, Bradley and Redmond still joke about their first encounter. And Bradley will still call Redmond when, say, someone donates University of Vermont hockey tickets to his office, preferring that Spectrum's kids use them instead.
"He does a lot of nice little stuff like that," Redmond adds. "I think the world of the guy."
Yves Bradley hasn't made many bad business decisions in his life, but he admits to a few whoppers. About a decade ago, when he was still co-owner of the Body Shop, he had an opportunity to buy the domain name BodyShop.com for $500. Bradley, who probably could have resold the name several years later for a five- or even six-figure sum, turned it down.
There's another lucrative missed opportunity he doesn't regret. Back in 1988, when he was 25, Bradley landed an interview for an investment banker position at Bank of Boston. The company was paying recent college grads $65,000 a year to attend its executive training program. Bradley, who had just returned from a year abroad, went to Michael Kehoe men's shop on Church Street and bought himself a gray suit, white shirt and red tie.
Bradley aced the interview. Then his potential bosses introduced him to others in the program, who were also in their twenties.
"I can still see it now," Bradley says. "They're all wearing gray suits, white shirts and red ties, too. I start getting a headache."
When he got the formal offer, Bradley balked. Today, he laughs recalling the stupefied look on his interviewers' faces — and, later, on his parents'.
Bradley insists it was "a very bad business decision but a very good life decision … It just wasn't right for me." In the ensuing years, he learned to trust both his head and his heart when making important life decisions.
Bradley, 48, defies the usual savvy-salesman stereotype. With his ready smile and friendly, roll-with-it attitude, he exudes a genuine warmth and interest in the people to whom he's speaking, extending them more time and attention than one would expect from someone so busy.
Despite his French first name — it rhymes with "leaves" — Bradley is not of Québécois ancestry. His mother is Parisian, and Bradley himself speaks fluent French. His American father is a classics professor at Dartmouth College.
When he was a child, his family lived briefly in Thetford Center and East Thetford before moving to Athens, Greece, for a few years. Bradley spent the rest of his childhood in Hanover, N.H., which he remembers as a great place to be a kid but "more like a prison" when he became a teen.
Bradley attended UVM and majored in political science. After graduating in 1985, he landed a yearlong internship in Paris with François Léotard, a political centrist who later became France's minister of culture. "He was like a Kennedy," Bradley recalls.
After a year working for the French government, Bradley was offered a job by the French distiller Pernod Ricard. As he would again in 1988, he made a lifestyle decision: Having spent the previous summer as a lifeguard in Nantucket, which was "absolute paradise for someone right out of college," he chose a swimsuit over a business suit. As he puts it, "I knew I'd never get another chance to be this much of a bum ever again."
Well, yes and no. Back in Burlington, Bradley worked several odd jobs, including health-club trainer, UPS driver and delivery man for Domino's. Once he delivered a pizza to a brick house at the corner of Howard and South Willard streets, which reminded him of his grandfather's home. One day, he recalls saying to himself at the time, I'll buy that house. Bradley, Judy and their sons, Will, 11, and Ethan, 8, live there today.
In 1989, Bradley and a friend decided to go into business together painting ski lifts. Problem was, "No one knew us from Adam, so we couldn't get any work." Undeterred, Bradley approached the manager of Stratton Mountain and made him a business proposition: He offered to paint the smallest lift on the mountain for free if the manager paid for the paint. If the owner liked their work, he'd pay them for their labor, too.
"So we painted that lift, and, by the end of the summer, we painted every ski lift at Stratton Mountain," Bradley recalls. He and his partner owned that business until 1993, when Bradley got into retail.
Yves and Judy Bradley first applied for the Body Shop franchise in 1989. At the time, the company's higher-ups weren't interested in Vermont, but Bradley kept pestering them. By the fall of 1992, when the company announced it was ready to pick franchisees for Burlington, Bradley assumed they were a lock.
However, when the couple arrived at the Sheraton Burlington Hotel one Saturday morning for an interview, they were greeted by 40 other people applying to be franchisees.
The Bradleys' interview went great, and Yves recalls going home thinking they had it. Two weeks later, he got a phone call from Judy informing him that the Body Shop had picked four finalists for second interviews — and they were fifth on the list.
Bradley sat down at a typewriter and pounded out a long, emphatic letter explaining why he thought the company had made a huge mistake. A week later, Yves and Judy were invited to Toronto for another interview. And another, in New Jersey.
The Bradleys finally opened their store, at 84 Church Street, on June 1, 1994. Yves worked there for 10 years. His interest in commercial real estate was sparked when the couple decided, rather than opening a second store in Manchester, to buy the building they occupied. They sold the Body Shop back to the company in 2005. Bradley has been with Pomerleau ever since.
Has he ever thought of starting yet another career? With a résumé like his and a vast network of connections in Chittenden County, Bradley seems like an obvious candidate for public office. In fact, people of all political stripes approach him to run "all the time," he says.
"Jim Douglas asked me point-blank last year to run for mayor," he reveals. Bradley answered the ex-governor by relating an anecdote from his youth: Back then, prankster kids would leave burning bags of dog shit on front porches, so whoever came outside would stomp all over them.
"That's the next mayor of Burlington," Bradley says. "Not for me, thanks!"
But he's got another, and perhaps more heartfelt, explanation.
"In Burlington," Bradley explains, "you can get a lot more accomplished by being active in the community behind the scenes.
"Besides," he adds, "I love going to work in the morning, and my days just fly by. Why would I give that up?"