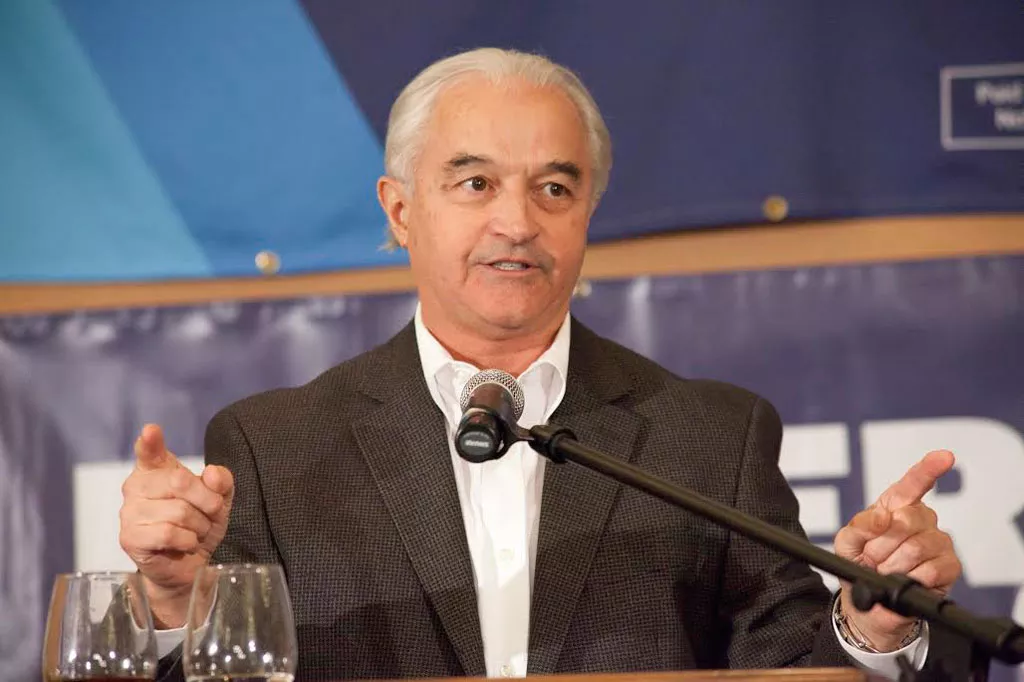 Matthew Thorsen
Attorney General Bill Sorrell on on election night in November 2014.
Bill Sorrell couldn't keep a smirk off his face last Wednesday as he outlined the evidence against his new public enemy No. 1.
Standing before the television cameras in his Montpelier office, the Democratic attorney general looked like he'd just reeled in the biggest fish of his career.
In the past five months, he said with pride, "an awful lot of people" in the AG's office have performed "many, many hours of work on this matter."
So who was the menacing criminal Sorrell was pledging to bring to justice?
Dean Corren, a 59-year-old inventor and ex-legislator, who ran for lieutenant governor last fall as a Progressive/Democrat, only to be walloped by Republican incumbent Phil Scott.
Corren's crime? Asking the Vermont Democratic Party to send an email to supporters — valued at just $255 — touting his strengths and inviting them to a series of rallies.
Sorrell's proposed punishment? $72,000.
Yeah, you read that right.
In one fell swoop, Sorrell threatened to wipe out Corren's life savings for the simple crime of misinterpreting Vermont's opaque campaign finance laws. Or, more accurately, for the party's crime of misinterpreting the law.
"This is really just a witch hunt by the attorney general," says John Franco, Corren's attorney. "Billy Sorrell wants to send Dean Corren to the gallows."
In so doing, Sorrell may have signed a death warrant on Vermont's public election financing system, which was designed to free politicians from the corrupting influence of campaign contributions. After all, what candidates would avail themselves of such a system in the face of consequences so dire?
"This is like one of those draconian, three-strikes-and-you're-out policies," says Vermont Public Interest Research Group executive director Paul Burns, who advocates for public financing. "Except that Corren didn't even get the benefit of the first two strikes."
Sorrell didn't seem to grasp the irony last Wednesday that in his overzealous enforcement of Corren's alleged infraction, he was going after one of the few statewide candidates who didn't spend the last election cycle begging for cash from corporate or union interests.
The same can't be said of Sorrell himself, who raises most of his campaign contributions from national attorneys seeking to do business with his office. Indeed, Sorrell owes his very political career to a super PAC — funded by those same special interests — that bought $200,000 worth of TV ads in the closing weeks of his 2012 race against Chittenden County State's Attorney T.J. Donovan.
When Republicans called for an investigation into allegations that he illegally coordinated with the PAC through former governor Howard Dean, Sorrell punted.
Why?
"Because I knew the facts, and it didn't happen," he says.
Brady Toensing, a Republican attorney who has gone toe-to-toe with Sorrell on campaign finance matters, doesn't think much of that explanation.
"General Sorrell acts with the shameless confidence and hypocrisy of an epaulet-wearing, third-world despot because he is effectively immune from any inquiry, especially the sort to which he subjects other Vermont candidates," Toensing says.
The facts underpinning Sorrell's case against Corren are not in dispute.
Soon after the Burlington Prog jumped into the LG race last spring, he became the first candidate in a decade to qualify for public financing. It wasn't easy. In just one month, Corren raised $19,283 in small contributions from 862 Vermonters. That earned him another $181,000 in public money to spend on his campaign.
"The public financing system that we have in Vermont presents huge benefits to candidates who want to take advantage of that," Sorrell said last week. "But along with those benefits are the responsibilities or obligations to play by the rules that the legislature sets."
Those rules are pretty strict. After qualifying for public financing, candidates are barred from accepting donations — in cash or in-kind — in excess of $50. Those who do, the statute says, must immediately return any of their public dollars not yet spent at the time of the infraction.
After Corren won the Democratic nomination last August, he and his campaign sought a legal path for the party to support his candidacy. Throughout the fall, according to emails included in a court filing, Corren campaign manager Megan Brook and Vermont Democratic Party executive director Julia Barnes exchanged ideas about how to do so in compliance with their attorneys' recommendations.
On October 24, just 11 days before the election, the party finally sent a mass email under the name of chair Dottie Deans to its list of 16,000 Vermonters. Employing some language suggested by the Corren campaign, Deans explained why she supported the candidate and called on her fellow Dems to attend one of four rallies featuring nearly two dozen candidates.
The party reasoned that the email did not count as a contribution because Vermont law exempts "costs paid for by a political party in connection with a campaign event at which three or more candidates are present."
Three days after the email went out, a Dorset Republican named Ralph Colin forwarded it to Sorrell's office, questioning its legality. Colin says he "got a tip" about the email from someone "indirectly" affiliated with the Scott campaign.
After a five-month investigation, Sorrell filed suit last week in Vermont Superior Court alleging that Corren "solicited and accepted" the email illegally — and failed to report it. He called for Corren to return the $52,000 in public funds he hadn't yet spent when the email was sent and pay another $20,000 in fines.
The party, which was also investigated, reached a settlement with Sorrell and agreed to pay a $10,000 fine.
Asked last Wednesday why he threw the book at a guy whose campaign appeared to be acting in good faith, Sorrell put it simply: "If you're going to take the benefit, there are downsides: You have to play by the rules. And if you're not going to play by the rules, the penalties are significant."
But the Vermont Democratic Party wasn't the only one coordinating campaign activities with Corren.
Last September, Sorrell himself headlined a press conference with Corren outside McCaffrey's Sunoco in Burlington. The two candidates railed against Chittenden County's unusually high gas prices and called on the legislature to address the matter.
A few days before the campaign event, according to emails obtained by Seven Days, Corren sent Sorrell draft copies of charts he planned to print for the occasion. Sorrell responded via his state email account that he would follow up directly with a Corren campaign worker.
Sorrell never reported the costs of the printed materials in subsequent campaign finance filings, even though they presumably benefited his reelection bid just as much as Corren's. By the AG's own logic, shouldn't such expenditures count as an in-kind contribution from Corren to Sorrell?
Not so, the AG says, because the press conference — held two months before an election — wasn't really a campaign event.
"I appeared with Dean Corren at an event during the campaign. It wasn't a vote-for-Dean-Corren [event]," Sorrell says. "It was no more campaign-style — or, no less for me than for him."
Exactly.
Far more worrisome is Sorrell's apparent comfort with the transactional nature of political fundraising, which he alluded to at last Wednesday's press conference even as he chastised Corren.
"Over $180,000 of taxpayer money used to support your candidacy is a huge benefit to the candidate who doesn't have to spend the time and have the IOUs, if you will, real or perceived to be there, to those who would otherwise contribute that $180,000," he said.
Wait, what?
Asked if that meant he felt he owed his donors favors, Sorrell said, "Nothing illegal, but somebody gives me $1,000 or $2,000 —"
He interrupted himself, perhaps thinking better of the direction he was going.
"I mean, I return virtually all phone calls, but I certainly appreciate those who support my campaigns," he said.
Sorrell's biggest supporters are a group of attorneys who pony up tens of thousands of dollars annually to the Democratic Attorneys General Association for the privilege of schmoozing with the nation's AGs. Roughly four times a year, Sorrell says, DAGA flies him — all expenses paid — to weekend conferences during which members have the opportunity to network with AGs and to write them campaign checks.
"I don't always make all of the events, but I try to attend," Sorrell says.
According to a series of exposés published last year by the New York Times, DAGA conferences play host to "routine lobbying and deal-making" between AGs and attorneys hoping to sign them on to multistate lawsuits.
"Attorneys general are now the object of aggressive pursuit by lobbyists and lawyers who use campaign contributions, personal appeals at lavish corporate-sponsored conferences and other means to push them to drop investigations, change policies, negotiate favorable settlements or pressure federal regulators," the Times' Eric Lipton wrote.
Among the biggest players in Lipton's stories is the firm Dickstein Shapiro, which has represented AT&T, 5-Hour Energy and other companies that have been sued by the state of Vermont. During a fundraiser Sorrell hosted at an Orlando DAGA meeting in January 2014, four Dickstein attorneys donated a total of $2,000 to Sorrell. The firm itself has previously donated thousands to him directly.
Sorrell says he considers some members of the firm to be "personal friends." One, he says, is traveling to Vermont this week to meet with him about potential nutritional supplement litigation.
Why would Dickstein donate to Sorrell and his colleagues?
"I think they want to maintain personal relationships so we will take a phone call or whatever," Sorrell explains. "And so they can say to their clients, 'Listen, we know Attorney General Jones or Sorrell or whatever. We think we can arrange a meeting to have your feelings be heard.'"
Among Sorrell's other supporters are Patricia Madrid, a former New Mexico attorney general, and her husband Mike Messina.
At a DAGA fundraising event in December 2013, Sorrell says, the pair spoke with him about litigation that their client, the Texas law firm Baron & Budd, hoped Vermont would file against gasoline refiners over the use of the polluting additive MTBE.
"I think what came up is they were involved in MTBE litigation and they would like to talk to us about the possibility of Vermont filing suit," Sorrell recalls. "Would we take a meeting to discuss this matter or something like that?"
At the same fundraiser, Baron & Budd attorneys and their family members donated $8,000 to Sorrell's reelection campaign, while Messina pitched in another $2,000..*
The next month, Madrid and Messina came to Vermont to talk about the potential suit, as Lipton first reported. After looking into the idea and clearing it with the state Department of Environmental Conservation, Sorrell recalls, "We said, 'OK. We would. Good idea.'"
Sorrell's staff recommended enlisting Baron & Budd and two other law firms to litigate the case, he says, and the AG approved the choice. If Vermont prevailed, those firms would share in the largesse.
Sorrell says the arrangement is perfectly ethical because "the two other firms didn't offer me a dime, and they have the same contract as the Baron & Budd folks."
The AG bristles at the notion that he does the bidding of his campaign donors.
"Bottom line: I'm not for sale," he says. "They know that. If there was ever any suggestion that I should do something in a case or not do something in a case because of campaign contributions, that would be the end of that conversation."
Of course, it's unlikely anyone will ever investigate whether that's true. After all, Sorrell brushed off Republican entreaties to get to the bottom of that $200,000 super PAC expenditure he benefited from in 2012 — an expenditure, it should be noted, made by DAGA itself.
"I'm mindful of not wasting money," he says of his decision not to investigate himself. "With great power comes great responsibility, and I'm mindful of the weight of the government and when you commence an investigation, put people under that kind of microscope, you should have some reasonable basis to do so."
Tell that to Dean Corren.
Correction 4/15/15: An earlier version of this story stated that Messina contributed $1,000 to Sorrell's campaign. In fact, he donated $2,000.