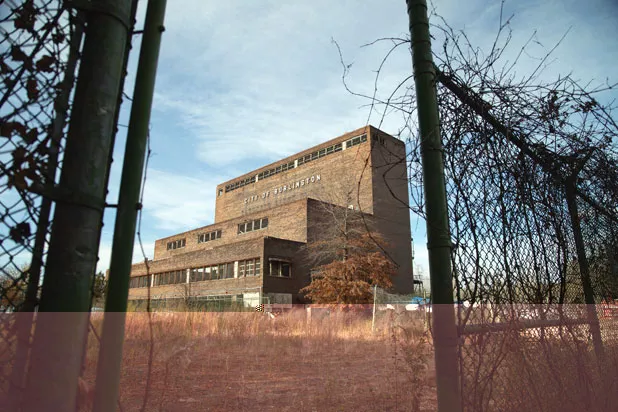 Matthew Thorsen
The Moran Plant
Burlington voters last week overwhelmingly approved borrowing $6 million to pay for infrastructure improvements on the waterfront. What will they get in exchange for voting yes on ballot item No. 2?
The so-called Waterfront North project was billed primarily as a bike-path improvement initiative, but it also includes major expenditures to accommodate motorized vehicles. And that leaves some people lamenting the city's transportation priorities.
Altogether, Burlington is planning a $10 million upgrade to its waterfront, one of its main tourist attractions and a significant source of revenue. Of the total, up to $6 million will come from the tax increment financing bond voters approved on Election Day. TIF is a mechanism that enables a city to borrow money to build or improve sewers, streets and other public infrastructure in a designated area, with the bond then being paid off by tax revenues generated as a result of private development on that land.
Another $3 million will come from federal transportation funds, while the final $1 million will come from a variety of public and private sources.
About a third of the total money will be used for the
bike path, but a significant portion of the remainder is going to facilitate motorized access to the waterfront. Lake Street will be realigned and extended to move cars north of the existing Waterfront Park. A portion of the six-acre chunk of land around the defunct Moran Plant will be set aside for 125 parking spaces — 68 along a rebuilt stretch of Lake Street and the rest in a paved lot adjacent to Moran.
City officials maintain the added parking will be a needed complement to a new $950,000 skate park to be built as part of the Waterfront North project, and for whatever facilities may end up in the 44,000-square-foot Moran Plant, a former coal-fired power generator that ran from 1955 to 1986.
But some neighbors weren't buying what TIF bond backers were selling.
Louis Mannie Lionni, a Burlington architect and urbanist, says "the waterfront is becoming Vermont's biggest used-car lot." By enabling visitors to drive directly to lakeside tourist attractions, Burlington planners are promoting despoliation of one of the city's most stunning natural features and also demonstrating their anachronistic mindset, Lionni contends. "We should be getting rid of cars and providing much more public transportation," he declares.
University of Vermont chemistry professor Rory Waterman wrote in a November 3 post on Front Porch Forum that "repairs to a section of the bike path are masking a large, 125-space parking lot at the Moran Plant that is the true centerpiece of the 'Waterfront North' project. We don't need to pave our waterfront to upgrade the bike path!"
Waterman's wife, Sarah, added her thoughts on the parking lot in a November 4 posting. "Of course we want a wider, well-maintained bike path, but why should we have to make a deal with the devil to get it?"
Burlington Mayor Miro Weinberger says the critics have "mischaracterized" the parking plan for the waterfront. The 125 new spaces are to be "dispersed around the site" and not concentrated in a single parking lot, Weinberger says.
The new surface parking replaces plans for a garage once contemplated for the waterfront. Peter Owens, director of the city's Community and Economic Development Office, noted in a memo to Weinberger in August that "the new parking areas will be managed with an intelligent parking management system" coordinated with existing waterfront parking.
Weinberger emphasized in an interview two days after the election that both the $3.1 million in federal transportation funds and the $6 million waterfront TIF bond will do much more than facilitate access for automobiles. Some of the money finances the repair and upgrading of the bike path between Perkins Pier and the northern end of the 40-acre Urban Reserve. And most of the remainder of the funding will be used for construction of the skate park, remediation of arsenic-laced soil where Moran's coal pile once sat, installation of a stormwater-treatment system, burial of utility lines, and addition of lighting, walkways, trees, green belts and other amenities.
"There's no doubt in my mind that this is a plan that dramatically improves the waterfront," Weinberger declares.
The mayor also dismisses claims made anonymously in the run-up to Election Day that Burlington taxpayers could end up covering at least a portion of the $6 million waterfront TIF spending.
A November 2 Front Porch Forum ad signed by "Concerned Citizens for Burlington" — which lists only a post office box as a contact — went out to 1600 households, warning that "despite what is being said, taxpayer dollars will be spent on the Waterfront North Project." The authors of the anonymous ad apparently reasoned that the waterfront TIF district offers scant opportunity for private development sufficient to generate the amount of property tax revenues needed to cover the cost of the TIF bond.
"It's flatly incorrect that Burlington taxpayers will end up being responsible for this," Weinberger says. He notes that the Waterfront TIF district, which encompasses the area from Maple Street to the northern end of the Urban Reserve, has already "generated far more revenues than it has taken on." The new hotel now rising on Cherry Street and development along Battery Street during the past 15 years were facilitated by TIF financing, the mayor notes.
Waterfront North will generate "substantial amounts of property tax," Weinberger says. In addition to eventual repurposing of Moran, private development could occur on half of the 40-acre Urban Reserve as well as on land east of Lake Street, Weinberger says. And he cautioned that the city will not spend all of the $6 million in voter-approved TIF funds if it turns out the envisioned infrastructure improvements can be financed for less than that sum.
The mayor also says that a portion of the TIF money will be used to fund staff positions at CEDO. A main source of CEDO's current funding — federal Community Development Block Grants — has been steadily reduced in the past few years. That erosion has meant that "more and more of that money is going into staff time rather than programs and services," Weinberger says.
To compensate, the city is taking a 7.5 percent cut of all the TIF money it gets to help pay for CEDO's economic development activities. This "management fee" could ultimately produce $1.5 million to pay for additional staff in the city's development office, Weinberger projects.
While Burlington voters favored the waterfront TIF by a 3-to-1 margin, some city councilors are worried about potential privatization of prime waterfront property. Four councilors — Max Tracy (P-Ward 2), Rachel Siegel (P-Ward 3), Vince Brennan (P-Ward 3) and Sharon Bushor (I-Ward 1) — are sponsoring a resolution to keep a redeveloped Moran Plant city-owned and accessible to people of all income levels. The message of the resolution — scheduled for debate on November 13, past Seven Days' print deadline — is "the waterfront is open for business, but not for sale," Tracy says.
"We don't want people to have to pay to play on the waterfront," Tracy says.
"We're open to a long-term lease of Moran, but we want the city to keep ownership on behalf of the public," he adds. "When we say 'accessible to all,' we don't mean everything there has to be inexpensive. A high-end restaurant would be OK, for example, as long as Moran also includes, say, an affordable