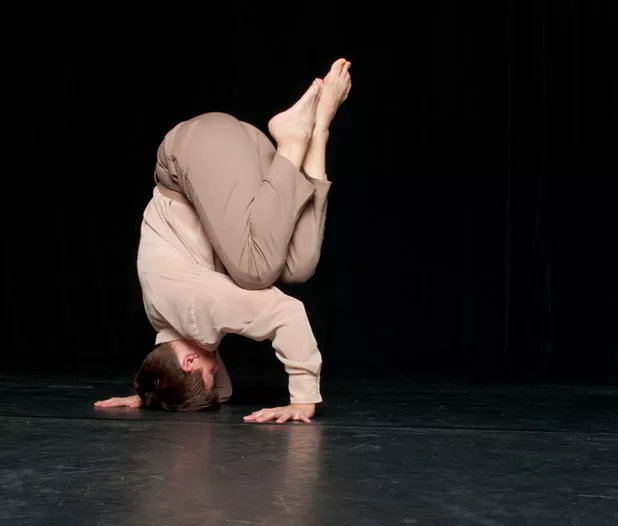 Movement artist Tiffany Rhynard stammers out the theme song to "Cheers," her fingers fumbling on a Casio keyboard perched on a stool. She's in the midst of telling an autobiographical narrative featuring a young woman at a Winston-Salem, N.C., convenience store, attempting to buy food for the week with $15. The young woman is in college, we learn, and has been stripping to pay tuition.
Rhynard stumbles through the TV theme, then gives up and heads over to a stereo, cranks up a hip-hop electric-violin tune and begins to dance. Everything about Rhynard — from her spiky, blue-tinted hair to the powerful sway of her hips to the ballet footwork she seamlessly follows with break dancing — exudes utter badassery.
And that's partly the point. "A lot of what I've been focusing on are the assumptions that people make about us," Rhynard says later about her new work, Subverting Normal, which she created collaboratively with dancers Toby MacNutt, Lida Winfield and Ellen Smith Ahern, and writer Rosita Choy. "It's about putting information out there that might make people judge me."
She presented a solo from the work in Middlebury last week. "When I do it by myself," Rhynard says, "the piece is called 'Self-Centered.'" In the full work, she and the other dancers weave movement together with video installation; spoken-word performance; and, as is customary for Rhynard's company, Big APE, a healthy dose of audience participation. The work premieres at Burlington Dances this weekend.
It may well be the last Big APE offering in Vermont. Rhynard is moving next month to Gainesville, Fla., where her husband, potter Marty Fielding, is attending graduate school at the University of Florida. Rhynard will take along her company, which she started with Middlebury College students and graduates in 2008.
In Subverting Normal, Rhynard and her collaborators explore what it means to be human. She's particularly interested in how people self-identify, and how their perceptions of themselves collide with the politics of the outside world.
The work grew out of Big APE's last undertaking, Everyone Can Dance, a community-based dance project that culminated in large-scale performances in Middlebury, Montpelier and Burlington. "I've always been interested in seeing different bodies than what is expected on stage," says Rhynard. Sure, she admires the sleek, muscular bodies on display in most dance companies, she says. "But I've always been interested in thwarting that in some way."
Enter recent University of Vermont graduate MacNutt, whom Rhynard met through the Burlington iteration of ECD. MacNutt was trained in dance as a kid, but stopped as a teenager after a disability made it difficult to walk. Now MacNutt wears forearm crutches — and has returned wholeheartedly to dance.
Rhynard was about the same age when she embraced dance. Now 40, she marvels that she didn't begin dancing in earnest until she was 20. "When I wake up in the morning, I think of myself as an artist, not a dancer," she says. Big APE's performances reflect this: They're often mixed-media affairs, featuring live video feed or performance-art-style audience participation. In Disposable Goods, which premiered in 2010, for example, dancers baked cookies onstage and distributed them to the audience.
Rhynard's latest promises to be just as engaging; come early to take part in activities and check out the installation "I SEE YOU," a collage of video portraits focusing on self-identity and social constructs.
"I don't think that we ever get to a place where we're not making assumptions," says Rhynard. Still, she hopes her work will remind people "to be more cognizant that we do this all the time and that it can often be hurtful."
Subverting Normal, by Tiffany Rhynard and Toby MacNutt, with guest performers Ellen Smith Ahern, Lida Winfield and Rosita Choy, at Burlington Dances. Saturday, May 19, at 7 p.m., and Sunday, May 20, at 5 p.m. Ticket prices on a sliding scale, $5-105. bigapedance.com