Courtesy
The Dubois Farm
The Dubois Farm has a big footprint in Addison County with 3,100 acres and roughly 2,700 cows. It also carries a large price tag — $23 million.
After nearly a year on the market, however, the farm hasn't found a buyer. The "for sale" sign at the property near the intersection of routes 17 and 22A raises questions about the evolution of Vermont's struggling dairy sector.
Namely, in a state where many surviving dairies have bought up smaller farms in order to make it, what happens when the bigger fish go up for sale? Will use of the land change? Will big farms be broken into smaller parcels?
"It's something we're watching really closely," said Nick Richardson, president and CEO of the Vermont Land Trust, adding: "A farm of this size and this price tag is a really different thing."
Because of its size, the farm helps anchor agriculture in the region by supporting feed stores, equipment dealers and other segments of a diversified farm economy. If it were to go out of farming, the impact would be significant on the rural economy, Richardson continued. "These farms are really important, and they do play a foundational role in the economies and the communities of our rural landscape."
The Dubois Farm is big, but it is not the largest in Vermont. That title goes to Pleasant Valley Farms, in Berkshire, which has 5,144 acres and 4,794 cows, according to Vermont Agency of Agriculture, Food and Markets figures from 2018.
Anson Tebbetts, secretary of that agency, said he couldn't think of many farm sales on the scale of the Dubois property.
"That's a significant piece of property, for sure," he said. "And, you know driving by and seeing it, it's a beautiful farm. It's your classic Addison County farm: rolling hills, open spaces, barns."
Is there a market for a $23 million Vermont dairy farm? "I think anything is possible," Tebbetts said, noting that after five years of "really depressed" milk prices, the trend appears to be improving and going "in the right direction."
The three Dubois brothers who own the farm, Andre, Bernard and Michael, declined to be interviewed by Seven Days. But their reason for selling is simple, according to the listing agent, Carl Cole of Carl Cole Realty in Vergennes.
"They just want to retire while they are still in good health and enjoy the rest of their lives," he said.
The brothers, now in their sixties and seventies, took over from their parents years ago. But no one in the next generation of the family wants to run the farm, Cole said.
In many farm sales, animals and equipment are auctioned off and the land is sold separately. But an auctioneer isn't part of this deal, at least so far. The listing price includes land, several houses, barns, heavy equipment and cows. Lots of cows. "It's everything," Cole said. "It's a turnkey operation."
There have been several nibbles, from both in and out of state, to continue operating the farm as a dairy, he said. An industrial hemp farmer from out of state also inquired. Could the land sprout a housing subdivision? Cole believes the farm will most likely remain a dairy operation, in one unit as it is now, "because that's how it has most value."
The large scale is unusual, and it takes more time to sell specialized properties, Cole continued. "So the buyer pool is limited."
In addition to their home farm, the Dubois family owns numerous separate agricultural parcels in the area. Like many large farm operators, the brothers bought up land within a reasonable distance as they expanded their herd, Cole said. State rules require that farms have a certain number of acres per cow for responsible manure spreading so animal waste is less likely to find its way into Vermont's rivers, lakes and streams.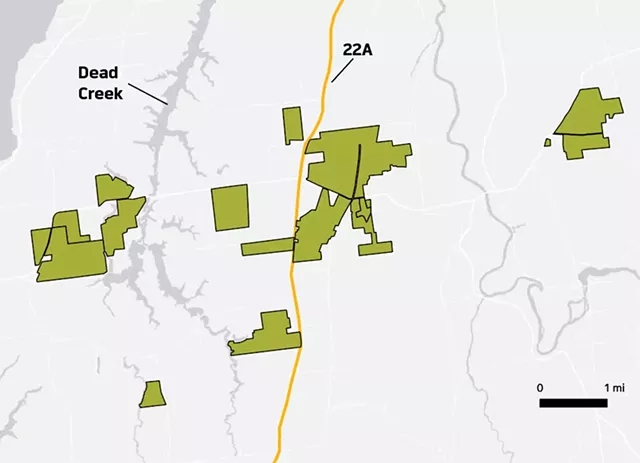 "As the farm grew, they've done what all of the large farms have done," Cole said. "It's just mathematics."
Some of the farms the brothers acquired had already been conserved through the Vermont Land Trust and its partners, so now about 1,200 acres of the Dubois Farm is protected from development.
The main chunk of the farm runs along Route 17 in the town of Addison. Last Wednesday, a layer of snow covered the fields around the complex of large green barns. In the distance, the white-capped Green Mountains rose up; just to the south loomed Snake Mountain, a popular hiking destination.
No cows were visible; at many conventional dairies, they rarely leave the barn. But the strong smell of dung permeated the cold air — originating, perhaps, from several concrete manure pits near the barns.
Some people in town are sorry to see the farm on the market. "Personally, it will be a loss for us, because we are quite fond of that family," said Teresa Glidden, who co-owns the Addison Four Corners Store with her husband.
"We've seen more and more of the small farms selling off or changing their farms to something else," Glidden observed. "The dairy business is a tough business."
She added, "It's part of Vermont's heritage, I guess you would say, so it's sad to see so many of them closing down."
Many of the Vermont dairy farms still in business have expanded their herds to create economies of scale. Between 2011 and 2018, the number of operations with more than 700 cows nearly doubled, from 18 to 34, according to the Agency of Agriculture. But even with that upsizing, dairying continues to be an economic challenge.
Between 2014 and 2018, the average milk price in Vermont dropped by more than one-third. While the price has crept up this year, it's unclear whether that trend will last. And farms continue to go out of business. Since 2010, the total number of dairy farms in the state has dropped from 1,015 to 661.
The Dubois brothers have run a successful operation, according to Ken Button, a retired vice president at Yankee Farm Credit in Middlebury. "They grew up working on this farm with their dad, with their parents. Whatever they do, they do it right. They're just extremely hard workers."
He said the price tag on their place isn't as daunting as it sounds. "I don't know why it couldn't be financed if a buyer comes along. It's most likely going to be an existing farmer with some existing capital."
Environmentalist Michael Colby, president of Walden-based Regeneration Vermont, isn't so sure. He said he doubts there's a market for a big operation like the Dubois Farm to be purchased by someone who "would buy it and come in and carry on."
There's not enough money in conventional dairying for that to make sense, he predicted. The practice concentrates too many cows on the land and is polluting Vermont's waterways, he argued. In fact, the state Agency of Agriculture fined the Dubois Farm $1,500 — all but $500 suspended — in 2018 for water quality violations, including failure to maintain a 25-foot buffer between cropland and the bank of a waterway.
According to Colby, the best thing that could happen to the Addison operation would be for a new owner to convert it to organic dairying, which likely would mean fewer cows and much less manure. For him, the sale is just another reminder that Vermont needs to change its paradigm and get out of big dairy.
Richardson at the Vermont Land Trust is more diplomatic. "I think it's emblematic of a larger theme on the Vermont landscape, which is an intergenerational transfer of land at a time of real challenge for our dairy economy," Richardson said.
Although part of the farm is already protected, a large chunk is not, and the price tag would present a daunting conservation project. "We have never done a $23 million farm project," Richardson said. He declined to say whether the land trust is currently talking to the Dubois brothers about conservation.
While the Dubois sale is something of a test case, the upsizing of dairy farms means more sales involving large swaths of land could be in Vermont's future. "This story is important, and it's not going away," Richardson said. "There will be other farms. We're in this moment of transition in our farm landscape."