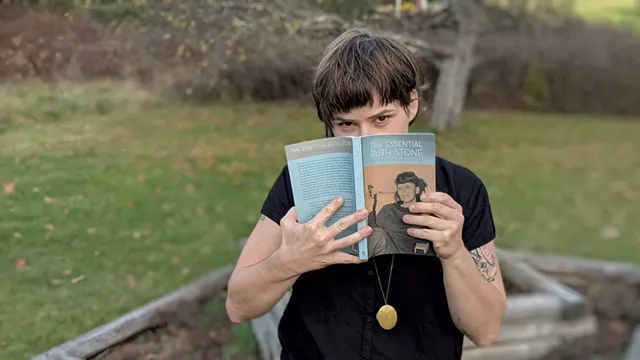 Courtesy Of Bianca Stone
Bianca Stone
A conversation with poet Bianca Stone about all of the irons she has in the fire could easily fill an entire newspaper. She's illustrating a children's book of Gertrude Stein poems, running a community workshop, starting a letterpress imprint and the online magazine Iterant, hosting a podcast, publishing her next collection with Tin House and, of course, renovating her grandmother's Goshen home — the Ruth Stone House, listed on the National Register of Historic Places.
But the focus of Seven Days' recent chat with Bianca was her experience editing The Essential Ruth Stone, published in September. The book compiles poems from Ruth's 13 collections over a career that spanned half a century and won her great acclaim, including the 2002 National Book Award and two Guggenheim Fellowships. After Ruth died in 2011, Bianca moved back to Vermont to repair and preserve her grandmother's home through the Ruth Stone Foundation. Since then, she's made waves as a poet herself, publishing several lauded collections and spearheading poetry comics as a genre.
Bianca Stone spoke about the restorative and rebellious power of writing verse, her grandmother's "dry wit," and next steps for the Ruth Stone House.
SEVEN DAYS: Conducting an interview about poetry at this point in time feels both insane and the most sane thing to do. More sane than watching glib talking heads on TV speculate madly or doomscrolling through tweets that may be Russian funded.
BIANCA STONE: Our timeless soothsayer Oscar Wilde said, "All art is quite useless" — but really, it's the only excuse to make something useless. We need to remember this when we're doomscrolling. I find my anxiety so intense right now that I'm desperate to dump it somewhere, to find a vessel. There is a need for it to be useful, not just rattling in a vacuum. There was a great Onion headline I saw: "Woman Hopes She Did Enough Worrying to Help Biden Campaign." A perfect example! Uselessness made into art. We look to art to be relived from the anxiety of the useful, perhaps. We need the unuseful just as much.
SD: You must have meant to say "relieved," but I'm going to let that subliminal typo stand, if you don't mind: art as reanimator. Still, part of me finds it difficult to write about poetry at all right now. I wonder if we should just let ourselves talk about whatever burrows its way into the conversation. Maybe it's Ruth's use of internal rhyme, and maybe it's whether you believe America has ever been a democracy.
BS: I couldn't agree more. I'm reading Harold Bloom now, which seems abhorrent and antithetical to everything going on in the world; his lamentation of the Western canon chafes a bit. However, I think what draws me in is my sudden need to revisit the classics (particularly Dante and Milton), which is to revisit the eternal issue of suffering.
Ruth Stone was someone steeped in what Bloom called "the art of memory." She was melding history and metaphysics in her writing. She was (ironically) sincere in her irreverence towards sincerity — which you can see in such lines as the opening to "The Excuse": "Do they write poems when they have something to say, / Something to think about, / Rubbed from the world's hard rubbing in the excess of every day?" She pulls apart emotion like unweaving a basket. It's horrifying and amazing to witness in a poem. What I wanted to expose in this collection was her almost violent dry wit, that supernatural honesty. That was her way in to grief and suffering.
SD: That courage to go toward pain, toward anxiety, is something I admire so much about her work.
BS: With the climate crisis, plague, police murder, domestic terrorism — we're in a state of anxiety about mortality. Ruth Stone was someone who conversed openly with the dyad of mortality and immortality. I love the ending of her poem "Being Human": "I do not doubt all things are possible / Even that wildest hope that we may meet beyond the grave." She was deeply concerned with the universe: She was a lyrical physicist, an aesthetic astronomer.
SD: Yes, and such a strong concern for mortality/immortality has a link to ethics; each of those nouns is just one crucifix away from being spelled "morality/immorality."
BS: This nail-biting election, with all the votes being scrupulously counted, reminded me so much of the Bush/Gore election days, which Ruth was insane about. I could distinctly hear her voice saying, "They stole the election!" She went around with an invitation from Laura Bush to the White House (that she didn't go to) in her pocketbook. Every time she got pulled over by a cop, she would scream: "I'm a full professor of English literature! Don't you dare Ma'am me!"
SD: I believe it! One selection that leaps off the page is "Some Things You Will Need to Know Before You Join the Union." It's an almost burlesque piece about working at the "Poetry Factory," which takes the piss out of everything from prestigious institutions like Yaddo to the male poetic fascination with beards, alcoholism and suicide. To me it feels so refreshing — unafraid, hilariously unhinged, winking while remaining dead serious.
BS: That poem reminds me a little of Wilde's quote about sincerity being the hallmark of all bad poetry. I think humor is overlooked, even in the most devastating of circumstances. Ruth's poem is attacking on multiple fronts, acknowledging the problems within the poetry world head-on, the competition and sexism. But it's also examining the larger tragic desperation of poets and wryly exposes the Industrial Age's incompatibility with human creativity. Something we need to consider deeply.
SD: What's next for the Ruth Stone House?
BS: A lot of our work is education around poetry and letterpress printing, book arts. The Ruth Stone House wants to help poets thrive in Vermont and to provide a kind of alternative to the usual institutions. We were scheduled to have our first writing retreat intensive this past summer with Ariana Reines, C.A. Conrad, Dorothea Lasky and Airea D. Matthews. It was devastating to cancel it, but to focus our efforts we started an online magazine, Iterant. My twin brother, Walter Stone, oversees and edits this. Now we're embarking on a capital campaign and encourage anyone interested to check out our website and contact me directly at bianca@ruthstonehouse.org.
Mostly, we want to preserve this sacred space that Ruth created, by turning it into an artists' sanctuary.
This interview was edited and condensed for clarity and length.
The Talking Fish
By Ruth Stone
My love's eyes are red as the Sargasso
With lights behind the iris like a cephalopod's.
The weeds move slowly, November's diatoms
Stain the soft stagnant belly of the sea.
Mountains, atolls, coral reefs,
Do you desire me? Am I among the jellyfish of your griefs?
I comb my sorrows singing; any doomed sailor can hear
The rising and falling bell and begin to wish
For home. There is no choice among the voices
Of love. Even a carp sings.