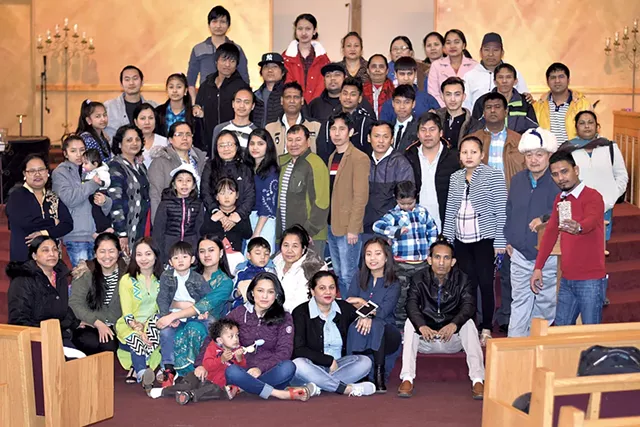 Courtesy Of Buddha Rai
Grace United Church congregation
When Mani Mangar had to choose where in the U.S. he wanted to resettle, he decided on Vermont — a state about which he knew little. He had extended family in Texas, but the Bhutanese man chose the Green Mountain State to find Christian fellowship.
"The Bible says it's good to have fellowship within your people," he said.
His decision might seem unusual, since Vermont was ranked among the least religious states in a recent Pew Research Center survey. But Mangar's friend Philip Rai had moved to Vermont in 2011 and told him about the Bhutanese Christian community in the state.
"I only thought, If I go to Vermont, I would have a Christian fellowship," said Mangar. He paused before letting out a chuckle. "Later on, I came to know it's [a] very expensive [state]."
Mangar, 42, is now an elder of Grace United Church, a congregation that was established in Winooski in 2008 by Pastor Bishnu Rai, Philip's relative, and his family. The pastor and his wife and younger son were among the first Bhutanese refugees to be resettled in Vermont in 2008. The pastor's older son, Buddha (also known as Daniel), and his wife joined them the following year. Today, both Bishnu and Buddha serve as pastors.
The Bhutanese congregation met at the Winooski Methodist United Church for several years before moving to North Avenue Alliance Church in Burlington earlier this year. The new gathering spot meets the group's need for bigger and more rooms. The cushioned pew benches and other amenities make worship services more comfortable than the ones he had in his stuffy church in Nepal, where he had to sit on the mud floor, Mangar said.
Mangar and his family were among the estimated 100,000 Bhutanese nationals of Nepali descent who were stripped of their citizenship and expelled from the country in the 1990s. Many fled to refugee camps in Nepal, where the living conditions were harsh and cramped.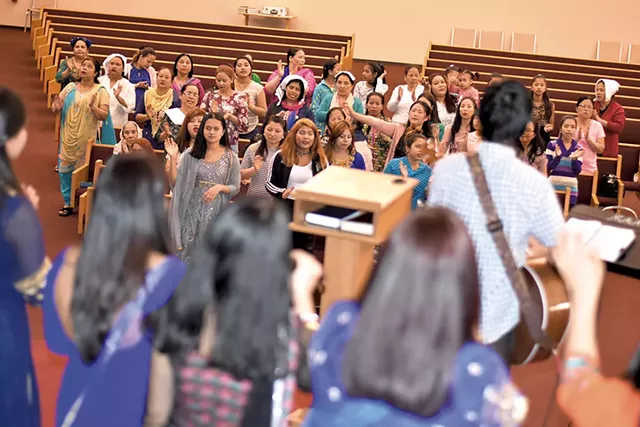 Courtesy Of Buddha Rai
Grace United Church congregation
Mangar's parents later sent him to West Bengal, a state in India, to seek a better education. There, friends introduced him to Christianity. His family was Hindu and, in Bhutan, Mangar had never met a Christian. He later learned that a small number of people in Bhutan practiced Christianity but had to remain underground for fear of religious persecution.
Mangar fondly recalls his Indian schoolmate and best friend, Martin. The boy invited Mangar to his home and took him to church. Martin's parents treated the Bhutanese teen like a son.
"They loved me from the heart," said Mangar. "I was a refugee. Nobody likes refugees."
Though he was drawn to Christianity, Mangar said he didn't know how to broach the topic with his parents. The youngest of five siblings, he felt he couldn't embrace the new faith without his family's permission.
One day, while he was visiting them in the camp, Mangar learned that his older brother and his family had converted to Christianity. Their son had been ill but recovered after a pastor convinced his parents to attend church. Mangar's parents then also accepted the new faith, paving the way for him to do so.
"I thanked God that he created this kind of situation," Mangar recalled.
Buddha Rai's family converted under similar circumstances. His younger brother had taken ill in the camp, and their mother tried all kinds of traditional healing before asking their Christian neighbors to pray for him. Buddha's sibling eventually recovered.
The families attributed these recoveries not to coincidence but to Christian prayers.
Buddha was about 5 when his family became Christians. He grew up attending Sunday school in the camp and was involved in church activities. Today, one of his former students, Rupa Rai, who also later resettled in Vermont, teaches the children at Grace United Church.
Before moving to Vermont, Bishnu attended Punjab Bible College for two years in order to learn more about the gospel.
It's not uncommon for religious differences to cause strife within families — and entire countries. With Buddha interpreting, his mother, Mon Rai, told Seven Days that the largely stratified Nepali society viewed Christianity as a foreign religion. Those who embraced the faith were believed to have degraded themselves and belonged to the lower castes. They were ostracized and weren't invited to others' homes. Buddha recalled feeling heartbroken when he had to stay outside of his Hindu maternal grandparents' hut during family visits.
"If they allow Christians into their homes, neighbors and families may criticize," he said.
But that kind of explicit hostility toward Christians within the Bhutanese community hasn't manifested in Vermont, Buddha added.
Philip concurred with the pastor's assessment. Some of his relatives are non-Christians. "We're a community. We're Nepali," he said. "That's the main thing."
Like Philip, Mangar is invited to local Nepali events such as weddings, though he doesn't participate in Hindu rituals. He said he tries to follow the teachings of the Bible by spreading the gospel among his fellow employees at Twincraft Skincare, the soap manufacturer with facilities in Winooski and Essex. Back in Nepal, Mangar said, some people would get angry, but here they listen, if skeptically.
"They give [their] ear to me, but they never believe me," he said, chuckling. "If I open the Bible, they might run."
According to Mon, some in the Bhutanese community have expressed interest in Christianity but face opposition from their families.
Courtesy Of Buddha Rai
Mon and Bishnu Rai
One of those who listened and converted after arriving in Vermont is Run Gurung. He learned about the gospel from Bishnu during home visits, the Burlington resident said. Though his sister and brother-in-law converted to Christianity in Nepal, they no longer attend church here. But Gurung remains steadfast.
In addition to building the local congregation, Grace United Church has made connections with other Bhutanese Christian churches across the country. On Saturday, Buddha gave the sermon because his father had traveled to Concord, N.H., to attend the finale of the Voice of Glory, a Nepali Christian singing competition for the New England area. One of the youth leaders from the Vermont church was a judge, and a young member of the congregation was eventually crowned the winner.
As with other Bhutanese faith-based organizations in Chittenden County, Grace United Church is seeking to establish its own religious space. In Nepal, they attended church five days a week, Buddha said. Grace United Church has to hold its worship service on Saturday rather than Sunday because it's one of four congregations that use North Avenue Alliance Church.
But even without a designated brick-and-mortar church, the congregation has been expanding. What began as a three-person church has grown to about 160 members.
"I'm very proud of them, without a doubt," Buddha said of his parents.
Over the years, some congregants left to establish their own groups, he noted. Buddha knows of five other Bhutanese churches in Vermont, all of which grew out of Grace United.
"We don't feel sad, because God called on us to multiply and grow," he said.