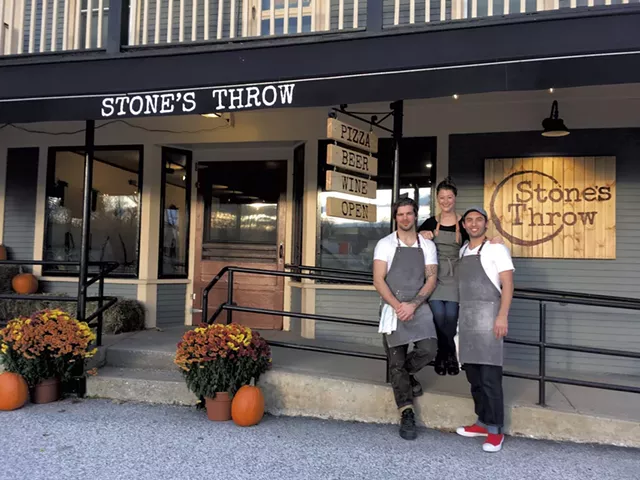 Courtesy Of Stone's Throw
From left: Silas Pollitt, Allie Duhamel and Tyler Stratton of Stone's Throw
Two graduates of Bellows Free Academy, Fairfax have returned to their hometown to open a pizza place, Stone's Throw, which launched on November 13 at 1123 Main Street, site of the former Foothills Bakery.
Silas Pollitt, 33, and Tyler Stratton, 32, are childhood friends who have both been away from Fairfax for several years: Stratton co-owned pizza restaurants in Boston and Cambridge, Mass.; and Pollitt lived in Austin, Texas, where he was an associate team leader in the prepared-foods section of the flagship Whole Foods Market.
Now they're making five-gallon batches of kimchi with local ingredients for one of their house special pizzas: kimchi, pork belly and leeks.
"Tyler and I have been talking about opening up a restaurant for a few years, and I decided to rewrite my story and move back and do something with him," Pollitt said. "We're going to be doing some challenging things from around the world, but that's where I get my inspiration from."
Pollitt and Stratton hosted a soft opening over the weekend, seeing many familiar faces, meeting new people and giving away free pizza, Pollitt said. The kimchi/pork belly variety was a hit, he added.
Other specialty pizzas at Stone's Throw include a pie with braised short rib, roasted pear and hazelnut; and another called the Forager with mixed local mushrooms, broccolini and sage.
"We [also] have a lot of classics," Pollitt said. "Plain cheese, pepperoni, sausage and onion — there's something for everybody."
In addition to pizza, Stone's Throw will serve salads, desserts, and beer and wine, Pollitt said. (The liquor license is expected in a week or two.)
"It's a really cool feeling for both of us to come back to our hometown and see through this concept that the town has never seen before," Pollitt said. "And show our neighbors something different: good food, a gathering place, a date spot in Fairfax, of all things."
Stone's Throw is open every day but Monday, with dinner Tuesday through Friday and lunch and dinner on weekends.