Suzanne Podhaizer
French fries, the Vietnamese sausage, fried chicken sandwich and lobster roll at Honeypie
Every culture has its fried-food tradition. In the American South, families gather for buttermilk fried chicken, fish fry and crisped okra; in Japan, street stands and bars offer crackling tempura fish and vegetables. Meanwhile, the English sup on fish and chips, and the French tête-à-tête over frites.
Here in Vermont, we have snack bars. Mimicking New England's coastal clam shacks, these often serve lobster rolls and fried clams or scallops — also, franks, burgers, fries and ice cream in every imaginable form and flavor.
For years, Seven Days published an annual snack-bar roundup, proving that food writers enjoy a grease-trap lunch as much as the next person. A few years back, we ditched that tradition to focus on food trucks and other summer snacks.
But in the interim, several summer spots have reinterpreted what a snack bar can be. And so, as this hot, dry summer inevitably tips toward fall, we crisscrossed the state to sample some of Vermont's less common roadside eats. Our stops included casual spots opened by chefs who usually work in upscale kitchens, a farmstand food truck and a rolling smokehouse.
Because if you're going to load up on grease, carbs and sweets, do it in a way that's tasty and interesting.
Honeypie
What do you get when the owners of a nationally acclaimed restaurant open a roadside eatery? Honeypie, that's what. Located in Vermont's Deep South — just 30 miles from the Massachusetts border — Honeypie is sister to SoLo Farm & Table in South Londonderry, a James Beard Award nominee that has been covered by publications including Food & Wine magazine and the New York Times.
Wesley and Chloe Genovart opened their casual spot in a perfectly retro gas station with white tile and rust-accented metal as décor. The fare they serve is a testament to the care they put into sourcing and preparing each ingredient.
All the sausages they offer — such as the long, skinny one in the Vietnamese sandwich, which comes on a hot dog roll with pickled carrots, cilantro, kimchi and mayo — are homemade. Burger meat is ground daily.
The chicken sandwich, creamy with herb-laced buttermilk dressing, is both perfectly familiar and perfectly rendered. The lobster roll, with big chunks of tender Maine lobster meat doused in clarified butter, is a summery standout, tangy with lemon juice and accented by shaved celery.
And, of course, there's dessert. Using a base from the St. Albans Cooperative Creamery, the staff concocts ice cream flavors in-house. Classics such as coffee, chocolate and Oreo accompany modern takes such as salted caramel and strawberry-buttermilk.
In this writer's opinion, though, one offering is all you need to round out the back-to-the-future dining experience at Honeypie: a milkshake with chewy flecks of malt that swoop up the extra-long straw. It's great fuel for any road trip.
— S.P.
Berda's Roadside Eatery
3 Main Street, Essex Junction, 399-9358
Suzanne Podhaizer
The Juicy Lucy at Berda's Roadside Eatery
From the outside, Berda's looks like a typical snack bar. Sporting an American flag and a sign offering a discount to all military service members, the white trailer operates at the busy Five Corners intersection in Essex Junction and deals in the usual fare, but with inventive twists.
On one steamy summer day, the window is closed, though it's past the eatery's posted 11 a.m. opening. When I wander around to the side in search of someone, a staffer tells me — with a straight face — that they're "a little behind and need to catch up."
The food is worth the wait. The pepper-jack-stuffed Juicy Lucy burger, made with meat from Templeton Farm in East Montpelier and served on a soft, seeded roll, is just right. It's complemented by fries cooked golden in duck fat, plus a Berda's specialty: wonton wrappers stuffed with cream cheese, jalapeños, cheddar and bacon, served with a side of real maple syrup. That last item is a perfect segue into dessert: a waffle cone filled with scoops of maple-bacon Island Homemade Ice Cream.
Berda's owner Cory Charles says he's dedicated to using farm-fresh ingredients in as many dishes as possible; to that end, he's perpetually inventing new and exciting offerings. During my visit, he experiments with cornmeal-crusted fried green tomatoes from Dean Brigante's Farm Stand in Colchester. The slices are crisp on the outside, bursting with juice and slathered in aioli.
Also on the menu are summer movie nights, with family-friendly offerings such as The NeverEnding Story and The Wizard of Oz projected on the side of the truck.
— S.P.
Canteen Creemee Company
509 Village Square, Waitsfield, 496-6003, canteencreemee.com
Suzanne Podhaizer
Banh mi dog at Canteen Creemee Company
Of all the snack joints in all the towns in all the world, Canteen Creemee Company in Waitsfield might just be the most creative in its use of soft-serve.
Its opening menu offered a concoction of ice cream studded with pieces of cake, covered in white-chocolate-and-olive-oil dip and dotted with fondant flowers. When I visit, there's a fresh blueberry creemee in a waffle cone with blueberry preserves, lemon drizzle and cookies. A maple variation comes topped with a veritable cloud of maple cotton candy.
Happily, the savory fare is just as exciting as the sweets. Crisp-coated fried chicken, ordered by the piece, comes with the diner's choice of sauces, including Sriracha butter, tangy apricot-honey mustard and an umami bomb of a Korean barbecue sauce made with fermented bean paste. No matter which sauce you choose, the chicken gets a side of creamy, sweet-corn pudding. It's literally finger-lickin' good.
Potential burger toppings include pickled onion, watercress, horseradish and pork roll. But you might want to order the signature kimchi burger, with the spicy cabbage mixed right into the meat. Vegetarians can get a falafel burger or a Caprese sandwich with local mozzarella, tomato and basil.
Co-owned by chef Charlie Menard of the nearby Inn at the Round Barn Farm, Canteen is a destination in itself. The scenic surroundings — rich in opportunities for blueberry picking, shopping, hiking and dips in swimming holes — are the icing on the cake.
— S.P.
Willie's BBQ
3608 Route 22A, Fair Haven, 558-6340
courtesy of willie's BBQ
Half chickens at Willie's BBQ
On a strip of grass beside Route 22A, a jet-black trailer called Willie's BBQ emits plumes of smoke from a grill hitched to the back. There, William Tyler slow-cooks rib racks, pulled pork, half chickens and slabs of brisket over a wood fire, Thursday through Sunday.
Armed with a four-year degree in culinary arts and service management from Paul Smith's College, Tyler has cooked for his entire professional life. "I started as a dishwasher when I was 17," he says over the phone. "You name it, I've pretty much done it."
In 2009, Tyler was heading to a different job when he came to a dead stop on 22A. As he waited for a rally of Americade motorcyclists to buzz by, an idea surfaced: A food trailer would do well on this long strip of highway flanked by mountain views.
"That got the ball rolling," Tyler says. He bought his barbecue trailer soon after. "Not a lot of people were doing [barbecue] around here at the time," he adds. "At least not doing it right."
The right way to barbecue, he explains, entails masterminding an alliance of timing and temperature. Tyler familiarized himself with that balance during north-south cross-country road trips, pulling over at barbecue joints that simultaneously provided satiety and inspiration.
At Willie's BBQ, hungry passersby can stoke their appetites with snack-bar mainstays such as onion rings, fries and housemade slaw — or venture into the realm of smoke and heat. Sauces and marinades are made from scratch, as is the rotating roster of weekly specials.
This week, Tyler is psyched about the candied maple baby back ribs: rivets of meat marinated in maple syrup for two days and grilled until the meat is shellacked and spoon tender. Then there's the brisket, which is "just about the best thing you can have when it's cooked properly," Tyler says. "Done right, it's heaven."
— J.C.
Cajun's Snack Bar
Hannah Palmer Egan
Fried alligator at Cajun's Snack Bar
On an average weekend day, about 500 people stop at Cajun's Snack Bar. That's impressive for any small restaurant but outrageous in Lowell, where the population hovers around 700.
Jane and Leo "Cajun" Boutin opened Cajun's in 1999 with a menu of seafood, burgers, ice cream and snacks. In 2009, the Boutins' son and daughter-in-law, Jason and Amanda Boutin, took over. Looking to distinguish Cajun's from similar spots in the area, the younger Boutins started serving some of the Acadian foods that Jason had grown up eating at home, including fried catfish, crawfish, frog's legs and alligator. Slowly, the menu grew to more than 100 items.
"We've been evolving to more of a seafood restaurant from a traditional snack bar," Jason Boutin tells Seven Days, noting that his lobster rolls (hot or cold), fried clams and scallops are as popular as the bayou specialties.
As for that alligator, it's more popular than one might expect: Boutin says he goes through 1,000 pounds of "tail sirloin" each season and now works with several purveyors to ensure a steady supply. On the receiving end, the golden, breaded nuggets look like fried clams. Their crunchy crust gives way to white meat that's a little chewy and reptilian in texture; the taste is somewhere between catfish and poultry, with a hint of chile pepper spice.
Boutin says he was surprised — but not too surprised — that the unconventional snacks became so popular. "Part of it's the novelty of getting something new and unique," he says. "But the other part of it is that the food tastes good. There's a reason the Cajuns were eating it."
— H.P.E.
The Copper Plate
776 Glover Road, Barton, 323-4000
Hannah Palmer Egan
Pulled pork, fries and corn at the Copper Plate
Eddie Seadale can't sit still. "I'm just gonna do this," he says, bending over to wipe down a table while chatting with a reporter. Seadale is trim and clean-cut, with the spark-plug energy and easy chatter of someone who's been serving food for decades. As we talk, he jumps up to check an order, to greet a guest or to shoo away his cat, who's making eyes at a visiting dog.
Seadale and his wife, Lorie, purchased the River's Edge Farm Stand just off the Interstate 91 exit ramp in Barton three years ago, after selling their nearby restaurant the Parson's Corner. Last summer, they added a seasonal food trailer called the Copper Plate to their farm-business. "I have restaurant experience," Seadale says. "That's how I make my living."
Though the menu changes daily, it revolves around seafood and sandwiches, such as a turkey-cheddar melt with cranberry sauce and a steak-and-cheese sub with mayo, peppers and onions, which Seadale says he's been making "on and off since 1983."
Seadale builds weekend fare around a Friday seafood delivery from Maine. Crispy haddock sandwiches, fried shrimp po'boys, and whole-belly clams and scallops come served over fries. I snack on a sloppy joe sandwich stuffed with tangy pulled pork, accompanied by a mountain of those same hand-cut fries.
Farmstand produce factors largely into the menu, too. The Seadales grow organic fruits and vegetables — including greens, squash, blueberries and flowers — in the gardens and greenhouses out back. They buy other ingredients from local farms, wildcrafters (you may find chanterelles or other wild mushrooms if you're lucky) and producers. Everything's labeled with its source.
Seadale admits that he's moved away from his original plan to serve more of his own garden produce. "We don't have the resources to grow all that we thought we would," he says, noting that gardening is labor-intensive and time consuming. "But we do what we can."
On a muggy late July afternoon, I sink my teeth into a hot ear of corn on the cob, slathered with butter. Each firm, fresh kernel explodes with a pop, then gives way to a wash of buttery sweetness. "Is this from nearby?" I ask, assuming the affirmative.
"It's from Québec," Seadale says. "You know that that's local, right?"
— H.P.E.
Shaggy's Snack Bar & Pizza
109 1st Street, Swanton, 868-2021
Julia Clancy
Shaggy's Snack Bar & Pizza
Shaggy's proprietor Joe Desrochers named the Swanton snack bar for his doppelgänger: the lanky, ever-hungry pal of Scooby-Doo. But this Shaggy doesn't dole out Scooby snacks, nor does he play a sidekick role.
"The food business is in my blood," says Desrochers. "My grandfather Felix owned a hot-food truck in St. Johnsbury called the Yellow Cab Lunch in the '30s; he sold things like hot dogs, popcorn, ice cream bars and cigarettes."
Desrochers followed his grandfather's lead and has dedicated most of his professional life to feeding locals. He spent 17 years turning dough at the Swanton House of Pizza before opening Shaggy's, a central feature of the community since it began business 15 years ago.
Standing in line early on a Friday evening, one realizes it's no mystery why Shaggy's is a neighborhood hub. As the queue meanders across the front lawn at five, the chatter is loud and amiable. Shaggy's seems to be the spot for communal catching up.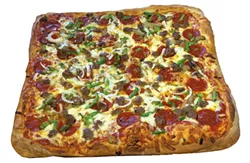 Julia Clancy
Pizza with the works at Shaggy's Snack Bar & Pizza
"I love the Shaggy's Sherbert," one customer says, referring to the snack bar's concoction of black raspberry ice cream, orange soda and lemonade blitzed into a dense shake. Other diners go for the French fries, hand-cut potatoes plunged in hot oil until they reach that sublime moment of crispy edges and creamy flesh.
The menu includes the usual burgers, chicken tenders and onion rings, too. But an aroma more tantalizing than fryer oil emerges from the depths of Shaggy's kitchen. The smells of baked bread and hot cheese waft to the front counter, betraying the presence of thick, Sicilian-style pan pizzas bubbling in the back. Desrochers says he makes the dough from scratch each morning, along with the homemade tomato sauce integral to a Shaggy's pie or an order of mozzarella sticks.
The secret to the sauce? "If he told ya, he'd have to kill ya," says Stacey Desrochers as she and Joe, her husband and business partner, tackle the orders flowing into the kitchen. The couple met when Joe worked at the House of Pizza — "I'd go in as a customer and had a crush on him," Stacey says. She wields a 16-inch knife to slice a crisp-bottomed pizza for an awaiting family of three, who wave to the Desrochers through a window.
Outside, the picnic tables are beginning to fill up, and yet more cars are turning toward the bright-orange snack bar. Come to think of it, it's the same color as the lettering on Scooby-Doo's Mystery Machine.
— J.C.