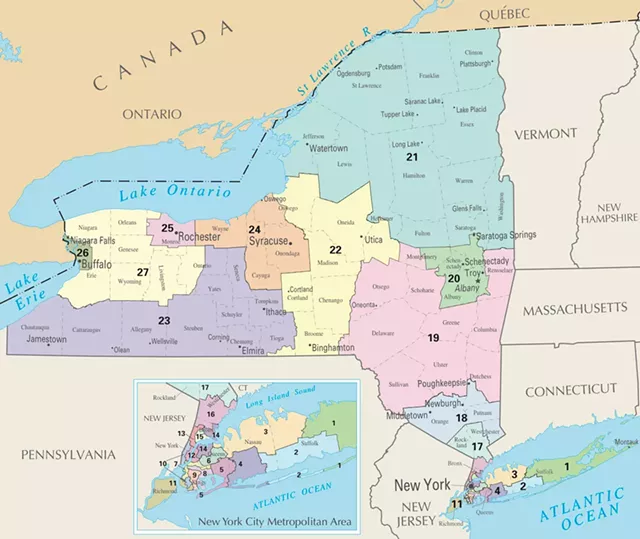 Wikimedia Commons
New York State congressional districts
For Democrats and progressives across the country, the priority this year is winning a majority in the U.S. House or Senate to break the Republican hold on legislative power. Vermont already has an all-blue congressional delegation, so some activists in the state have turned their attention to close races elsewhere — especially in neighboring states.
"One of the best things Vermont can do for the nation is to be a strong anti-Trump state," said James Haslam, executive director of Rights & Democracy, a progressive organization that's active in both Vermont and New Hampshire. "More and more people realize that what happens in nearby states affects us."
One prime target is New York's 21st congressional district, which includes the Adirondack Park and extends to Lake Champlain's western shore.
"We share so many issues with that district," said Gordon Miller, a real estate broker from Huntington. "Stewardship of the lake, an aging population, an ailing dairy industry, border concerns, the tourism industry." Miller is a donor and volunteer for Tedra Cobb, the Democrat who is challenging U.S. Rep. Elise Stefanik (R-N.Y.). "It's in our best interests to give Congressman [Peter] Welch (D-Vt.) an ally, not an adversary," said Miller.
He plans to organize a bi-state fundraiser for Cobb, perhaps on a Lake Champlain tour boat.
Elizabeth Deutsch of Hinesburg, a registered nurse at the University of Vermont Medical Center, is taking a different tack. "I want to raise awareness of Elise Stefanik's record," Deutsch said. "She has voted right down the line with [House Speaker] Paul Ryan (R-Wis.). She's a good little foot soldier."
Deutsch also plans to get involved in New York's 19th congressional district, which includes the northern Hudson Valley and Catskill Mountains and extends northward to the Vermont border near Bennington. The contest features U.S. Rep. John Faso (R-N.Y.) and Democrat Antonio Delgado.
The race is widely considered to be a squeaker and has drawn the attention of some deep-pocketed Vermonters. Paul and Elaine Growald of Shelburne have donated more than $10,000 to Delgado's campaign. Former education secretary Rebecca Holcombe gave $1,000 to the challenger, and former Vermont Democratic Party chair Faisal Gill gave $2,700.
"The No. 1 goal is to flip the [U.S.] House," Gill explained. "I'm looking at people who have a chance at winning. If there's any seat we should be able to flip, it's this one."
The 19th district enjoyed a burst of national attention last week when Faso publicized an album recorded by Delgado, who's now a lawyer but used to be a rapper. Delgado, who is black, used the N-word on the 2007 album and included lyrics critical of capitalism and racial injustice. Faso told the New York Times that the lyrics are "inconsistent with the views of the people of the 19th district and America." Delgado's allies have accused Faso of unsubtle race-baiting.
The nonpartisan Cook Political Report rates NY-19 as a "toss-up," one of 25 Republican congressional seats in that category. The Democrats would need a net gain of 24 seats to take control of the House. Swing Left, an advocacy group seeking to turn the House blue, has identified 65 districts that could flip from one party to the other. NY-19 is on Swing Left's list, but Stefanik's district, NY-21, is not. Cook also considers the 21st a safe Republican seat.
Swing Left is one of many organizations encouraging blue-state voters to support liberal candidates in more competitive states. Let America Vote targets states in which Republican legislative majorities have enacted laws designed to make it harder to vote. Flippable and the Sister District Project focus on state legislatures, which will become crucial for redrawing legislative districts after the 2020 census. Several Vermont chapters of Indivisible, a national progressive organization, are taking part in nearby campaigns.
Ann Smith of Waterbury, former executive director of Friends of the Winooski River, has joined forces with six central Vermont residents to form their own organization called Lean Left. "We wanted to work on elections in other states," she said. They gathered information from progressive groups and political news outlets and honed in on NY-19, as well as New Hampshire's 1st congressional district and Maine's 2nd. (Lean Left is also working on two Pennsylvania legislative races assigned by the Sister District Project.)
NH-1, from which U.S. Rep. Carol Shea-Porter (D-N.H.) is retiring, is "one of the swingiest seats in the country," Smith said. "It's one of the few that Republicans think they can pick up."
Some activists are holding fire until after the September 11 New Hampshire primary. "There are 11 Democratic candidates," Haslam explained. "We're getting ready for the general election. We need to unify people and stay involved."
Groups such as Swing Left, Flippable and the Sister District Project make it simple for blue-state Democrats to support candidates in competitive races. But this trend isn't great for Democratic parties in blue states. "A lot of our traditional big donors have gone to other groups," said Vermont Democratic Party chair Terje Anderson. "Vermont donors are showing up for candidates across the country. We need to remind them to support candidates closer to home."
Fundraising totals for Vermont gubernatorial candidates have lagged far behind 2016 levels. And this week's public opinion poll commissioned by Vermont Public Radio and Vermont PBS provided more support for the notion that Vermonters are more engaged in national politics than their own state's. Few respondents had even heard of this state's four gubernatorial Democratic candidates, the poll found.
For liberal Vermonters, President Donald Trump and the Republican Congress are much more important targets than their relatively moderate Republican governor, Phil Scott, who will be very tough to beat.
Folks like Miller say they aren't ignoring Vermont. "I'm certainly supporting local representatives and senators," he said. Rights & Democracy's in-state priorities, said Haslam, are "a House majority capable of overriding gubernatorial vetoes, and the governor's race."
Of course, putting first priority on veto overrides kind of assumes a Republican will still be governor next year, doesn't it?
Six for the Senate
State legislative campaigns often suffer from a dearth of competition. That's definitely not the case for the Democratic state Senate primary in Washington County. There are six candidates running for three nominations, including Sens. Ann Cummings (D-Washington) and Anthony Pollina (P/D-Washington). Their seatmate, Sen. Francis Brooks (D-Washington), is not seeking reelection
"I've never had this level of primary," said Cummings. "All the candidates are exceptionally well qualified. We have an abundance of riches."
Washington County Deputy State's Attorney Ashley Hill is making her second bid for the Senate. She came in fourth place in 2016, a single vote behind Brooks. "It's wonderful that a bunch of folks saw this as the time to step up," she said. "People see a need for change in the legislature."
A subtle dig at the incumbents?
"They've done wonderful work," Hill said. "I admire them. But having a diversity of personalities and experiences is good."
Other challengers deliver hints of their own. "This is a time when there's a need for new voices," said Theo Kennedy, an attorney, lobbyist and owner of Chill Vermont Gelato in downtown Montpelier.
"I hear it a lot, without any malice intended, that it's time for new blood," said Andrew Brewer, former owner of Onion River Sports in Montpelier.
The challengers acknowledge that Washington County tends to be loyal to incumbents. Cummings is in her 22nd year; Pollina has served for four terms; and former Republican senator Bill Doyle represented the county for an astounding 48 years until he was narrowly defeated in 2016 at age 90.
Don't think the two incumbents are resting on their laurels. "We've had relatively easy wins, but we don't take it for granted," said Pollina, who has battled Parkinson's disease in recent years. At a recent candidates' forum in Barre, he remained seated throughout, while the other five hopefuls stood when speaking.
Pollina said he had surgery last week to remove a cyst in his back. "It feels a heck of a lot better," he said. He claimed that constituents don't see his health problems as an impediment to service. "People have been encouraging me," said Pollina, a Progressive fixture in state politics who has twice run for governor. "They want me to be the kind of voice I've been in the Senate."
Past experience teaches Cummings to take nothing for granted. In the fraught campaign of 2000, following the establishment of same-sex civil unions, she won reelection by a mere 223 votes.
"I was behind on election night and I had given up," she recalled. "I got a call from [then-Senate president pro tempore] Peter Shumlin after midnight. He said, 'You're 50 votes behind, and Plainfield and Calais aren't in yet. You can pick up 50 votes in those hippie towns, can't you?'"
Yes, she could.
The four challengers realize they may be competing for a single nomination. "Anything's possible," said Andrew Perchlik, director of the state's Clean Energy Development Fund. But, he added, "I'd be very surprised if Ann or Anthony didn't get elected."
Well, nominated anyway. The three Democratic winners will face three Republican candidates in November, and those three don't have to spend time and money on a contested primary.
Media Notes
Vermont's oldest weekly newspaper is battling to overcome its second natural disaster in seven years. The latest calamity was a fire in the early hours of Monday, July 16, that devastated the downtown Woodstock offices of the Vermont Standard.
The Standard has never missed publication in its 165-year history. Even before he could fully assess the damage, president Phil Camp promised that the streak would not be broken.
He made good on that vow, although it took a little extra time. The paper hit the streets on Thursday night instead of the usual Thursday morning. And on the bright side, "I couldn't have found a better picture to sell newspapers," Camp said.
This isn't his first comeback. The Standard offices were wiped out by Tropical Storm Irene in 2011, but the paper kept on publishing despite the floodwaters. "That totally destroyed us," said Camp. "This [fire] wasn't quite that bad."
Camp praised firefighters for entering the building to save the paper's computers. He was amazed at the community response. "It was almost a problem, the number of people who volunteered to do anything to help," he said.
Woodstock's Norman Williams Public Library offered temporary space to the Standard, and Camp will now begin looking for a new headquarters.
The 82-year-old newspaperman's sense of humor is unaffected by tribulation. "My son told me, 'You've lived through a flood. Now you've lived through a fire. Locusts are next!'"