Paul Heintz
Sen. Bernie Sanders in Columbia, S.C.
Standing in the foyer of the funeral home she owns in Greenwood, S.C., Anne Parks tried last Friday morning to wrap up a phone call with a relative of a prospective client.
"Why don't you come on in here and we can set and talk about it," she said, offering to pick up the deceased at a local hospital and settle on the terms later. "We can work it out."
Parks, who has spent 17 years in the South Carolina House of Representatives, hung up and took a seat on an overstuffed couch in the parlor. She recalled the time, in May 2007, when a United States senator named Barack Obama asked her at a Democratic Party dinner what it would take to earn her endorsement.
"I said, 'Just simply come to Greenwood,'" Parks recounted. "I don't think he actually knew where Greenwood was located."
But the next month, Obama found his way to this small city of 22,000 in the northwest corner of the state and shook hands with some 40 people gathered at the Greenwood Civic Center.
"It was a gloomy day. It was raining. And he had said that he hadn't had much sleep and he didn't feel the best in the world," Parks said.
That changed near the end of the meet-and-greet, when Edith Childs, a member of the county council, launched into her signature call-and-response, as she was known to do at local political rallies.
"Fired up!" she called.
"Ready to go!" the crowd responded.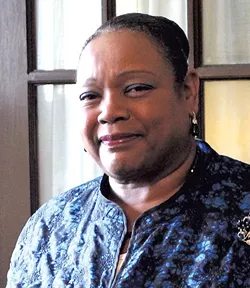 Paul Heintz
Rep. Anna Parks
Parks recalled Obama's reaction. "At first he looked like he was kind of confused. He didn't know what was going on," she recounted. "By the end of the chant and the cheering, he was fired up and ready to go."
Within months, Childs' chant had become a staple of Obama rallies from Des Moines to Nashua to Las Vegas — and the story of Greenwood had become a symbol of his long-shot campaign.
"It shows you what one voice can do," the future president would say. "One voice can change a room. And if a voice can change a room, it can change a city. And if it can change a city, it can change a state. And if it can change a state, it can change a nation. And if it can change a nation, it can change the world."
Obama would go on to defeat then-senator Hillary Clinton in the Iowa caucuses and then lose to her in New Hampshire and Nevada. In South Carolina, he pulled off a stunning upset, beating the former first lady of Arkansas 55 to 27 percent.
Here in Greenwood, Obama walked away with 70 percent of the vote — a result state Sen. Floyd Nicholson (D-Greenwood) attributes to the visit he paid the city.
"People say it's good to hear you," says Nicholson, a former mayor whose downtown office features a photograph of him with the president. "But when you take time out to come to these rural, small communities, people think a lot about that."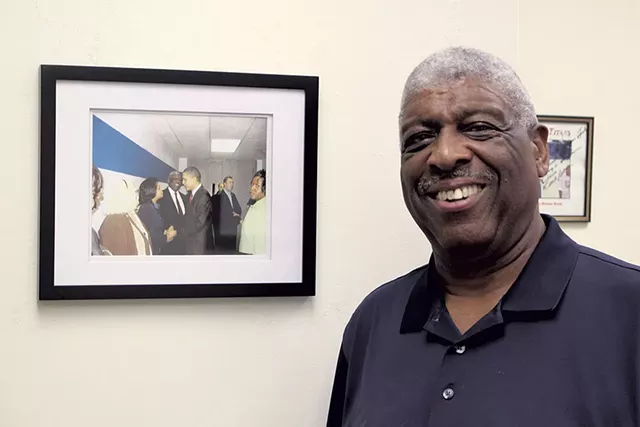 Paul Heintz
Sen. Floyd Nicholson
Eight years later, another U.S. senator is hoping to replicate Obama's come-from-behind victory and defeat Clinton in a state she's traversed since her husband, Bill, won it in the 1992 primary. But the senator, Bernie Sanders of Vermont, hasn't made much headway in a place Winthrop University professor Scott Huffmon calls "Clinton country."
A poll Huffmon released last week showed Clinton leading Sanders 71 to 15 percent in South Carolina, which is scheduled to hold the fourth presidential nominating contest, on February 27. More than a third of respondents said they were not familiar enough with Sanders to form an opinion of him.
"Before the presidential campaign, nobody really knew about Bernie," says Nicholson, who quietly supported Obama in 2008 but is undecided about 2016.
In particular, the white, Jewish Vermonter with an unmistakable Brooklyn accent is struggling to win over African American voters, such as Parks and Nicholson. According to Huffmon's poll, Clinton leads Sanders 80 to 8 percent among black South Carolinians. That's a problem in a state whose Democratic primary electorate is expected to be more than 50 percent African American.
Though Sanders has invested significant resources in courting communities of color — his South Carolina staff is more than half black — many African Americans in Greenwood and throughout the state say they're inclined to support Clinton because they know her better.
"I'm kind of thinking that I would like to go with Hillary Clinton," said Parks, who has not formally endorsed either candidate. "It's just something about her that I think she kind of fits in with the everyday people. She has the little man's concern in mind."
Mill Town Blues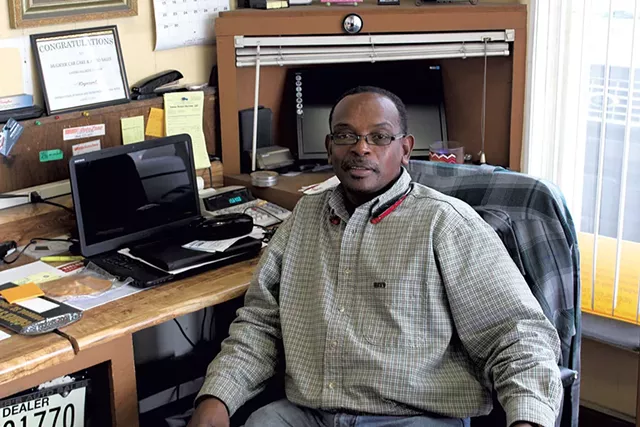 Paul Heintz
Capers McGrier
By the time the financial crisis crippled Wall Street in 2008, globalization and automation had already taken their toll on Greenwood. The once-thriving textile town, 30 miles from the closest interstate, had been losing its mills for years. As Obama took office, it was losing its factories, too.
By 2010, Greenwood County's poverty rate had more than doubled, to 24 percent, according to the New York Times — the steepest increase of any county in the country. Three years later, its unemployment rate reached 8.6 percent.
These days, city boosters such as Parks and Nicholson say the local economy has turned a corner. They point to Greenwood's revitalized "uptown," whose tree-lined Main Street features several new restaurants and a refurbished inn. They speak with excitement about the new Colgate-Palmolive plant, which will soon produce soap and deodorant in a facility that once served as a Sara Lee bakery.
But Chris Harris, who owns Apache Pawn & Gun, isn't so sanguine.
"It's still pretty bad," he said last Thursday, perched behind a glass counter next to a row of rifles and semiautomatics. "I mean, when you own your own business and you don't take a paycheck for three or four weeks, it kind of hurts."
Harris blames the North American Free Trade Agreement for his town's woes and, by extension, Hillary Clinton, whose husband signed it into law in December 1993. Asked his feelings about Sanders, who opposed NAFTA and rails against it on the stump, Harris stared blankly.
"I'm trying to think," he said. "There's so many of them now."
Five minutes later, something clicked.
"Is he the guy with the scruffy hair?" said Harris, a skinny, whiskered white man wearing faded jeans and a long-sleeved shirt. "I kinda like him."
Up the road from Harris' gun shop, Capers McGrier looked stressed as he worked behind a desk at the car wash he owns. Three years ago, he said, he had cut the price of a wash from $25 to $20 because his customers told him they couldn't afford his services anymore. He hasn't been able to raise his prices since.
McGrier, who is black, said he voted for Obama in 2008 but now considers that a mistake.
"I'm not racist or biased or anything like that, but to me, the only people he helped was the homosexuals and the Mexicans," he said. "They got too much. I believe people like Obama favor them over the people here in America today that been here — that struggle all their life."
Like Harris, McGrier said he'd probably vote Republican next year, but he likes what he's heard from Sanders.
"Bernie just a straightforward guy," he said. "He been down low before, so he know what the common man need in life."
As in much of South Carolina, race remains a sensitive subject in Greenwood, whose population is evenly split between blacks and whites. Only recently did the city get behind an effort to replace the plaques on an American Legion war memorial that lists the dead as either "white" or "colored." But the plaques still stand on Main Street because state law prohibits the alteration of certain memorials without the legislature's imprimatur.
Greenwood is also deeply conservative. McCaslan's Book Store & Office Supply has a section devoted to presidential candidate memoirs — from Ben Carson to Marco Rubio to Ted Cruz — but not a single volume written by a Democrat.
"They don't sell," explained owner Alvin Rankin.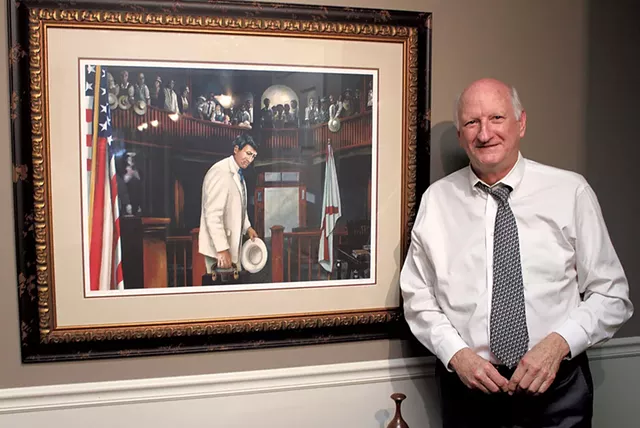 Paul Heintz
Rauch Wise
Even Rauch Wise, a white man who calls himself "Greenwood's most liberal lawyer," concedes Bernie Sanders might be too far to the left for his town — and his state.
"You're not going to win in South Carolina calling yourself a democratic socialist," he said, referring to Sanders' self-professed political identity. "I think everybody's basically assuming that Hillary's gonna win it."
That includes Norval Davis, a self-described "Bernie man, through and through" who referred to Sanders as "our last hope." Leaning forward on a recliner in his dark, cluttered house last Thursday, the retired consumer loan officer bemoaned the state of the local economy.
"Here in Greenwood, we don't have so much industry anymore," he said. "But, damn, we got a lot of banks and fast-food stores."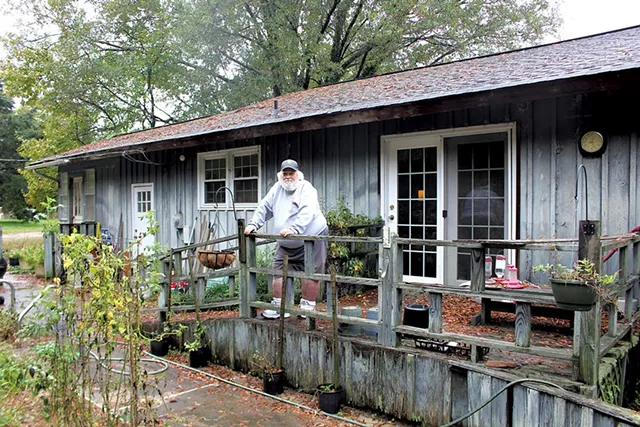 Paul Heintz
Norval Davis
Davis stood up and walked into his kitchen to let his dogs loose from behind a gate. He named one, a Boykin spaniel, after state Rep. Gilda Cobb-Hunter (D-Orangeburg), and the other, a Boykin-Brittany spaniel mix, after Obama.
"Our president's half-and-half, so that's how he got his name," explained Davis, a large, bearded white man who could pass as Santa Claus. "Barack, come here! Tone it down, boy. Sit down."
Though he believes Clinton will ultimately prevail, Davis thinks Sanders' presence in the race "is going to make her a better candidate." And he's confident that as South Carolinians get to know the Vermonter better, they'll realize he's fighting for them.
He predicted, "I think he's going to surprise people and get more votes than people think."
Thirty Percent
Paul Heintz
MSNBC's Chris Matthews hosts "Hardball" before a Rock Hill, S.C., candidates forum
Ninety miles northeast of Greenwood, on Winthrop University's leafy campus in Rock Hill, S.C., Sanders was preparing for the first Democratic candidate forum in the South.
Campaign manager Jeff Weaver, a native of St. Albans and Highgate, Vt., had been tasked with representing Sanders on a pre-forum panel on MSNBC's "Hardball," which was airing live from a television set temporarily erected on a lawn in front of Byrnes Auditorium. Behind the panel, a couple dozen rabid campaign volunteers hoisted Sanders and Clinton signs and chanted their names.
After squabbling with host Chris Matthews over gun control, democratic socialism and negative campaigning, Weaver stepped down from the stage, removed his microphone and chatted with a reporter about what he hoped Sanders would accomplish during the Winthrop forum, which would air on MSNBC.
"I think he needs to, obviously, introduce himself more to people in South Carolina. I think that's pretty clear," Weaver said. "I think he wants to speak to some of the issues of particular importance to African Americans. I think a lot of people in the African American community are not aware of his record or his agenda."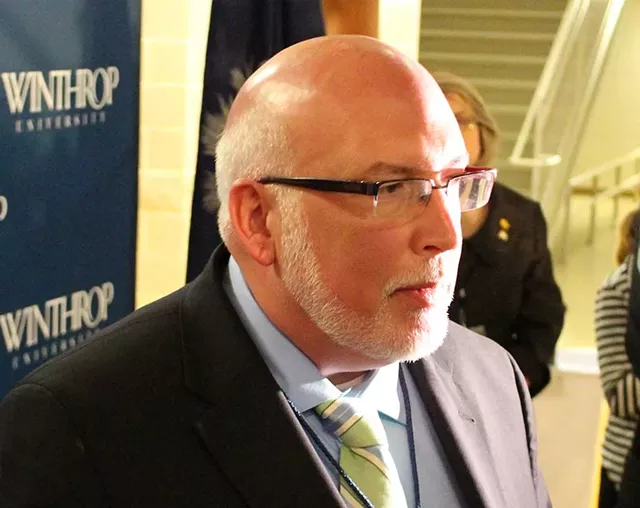 Paul Heintz
Sanders campaign manager Jeff Weaver addresses reporters after a Rock Hill, S.C., candidates forum
While it might be tempting for Sanders to just skip South Carolina and focus on states more demographically akin to his own, doing so would instantly pigeonhole him as nothing more than a regional curio — incapable of mounting a national campaign. Black support is crucial to Democratic candidates in a country where whites are voting in growing numbers for Republicans; in 2012, presidential nominee Mitt Romney won the white vote but lost the race. Without the African American community, Obama might have been a one-term president.
While Sanders has recently flooded South Carolina with resources — this week his campaign staff is scheduled to grow from 29 to 40, according to state director Christopher Covert — a recent remark made by senior strategist Tad Devine seemed to contradict Sanders' stated commitment to courting black voters.
"We don't have to win 50 percent of the African American vote in South Carolina to win," Devine told Bloomberg's John Heilemann in what seemed a moment of excessive candor. "Probably only need to win 30 percent."
Standing next to the "Hardball" set, Weaver argued that Devine had been "making a broader point," that delegates to the Democratic National Convention are awarded proportionally, so a candidate like Sanders could still walk away from the Palmetto State with delegates even if he lost its popular vote.
Huffmon, the Winthrop pollster, makes a similar point.
"I don't think it was ever possible for him to win it," he says. "But that doesn't mean he can't get delegates."
According to Jay Parmley, who helped organize a four-state tour of the South for Sanders two years ago, "His goal in South Carolina is to just beat expectations — and right now his expectations are just terribly low."
"If he's trying to take this presidential campaign to the next round of states, it's not so much about winning here, as can he find a way to get 30 percent of the vote?" says Parmley, who chairs the Richland County Democratic Party.
When Sanders took the stage in Byrnes Auditorium later that night, moderator Rachel Maddow wasted little time before addressing the matter of race. Noting that his home state is 95 percent white, she asked whether Sanders had "enough real-world experience with the issues that racial minorities face" to convince them to vote for him.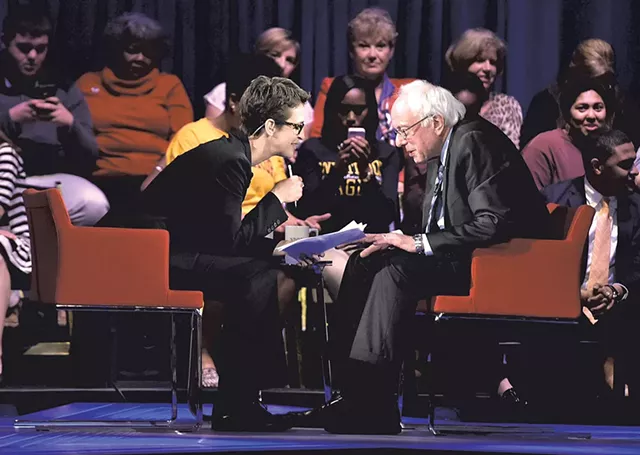 Courtesy of MSNBC
MSNBC's Rachel Maddow interviews Bernie Sanders at a forum Friday in Rock Hill, SC.
"I believe I can," Sanders said, citing his involvement as a college student in the civil-rights movement. "But more importantly, I think I have the economic and social justice agenda now that, once we get the word out, will, in fact, resonate with the African American community."
Later, Sanders sounded as if he was speaking directly to the people of Greenwood as he railed against what he called "our disastrous trade policies."
"The textile industry here [has been] very significantly impacted by bad trade agreements," he said. "So what we are going to tell corporate America [is], 'You know what, instead of moving abroad, how about investing in the United States of America?'"
Friends and Neighbors
Paul Heintz
Angela and Aaron Noble at the African American History Monument in Columbia, S.C.
On Saturday morning in Columbia, Aaron and Angela Noble strolled the grounds of the South Carolina Statehouse. After visiting the African American History Monument, they asked a stranger where they might find the flagpole that activist and filmmaker Bree Newsome climbed in June to tear down the state's Confederate flag.
The Nobles, who live in Burlington, N.C., recalled the July day when South Carolina legislators voted to lower the flag for good.
"I was extremely happy," said Aaron Noble, who is black. "I know the flag means different things to different people, but to African Americans it is a symbol of oppression."
Noble, a human resources director who considers himself a political independent, said he'd heard Sanders on a National Public Radio program earlier in the week. He'd been impressed by the candidate's focus on fighting income inequality — and by his participation in the civil rights movement.
After Black Lives Matter protesters interrupted Sanders at a Phoenix, Ariz., conference in July, he was mocked by many younger black commentators for telling them, "I spent 50 years of my life fighting for civil rights and for dignity."
Their message: What have you done for me lately?
"I take issue with some of those views, because I don't think they're fair to him," countered Noble, who is 62. "He has a history, and I think he has a sensitivity. He realizes the fact that while the country has made significant progress, there's still more progress to be made. And I think he wants to be a part of moving the country forward."
Others in Noble's generation think Sanders has a long way to go.
Introducing the candidates at the Rock Hill forum was Congressman Jim Clyburn (D-S.C.) the third-ranking Democrat in the U.S. House and one of the most powerful black men in America. Earlier that morning, he suggested, "Bernie suffers from being from part of a country all of his adult life that does not necessarily live with these issues." The congressman continued, "I think the problem he's got is, if you don't have the presence of these people and you don't have to talk to them, you don't learn the words and phrases that are necessary."
Rev. Joe Darby, a leader in the African Methodist Episcopal Church, says he's noticed Sanders making a greater effort to speak to blacks, but he wants to see the candidate better distinguish between "economic woes" and "racial woes."
"He still needs to push that a little bit longer," says Darby, first vice president of Charleston's branch of the National Association for the Advancement of Colored People. "There needs to be a sense of personal identification, and I don't think he's quite hit that mark yet."
According to Don Fowler, a former chair of both the state and national Democratic parties, "There is a lot of parochialism in South Carolina politics that requires personal attention and personally showing up." To drive his point home, he paraphrased a passage from V.O. Key's 1948 book, Southern Politics in State and Nation.
"South Carolinians vote for their friends and neighbors," said Fowler, who is white. "Bernie needs some friends and neighbors to speak up for him in Charleston and Columbia and Florence and Greenville and places like that."
On Saturday afternoon, that's precisely what Sanders tried to do.
At a press conference on the northern side of town, the Vermonter introduced 16 of the 28 members of what he called his "South Carolina Leadership Team." Nearly everyone standing behind the podium with him was black. Some were state legislators, others party officials and others student activists.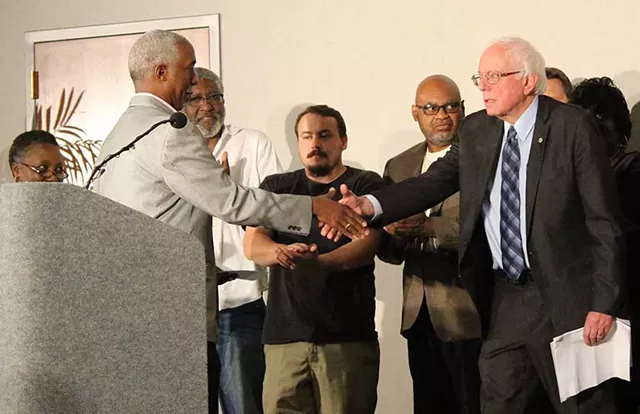 Paul Heintz
Rep. Terry Alexander shakes Sen. Bernie Sanders' hand at a press conference in Columbia, S.C.
"I'm here because it is clear to me — it is clear to me — that Sen. Sanders is the strongest candidate here for African Americans," state Rep. Terry Alexander (D-Florence) told a small crowd of mostly national reporters.
In his remarks, Sanders focused on criminal justice reform, expanding access to Medicaid and fighting voter registration laws he believes are designed to disenfranchise blacks and Hispanics.
"Let me be very clear — as clear as I can be — that people who are afraid of free and fair elections, who are working overtime to deny the right of people to vote, just because those people may vote against them, are political cowards," he growled. "If you are afraid to run in a free and fair election — if you believe that your ideas can't win, then get another job and don't participate in politics."
After the press conference, Alexander munched on a plate of shrimp provided by the Sanders campaign and admitted that his chosen candidate faced "an uphill battle." But he pointed out that Obama was also trailing Clinton at this point in the race eight years ago.
"When the African American community starts hearing from him personally, you'll start seeing the numbers shifting up," Alexander said.
A Sea of White
Paul Heintz
Sen. Bernie Sanders at a town hall meeting in Aiken, S.C.
In recent weeks, Sanders advisers have said they would be moving away from the blockbuster rallies that defined his burgeoning campaign last summer in favor of more intimate affairs. But on Saturday night in Aiken, S.C., Sanders returned to the format that made him a star.
"All across this country, millions of people are going to have to stand up and say, loudly and clearly, 'Enough is enough!'" he shouted to an enthusiastic audience of 1,300 at a University of South Carolina Aiken gym. "That this country and our government belong to all of us and not just a handful of billionaires!"
There was one notable difference from Sanders' earliest arena rockers: Introducing him on a stage decorated with giant American and South Carolinian flags were three black supporters: his national press secretary, Symone Sanders; his state political director, Christale Spain; and Young Democrats of America Black Caucus chair RaShad Gaines.
"When people ask me why I support Bernie, the answer is very simple for me: He has the juice," Gaines told the crowd.
Paul Heintz
Young Democrats of America Black Caucus chair RaShad Gaines
The diversity onstage, however, was not reflected in the audience. In a county where blacks make up more than a quarter of the population, mostly white supporters filled the bleacher seats. They were people like Henry Wynn, a retired illustrator for the U.S. Army, who complained about the conservative town in which he lives, some 50 miles away.
"I don't really discuss politics with anyone but my wife," he said. "I'm an artist and a musician, so I'm already ostracized."
They were people like Yvette Hicks, a blue-haired, tongue-pierced, tattooed stay-at-home mom from Augusta, Ga., who brought a cardboard sign that read, "Occupy the Whitehouse! BERNIE. Augusta Feels & Loves the BERN."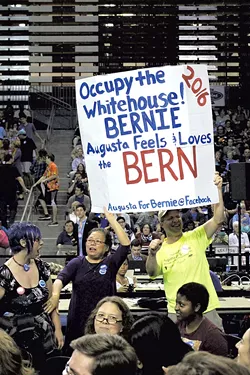 Paul Heintz
Young Democrats of America Black Caucus chair RaShad Gaines
They were people like Mike Huber, an Augusta investor and yoga teacher, who helped Hicks hoist her sign into the air.
"The yoga side of me says he's enlightened," said Huber, who wore a neon yellow shirt. "The more ego side of me says money is the issue ruining politics in this country. And he's the only one fighting it."
Onstage, Sanders faced a sea of white people, but he was speaking to a different audience.
"While we can applaud ourselves on the progress we have made in overcoming racism, everybody here knows that we still have a long, long way to go," the senator said. "What I am talking about are people like Sandra Bland and Michael Brown, Tamir Rice, Eric Garner, Walter Scott, Freddie Gray and many others, who died at the hands of police officers or in police custody."
Sanders did not refer to his notes. He had learned the names of the fallen African Americans by heart.
"That sad reality exists today," he said. "And my pledge to you is that, together, we are going to end institutional racism in America, and we are going to make major reforms to a broken criminal justice system."
With one voice, it seemed, he hoped to change a room and a city and a state and a nation.
Sanders was fired up and ready to go.