When Karen became a homeowner for the first time in October 2010, it was the first step toward a normal, stable existence. Karen and her daughter, Melissa, had moved seven times in the previous six years, in part because none of their rental units could accommodate Melissa's physical limitations.
Melissa, who's 20, has cerebral palsy and Asperger's Syndrome and is legally blind in both eyes. She was born several months premature, weighing just over 1 pound at birth and spent five and a half months in the neonatal intensive care unit. Life since then, according to Karen, has consisted of countless visits to doctors and hospitals. (For privacy and security reasons, she asked for anonymity in this story.)
At first glance, the family's newly purchased, split-level ranch in Williston seemed to meet all their needs. But Karen soon discovered the previous elderly owners hadn't properly maintained it. The front steps and walkway, made of fieldstones, wobbled and shifted beneath their feet. The bathroom tiles were moldy and cracked, the toilet leaked, and the bathtub seemed about ready to fall through the rotted floor.
In short, the house was in bad shape and needed considerable improvements and upgrades. But Karen, who is also on disability due to a back injury from a train accident many years ago, couldn't afford any of them.
Until one day last summer, that is, when Melissa's caseworker at the HowardCenter in Burlington called to say she had submitted an application on the family's behalf to Zoe's Race. The annual charitable run, founded in August 2009 by Burlington marathoner Erika Nestor, raises money for Vermont families who need to make their homes accessible for children with disabilities. Last year, Karen and Melissa were selected to receive their home renovations free of charge.
"We were just reeling for days," Karen says tearfully. "Even now, I'm pretty emotional because that doesn't happen every day. When you have a kid who's disabled, people don't realize how hard it is to find resources."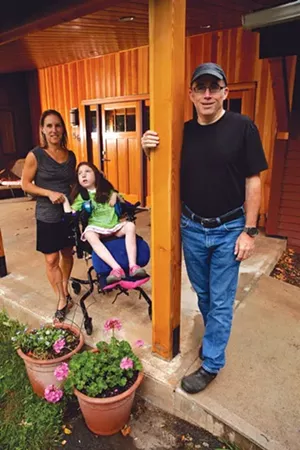 Erika Nestor, Zoe and Christian Brown
Jericho architect Christian Brown donates countless hours and resources to make Zoe's Race homes a reality. Funds from the race pay for materials, but the founder of Christian Brown Design doesn't charge; some of the contractors he employs do the same. This spring, Brown visited Karen and Melissa's house, took measurements and photos, and met with contractors to make sure that the work would satisfy not just Melissa's unique needs but also her personal preferences.
The result: Several months ago, the mother-and-daughter duo got a brand-new front walk designed to accommodate Melissa's mobility and visual limitations. Workers gutted the bathroom and replaced the old tub with a narrower, deeper one that's much easier for Melissa to use. The leaky toilet was replaced by an elevated one with grab bars. Oh, and they installed a new tile floor.
"It was remarkable!" says Karen. "Every time [Melissa] gets into the tub, she says, 'I love my tub!'"
For his part, Brown seems equally moved by the impact his work has had on Zoe's Race recipients such as Karen and Melissa.
"It seems like a small project, but it makes a profound difference in the quality of life for them," Brown says. "You walk in and say, 'I don't know how you're doing this, but let's figure out how to make this easier because you have enough challenges already.' There's nothing more gratifying than that."
Brown, 48, didn't set out to have a career designing handicapped-accessible houses. But since getting involved with Zoe's Race in 2009, the Harvard-educated architect has become the go-to guy for Vermont families of kids with disabilities, designing and renovating homes that transcend the often-sterile and institutional look of handicapped-accessible dwellings.
"He's been amazing," Nestor says. "I don't think we could do anywhere near what we're doing without him."
Kids VT caught up with Brown recently at an ultramodern, metal-clad house he designed and built in 2010 on Burlington's Chase Street, overlooking the Winooski River. The 48-year-old architect, a native of the Ithaca, N.Y. region, moved to Vermont in 1998 when his wife, Rachel Inker, got a medical residency here. She now works as a physician at the Community Health Center in Burlington.
Brown had no formal training in handicapped-accessible design before he went to work at Duncan Wisniewski Architecture in Burlington. There, he helped design a number of different projects for people with disabilities, including public-housing units.
After Brown moved to Jericho and launched his own design firm, he began working primarily on private residences, which liberated him from many of the more restrictive mandates imposed on public facilities by the Americans with Disabilities Act.
"If you care to meet ADA requirements, I can do that," Brown emphasizes. "But the point is, tell me what your specific challenges are, and let's design a house to meet your challenges."
That's what Brown set out to do when he began working with Erika and David Nestor in 2008. At the time, the family needed to renovate their old Colonial on Cliff Street in Burlington's Hill Section. The Nestors' daughter, Zoe, was 18 months old when she nearly drowned in a pond behind the house and suffered permanent and severe brain damage. Now 8, Zoe spends most of her time in a wheelchair and requires around-the-clock supervision.
When Zoe was little, it was easy enough to carry her up the front stairs, Nestor recalls. But as she got bigger, "Getting her in and out of the house became a nightmare." Equally problematic, every doorway in the house had a raised threshold that bounced and jostled Zoe's wheelchair whenever she was moved from one room to another.
The idea for Zoe's Race was born during the Nestors' renovation project. While there are public funds and private insurance money available to help families pay for a child's wheelchair, none exists to help families make their homes wheelchair accessible, which can cost tens of thousands of dollars. The Nestors were able to pay for their own renovations, but they created Zoe's Race to help other families who aren't as fortunate.
Nestor tells of one local family whose child needed a ramp to get inside the house. Because the family had limited resources and couldn't afford a real ramp, they cut the legs off their dining room table and used it instead.
"That's crazy!" Nestor says. "It's hard enough, day to day, to have a kid with special needs."
Nestor says she considered several different architects and builders before choosing Brown to work on her home. She says she was drawn not only to his unique architectural style — it leans toward a simple, modern yet warm sensibility, with an almost Asian flair — but also to his skill in designing homes that don't look handicapped-accessible.
Indeed, a visitor to the Nestors' house won't necessarily notice its accommodations unless the renovations are pointed out. The long front porch includes a wheelchair-accessible ramp that completely blends with the rest of the architecture. Two sets of French doors open from the driveway into what was once the garage but is now a master bedroom suite the Nestors share with Zoe.
Inside, the bedroom features radiant floor heat and a skylight. The handicapped-accessible bathroom has a shower and sink designed to accommodate various sizes of wheelchairs. From the bedroom, a large sliding door, on runners rather than hinges, opens into the kitchen and first-floor living area. All the hallways are wider than normal, with no lips, steps or thresholds to trip up Zoe's wheelchair. Every door in the house has a handle, not a doorknob, making it easier for someone in a wheelchair, or an aide, to open.
Nestor emphasizes that Brown wasn't just interested in making the house comfortable for Zoe, but for the entire family, including their two active sons, Luke, 18, and Sam, 15.
Brown says such design considerations are key to making an accessible house in which the person with the disability doesn't feel isolated in a separately designated "handicapped area."
"Of course, the priority is to solve the physical challenges to make their life easier," he says. "But at the same time, let's make it nice so that the whole family can live together in a fully integrated way."
Thus far, Brown has worked on every Zoe's Race house — eight in all. He can't even estimate how much time he's devoted to all these projects; he doesn't keep track.
"I'm fully committed to it, so I don't care how much time it takes," Brown says. "I'm all in, as they say."
For her part, Karen can only guess what Brown's improvements are worth to her and her daughter: $7000 or more. But she says the positive impact they've had on Melissa cannot be quantified.
"She was absolutely amazed that people would do this for her, just to make her life easier," Karen says. "It gave her a sense that 'My disability matters to somebody. My quality of life matters.' You can't put a price on that."