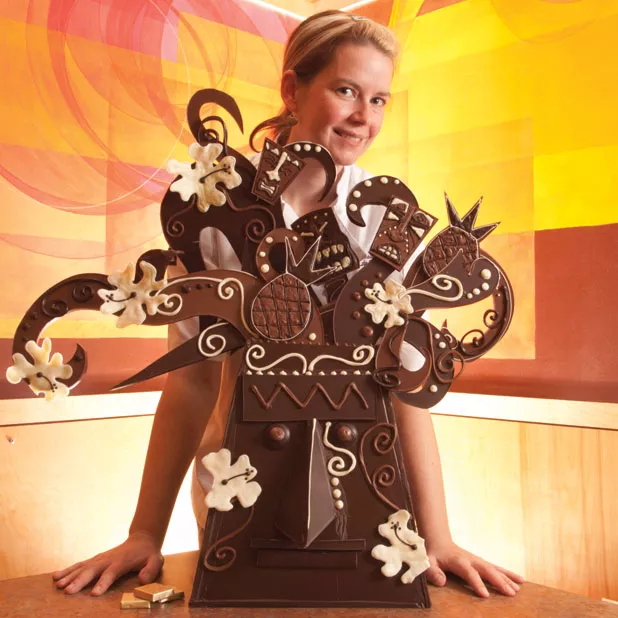 Matthew Thorsen
Emily Jones
When Emily Jones pours a pitcher full of liquid dark chocolate onto a table, it's hard not to swipe your finger through the perfect, shiny puddle for a taste. But doing so would be a rookie mistake, and it's something Jones herself never does.
"I don't think about it as chocolate," she says. "I don't see it as food. While I'm working, I see it as art." This coming from a woman who goes home every night with the sweet stuff stuck to the bottoms of her shoes.
Jones, 33, has been the resident "chocolate sculptress," as well as manager of the factory store, at Lake Champlain Chocolates for the last eight and a half years. On a recent afternoon at the factory on Pine Street in Burlington, she's working on the base of a holiday sculpture.
The piece is a gift box made of dark and white chocolate and topped with a dark, curving structure that sprouts delicate poinsettias and their leaves, made with white chocolate and colored cocoa butter. Jones will adorn it with white-chocolate snowflakes and ornaments. The sculpture would be completely edible if it weren't for the wire she uses to hang the ornaments and the compressed air from a can, containing a refrigerant gas, that she occasionally employs to bind pieces together.
Jones never expected to become a chocolate sculptor. She's a ceramic artist with a degree from the Montserrat College of Art in Massachusetts. After graduating in 2001, she returned to her home state to seek employment — Jones grew up in Georgia, Vt. When she stopped in at Lake Champlain Chocolates on Church Street armed with job applications, she wasn't actually looking to get hired. Having unsuccessfully canvassed local businesses all day long, she just needed a sweet treat.
But the salesgirl noticed the applications Jones was carrying and encouraged her to apply, she recalls. Turned out the store had a position for her.
Jones took a job as a retail clerk, figuring it would do until she found something that allowed her to use her artistic skills. Just two months later, she was offered a managerial position at the factory store. And after four more months, her boss approached her with a challenge.
"If you could sculpt in clay, I bet you could sculpt in chocolate," Jones remembers him saying. Chocolate sculptures weren't new to Lake Champlain Chocolates — another employee, chocolatier Kirk Weed, had been making them occasionally — but the company was looking for new talent.
"I decided to just go for it," Jones says. "I didn't really know what I was doing, so I was a lot messier back then … pretty much covered in chocolate all the time."
Weed showed her the basics, and the company sent her to chocolate school — first to the Notter School of Pastry Arts in Orlando, Fla., and then to Barry Callebaut's, Chocolate Academy outside Montréal.
In the beginning, Jones sculpted chocolate the same way she'd learned to sculpt clay. She used modeling chocolate, which contains a little corn syrup. "It helps make it pliable so you can knead it and use it as a dough," Jones explains.
Now she uses pure chocolate, which is not the easiest material to work with. "It does its own thing, and you just have to really pay attention," she notes. Juggling a few different sculpture components at once is especially tricky. "Things are setting, and you have to watch for the time," Jones explains — though she doesn't use a timer. "It's one of those things; you have to use your Spidey sense," she says.
Total concentration is key — and no small feat in a chocolate factory. It's not quite like Willy Wonka's, but Jones' worktable sits among gurgling machines and humming vats of liquid chocolate. Busy chocolatiers crisscross the space in lab coats and hairnets. The only thing missing is a chorus of orange-faced Oompa Loompas.
Jones has a view of the factory store, which she still manages, through a huge picture window. In turn, visitors — children and adults alike — press their faces against the glass to watch the chocolate makers.
Jones says she'd like to have her own private art studio someday, but she's done pretty well with what she has. She makes sculptures for display (they're not for sale) in each of the company's three Vermont stores for every holiday. She fashioned a trumpet for jazz legend Wynton Marsalis when he performed at the Burlington Discover Jazz Festival in 2007. The following year, for Jazz Fest sponsor Northfield Savings Bank, Jones built a scale replica of one of its three-story buildings.
Last year, for the South End Art Hop, Jones created a series of functioning clocks — a grandfather, a cuckoo and a Dalí-inspired "melted" one. For this year's event, she produced a set of tiki-themed totem poles, palm trees and coconuts.
Jones' sculptures aren't anything like traditional European chocolate showpieces, which are usually abstract and full of flowers and cast spheres. "They use a lot of molds," she explains. "I feel like that's cheating."
Jones prefers to create objects from scratch — especially robots. Her "chocobots" are the edible answer to Burlington artist John Brickels' clay creatures. "I really like retro stuff," Jones says. "I like the '50s view of the future."
Her own future looks pretty sweet. Jones has come to love sculpting with chocolate and would like to find a way to do it full time. In a perfect world, she says, she'd get to build her pieces for a show on the Food Network. One thing seems certain: She's not going back to clay.
"I made all these sculptures in art school, and they're all sitting in my parents' basement collecting dust," Jones says. Her chocolate work serves a purpose the other art did not: If it's not eaten, at least it's great eye candy. "And then there's the wow factor," she says proudly. "Most people just can't believe it."