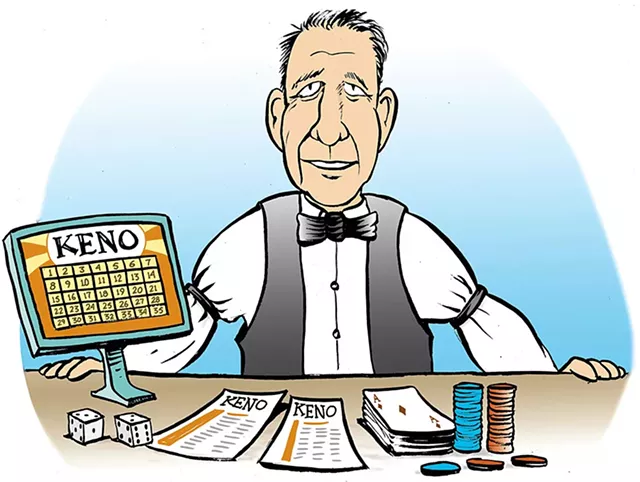 Gov. Phil Scott asked lawmakers last week to raise at least $4 million next fiscal year by legalizing sports betting and keno gambling. But while his proposal would give Vermonters more ways to play the odds, leading Democratic lawmakers say the real roll of the dice is proposing to balance the budget with a concept that has found little traction in recent years.
"That in itself is quite a gamble, frankly," said Sen. Dick Sears (D-Bennington). He would know: The last concentrated push to introduce keno — an electronic lottery game similar to bingo — landed with a "huge thud" in the legislature six years ago, the longtime legislator recalled, noting that House lawmakers have opposed other gambling expansions in recent years.
While it is too early to predict the fate of the proposals, at least part of Scott's pitch may find a receptive audience in the Senate, where Sears has cosponsored a bill to legalize sports betting. But key House leaders appear unconvinced by the governor's ideas, and influential committee chairs continue staking out positions.
"I will definitely be a 'no' vote, no matter what," said Rep. Janet Ancel (D-Calais), who chairs the revenue-raising House Ways and Means Committee, through which any gambling bill would need to pass.
"I wholeheartedly oppose both of these measures," said Rep. Tom Stevens (D-Waterbury), chair of the House General, Housing and Military Affairs Committee, which writes gambling legislation. He called sports betting "pervasive" and described keno as a "lonely," "terrible" and "addictive game."
"You might as well just hand your money over to the bartender," he said.
To be sure, all governors propose ideas that fail to find support in the legislature. But given the House's well-documented opposition, Scott's recent pitch strikes some lawmakers as little more than an attempt to avoid raising any taxes or fees while proposing costly new programs.
House Speaker Mitzi Johnson (D-South Hero) is one such observer. The governor caught himself "between a rock and a hard place," she said last week, trying to deliver "shiny new objects" — like tax incentives to encourage nurses and large employers to stay in Vermont — without having the money to back them up. "And so he dipped into gambling," Johnson said.
Governors across the country have taken a similar tack, finding the prospect of taxless revenue "intoxicating," said Senate President Pro Tempore Tim Ashe (D/P-Chittenden).
Why might a governor build a budget with a revenue source the legislature has been known to oppose? "Because then the legislature looks like the bad guy," Ashe said.
Indeed, if lawmakers quash the gambling proposals, they must then decide whether to replace the expected revenue or remove the spending from the budget, which usually means cutting programs.
Still, don't expect much protest from the Senate leader, who said the same criticism could apply to every budget proposal he's seen over the last dozen years. "And the legislature is always on the receiving end of that dynamic," Ashe said.
Scott's spokesperson, Rebecca Kelley, agreed that proposing ideas lawmakers may not support is part of the budget process. "You're never going to have a guarantee in the legislature," she told Seven Days last week. "You have to have faith in the strength and validity of [the proposal]."
Vermont governors have played the odds on gambling before. In 2014, the House tried to ban bars from hosting video lottery games, fearing they would increase the state's dependence on gambling revenue — particularly from those consuming alcohol in bars. The ban died in the Senate. Later that year, Scott's predecessor, governor Peter Shumlin, had the machines placed in 25 bars around the state, much to the chagrin of House lawmakers, who thought they had made their stance clear.
The following year, Shumlin proposed using at least $1 million in anticipated revenue from the gaming systems to help fund the Vermont Veterans' Home in Bennington. That would have broken a longstanding tradition of designating lottery profits exclusively to benefit the Education Fund and tamp down property taxes.
Shumlin argued that the revenue was essentially new money and thus could appropriately be dedicated to noneducation expenses. House leaders didn't buy it.
"That's a nonstarter, as far as I'm concerned," then-speaker Shap Smith told Seven Days. "I don't like expanding gambling, and I do not believe it's appropriate to divert profits from the Education Fund."
In the end, the House voted three times to ban the practice before the Senate also did so in 2016. The machines were quickly relegated to storage, where injury met insult as the state paid $8,000 a month to lease them for nearly a year.
Four years later, some of the same arguments are popping up again, especially because Scott proposes taking $2 million in anticipated tax revenue from keno games to help subsidize childcare costs instead of supporting the Education Fund.
Childcare is a "function of education," explained Kelley, describing its importance to the governor's "cradle to career" approach to education.
Johnson, like her predecessor, is skeptical. She maintains that lottery revenue spent on noneducation expenses amounts to stealing from the Education Fund. But she said she won't know whether she opposes the governor's sports betting proposal until she has more information.
Other House lawmakers have opposed recent gambling expansions on principle, believing that lottery revenues are a regressive funding scheme that disproportionately impacts poor people.
"It's bad policy," said Ancel, the House Ways and Means chair. "Low-income people end up paying it."
Ancel also doubts that expanding gambling options would increase revenues. Rather, she reasoned that people may opt to play keno instead of existing lottery games. That's particularly problematic if revenue from the new games doesn't go to the Education Fund, she said.
The more Vermont relies on gambling revenue, she added, the more the state would find itself and neighboring states in an "unhealthy" competition for the same dollars.
Some Senate lawmakers, however, think the lottery arms race is exactly why Vermont should legalize some additional forms of gambling.
Sears and Sen. Michael Sirotkin (D-Chittenden) have proposed a bill that would allow betting on professional and amateur sports, with a 10 percent tax on revenues. The bill comes less than two years after the U.S. Supreme Court struck down federal limits on the practice.
"It's not like nobody's gambling," said Sears, whose hometown borders New York State. "For a lot of people in my neck of the woods, horse racing is really popular because of the closeness to Saratoga. Now they do it right on their computer."
"If they're going to be doing it," Sirotkin said, "we might as well get some revenue and put it to some useful sources."
Ashe, the Senate president, shared his colleagues' pragmatism. He likened sports betting to cannabis, saying both are "rampant" industries in which tens of thousands of Vermonters participate "off the books."
"The racket is out there," Ashe said. "The question is, should the state control the racket so it's not screwing people over?"
Across the aisle, Senate Minority Leader Joe Benning (R-Caledonia) has also expressed interest in the governor's proposal. Benning said he's heard of "lines out the door" at businesses with keno machines. And despite criticisms that gambling hurts the poor and feeds addiction, he said, games of chance and "sin taxes" are a fact of life.
"That happens to be one of the ways that we collect dollars," Benning said.
Scott's proposals could still overcome the early resistance as the session proceeds and House lawmakers search for budget-balancing revenue. The chamber has had notable turnover, after all, creating a "new environment" for discussions about gambling, Sirotkin said. That's why he believes the governor's proposals will need to be given time for a robust debate.
Scott, meanwhile, does not appear to be in a rush: A week after the budget address in which he called for more gambling, lawmakers say they've seen few further details about the plan.
Disclosure: Tim Ashe is the domestic partner of Seven Days publisher and coeditor Paula Routly. Find our conflict-of-interest policy here: sevendaysvt.com/disclosure.